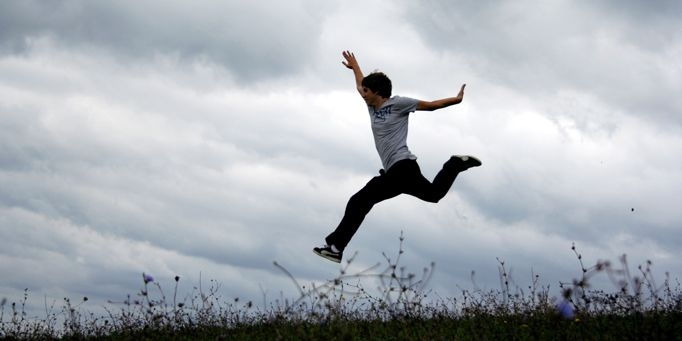 Four little routines to grow kids in godliness
Ben Pfahlert talks about the 'tactics' he and his wife use to help their children develop in faith.
My wife Emma and I parent four very different children.
Shaun is our adopted son who is 29. He has mild autism and lives independently in a granny flat connected to the house.
Isabella is 12 years old and is loves art, music and dance. Bella likes to sleep in.
Edmund who is 9, bounces out of bed and is dressed before you can blink. He loves sport and physical exercise; in fact anything that "smashes your body".
Samuel is 7 and is the family joker – he's laid back, yet conscientious.
When I hear the Australian Federal Treasurer talk about our two-speed economy it reminds me of what it is like to grow my kids in godliness. Shaun and Isabella are at one end of the spectrum (closer to being adults) and Edmund and Sam are at a different end of the spectrum (they are youngsters).
As a Christian Dad, I have the same Ephesians 6:4 goal for all four children, that is to grow them in "the discipline and instruction of the Lord". But the tactics I employ have to work for where they're at.
So here are some of the regular little routines we have – the tactics if you like – to grow our kids in godliness:
1. Emma and I pray together in the living room each morning
Now you might be thinking, "I thought you were going to talk about how you grow your kids in godliness, not what you do". But Emma and I think this is the most important training we can give our kids i.e. to allow them to see that we pray & read the Scriptures daily ourselves. We're not telling them to do something we are not already committed to ourselves. Kids can spot a hypocrite from 1000 paces.
2. Car Prayer
I take Isabella and Edmund to school. These are our prayers every time we pull out of the driveway (since January 2007):
• The Lord's Prayer out loud. Sometimes the kids don't feel like saying it out loud … I don't make them.
• Sometimes after praying the Lord's Prayer I'll ask them a question about a word in it e.g. "We just prayed that God's will would be done on earth, what do you think "God's will" is?" I am trying to get them to think of memory verses that have the phrase "God's will" in it, so they realise you often answer a question about one part of the Bible by going to another part of the Bible.
• Revival in Australia. I ask, "Dear Heavenly Father, please bring 10% of our nation to their knees in submission before Jesus. Bring 10% of this nation to faith in Christ by 2020. Please father raise up 10,000 ministry apprentices by 2020".
• Revival in Chile. I ask, "Dear Heavenly Father, please bring 25% of Chile's population to faith in Christ by 2030 and please raise up 9,000 ministry apprentices in Chile by 2030" [I have done a lot of work with Chile's "Gimnasio" the equivalent of MTS. We added the Chile daily prayer in October 2011].
3. Train them to have 'gospel glasses'
I deliberately ask the kids questions that make them think hard about the Gospel of Christ. I want them to view the world through gospel glasses. Let me share a conversations we've had:
Dad: "Who did you play with at school today?" (They go to an Parent Controlled Independent Christian School).
Ed: "A, B, C & D".
Dad: "Cool. What did you play?"
Ed: "Handball"
Dad & Ed: (Chat more about the game. Ask whether Ed enjoyed it etc. How did they umpire the game etc.)
Dad: "Hey Ed. Are A, B, C & D followers of Jesus?
Ed: (Pause) "Yeah, of course they are"
Dad: "What do you mean, 'Of course they are'? How do you know?"
Ed: "They sit in devotions at school. They go to chapel and they sometimes pray in class".
Dad: "What do you think a Christian is?"
Ed: (Ed rolls his eyes) "A Christian is someone who believes that Christ paid the penalty for their sins on the cross & knows he's the boss"
Dad: "Do you reckon A, B, C & D trust that Jesus took the bullet of God's anger for them?"
Ed: "I'm not dead sure Dad … but I think so"
Dad: "Mmm. I hope they do. I was just thinking about the different people in the Bible and wondered whether there's anyone in the Bible who either prayed, or went to church or who heard a sermon that wasn't a follower of Christ? I reckon there might have been one or two. Can you think of any?"
NB: The aim of my conversation is to get the kids to think about everyday events and relationships with Gospel glasses. There are dozens of these opportunities weekly. [Beware: too many of these conversations can cause excessive eye rolling]
4. Daily Bible Reading
Each of the kids are at different stages of developing a regular Bible reading habit:
• Shaun doesn't find reading easy. He cannot read standard versions because of his Autism. But one of his friends Kurt, introduced him to the "Manga Bible" which is a Bible illustrated with Japanese style cartoons. There is no greater joy than finding that Shaun has stayed up past his bed time in order to read his Manga Bible.
• Isabella is a really good reader. At 12 we do not read the Bible to her anymore (perhaps this is a mistake) but are instead trying to get her to take responsibility for developing her own personal Bible reading habits. We've introduced her to some of the Apps we use e.g. "Olive Tree" (NIV)
• Sam and Ed love "The Action Bible". We have been using this because of resistance to standard picture-less versions. We'll need to revisit this policy soon I think … at least do a hybrid model in transition.
We find that what works with Bible reading can change almost in an instant. We think of it as "horses for courses".
Emma and I feel like we constantly stuff up as parents growing our kids in Christ. Obeying Ephesians 6:4 is the hardest work I do. But we do find these regular weekly routines helpful. We ask God to give us the energy we need to just keep chipping away consistently at modelling, praying and helping the kids to read the Bible for themselves.
For more articles from Growing Faith, subscribe to our monthly e-newsletter.
To hear about the latest books and resources from Youthworks Media, subscribe here.
Related Posts: