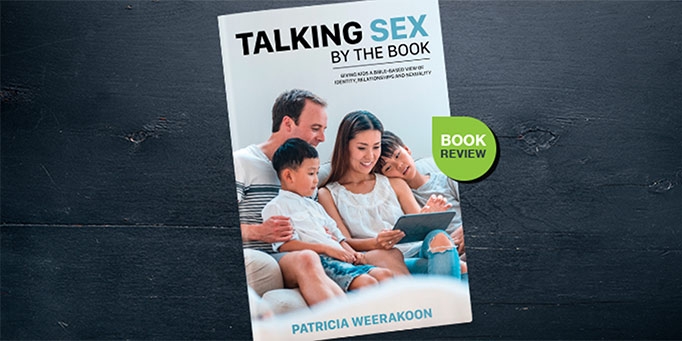 Talking Sex by the Book: Giving kids a Bible-based view of identity, relationships and sexuality, by Patricia Weerakoon
This valuable new resource from Christian sexologist Patricia Weerakoon informs, equips and encourages parents to talk with their children about sex.

My heart skipped a beat when I read the note from our local primary school: 'Your child is going to begin their short sex education course in two weeks. If you have any concerns, please contact the teacher'.
How timely, then, to receive an email that same week asking for a book review of Patricia Weerakoon's latest book: Talking Sex by the Book: Giving kids a Bible-based view of identity, relationships and sexuality. Knowing Weerakoon's reputation as a prominent Christian sexologist, having heard her speak, and having read through her Birds and Bees by the Book series, I jumped at the opportunity.
Unlike Weerakoon's earlier publications in the series, Talking Sex by the Book is written directly for parents (and other caregivers), to guide them as they seek to educate children about identity, relationships and sexuality. The book is broken into two parts: the first detailing the why and how of parental sex education, and the second detailing what should be taught and when.
In the first part, Weerakoon integrates sex education into the broader context of parenting. She outlines five specific parenting goals: affection, affirmation, advice, authority and accountability. In all of these areas, she encourages reflection, communication, modelling and listening to God's word. Through these, the stage is set for fruitful parent–child discussions and learning about identity, relationships and sexuality. Weerakoon also anticipates several roadblocks which might stop parents from educating their children in these areas, and maps a helpful way forward for each of these situations.
In the second part, which forms the majority of the book, Weerakoon divides her discussion into three chapters: 'The developing body' (focusing on gender and identity), 'The developing brain' (focusing on pornography), and 'Desire, love and intimacy' (focusing on relationships and sex). Each chapter shows how the different age groups are likely to interact with the topic, and what guidance might be required from parents of these age groups. Finally, Weerakoon lists a series of hot topics which are often raised by teens, and ideas for how to answer.
A key strength of Weerakoon's work is in her ability to connect the gospel of Jesus to these important life issues. Throughout the book, she weaves Creation, the Fall, redemption, grace and hope into the discussion, and draws on a wide variety of biblical stories and texts to shape our understanding of identity, relationships and sexuality. This positive approach holds out for us an attractive, biblical ideal to strive for, and, unlike rule-based approaches, gives parents and children room to respond to their specific circumstances in thoughtful, collaborative ways.
Throughout the book, in her discussions of both parenting and children's choices in the realm of sexuality, Weerakoon infuses her discussion with grace and compassion. Given the political climate surrounding gender and sexuality, her strong reminders to show kindness, seek to understand, forgive, never bully or tease, and to keep loving others are important. Weerakoon provides a positive example of how to hold firmly to a world view which may offend some, and yet be warm and empathetic.
Weerakoon also brings her expertise to bear in helping parents to understand which issues are likely to be playing out in our children's lives at each stage. I especially appreciated her sections outlining appropriate behaviour for each age range, and matters of concern. Weerakoon also helps parents to stay ahead of the game, by highlighting and summarising issues which may arise sooner than we expect, based on our own childhood experiences.
It should be noted, however, that this short book doesn't stand alone as a complete guide to parental sex education. Rather than repeating information previously published, Weerakoon very frequently directs readers to her Birds and Bees by the Book, Growing Up by the Book and Teen Sex by the Book resources. She also provides (usually in the footnotes) relevant websites and articles. Unless parents follow up these leads, they may not have enough information to engage effectively with their children on many of the topics raised.
As mentioned above, Weerakoon draws heavily on the Bible to inform her message, and regularly connects these life issues back to the biblical narrative. For readers whose world view matches Weerakoon's, this will be very welcome. Others may find it unconvincing: Weerakoon isn't attempting to persuade anyone of her Christian views, she simply applies them to the topic at hand. In some places, I would have liked to see more biblical or scientific evidence to support her view—or an awareness that alternative viewpoints are 'out there'. Because of this limitation, I wouldn't recommend this book to seekers or very new believers.
As a final minor comment, I would have appreciated an index, to make it easier for readers to locate information about the topics covered.
Overall, Weerakoon's book is a valuable resource for Christian parents, giving a holistic, biblical guide to approaching the topics of sex, identity and relationships. I would recommend this book to Christian parents and caregivers who are eager to enhance their skills in this area, and who are willing to do a little extra research for and with their children, including accessing Weerakoon's earlier books. After reading this, I am thankful for Weerakoon's work, keen to read her other books and recommended resources, and I feel encouraged to dive into the task ahead.
Click here to purchase your copy of Talking Sex by the Book.
For more articles from Growing Faith, subscribe to our monthly e-newsletter.
To hear about the latest books and resources from Youthworks Media, subscribe here.
Related Posts: