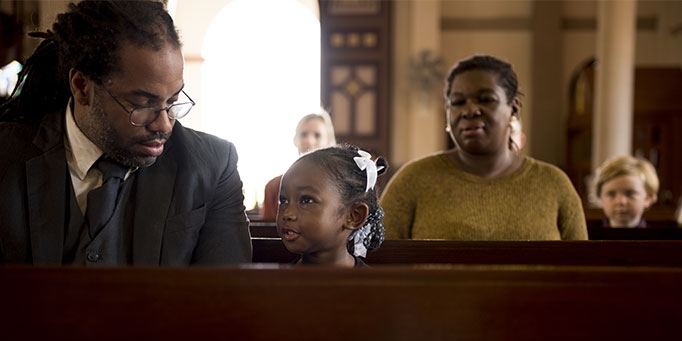 Take your kids to funerals
The why and how of including your kids.
At some points in history (and in some circles today), parents have considered it inappropriate for children to attend funerals, even for their close family members. Perhaps parents want to shield their children from the harsh reality of death; perhaps they worry that their children's behaviour will distract the other mourners. But on balance, I believe that there are far more reasons in favour of bringing the kids along when we attend a funeral. Our kids have now been to five funerals in as many years.
Better a house of mourning
The writer of Ecclesiastes observed:
'It is better to go to a house of mourning
than to go to a house of feasting,
for death is the destiny of everyone;
the living should take this to heart.' (Ecclesiastes 7:2)
Attending a funeral forces us and our children to confront our human mortality. While that is a frightening thing, our children will not be doing it alone, but with us right by their side. Going to a funeral will be part of an ongoing conversation between us and our children about death. It's certainly an uncomfortable topic, but avoiding it will only leave our children unprepared for real life. Children should feel free to ask their questions, and we should do our best to answer them in an honest, but age-appropriate way, balancing realism with hope.
Funerals are certainly confronting. The deceased person's coffin is often right there up the front—usually closed, with flowers and photos sitting on top of it—until the end of the service, when it is carried away for cremation or burial.
Putting flesh on the gospel
As Christians, we have the advantage of knowing (at least to some extent) what happens when a person dies. We know that in death, a person's spirit leaves their body; but we also know that God will put that person back together at the resurrection. As Christians, we 'do not grieve like the rest of mankind who have no hope' (1 Thessalonians 4:13).
A funeral, especially a Christian one, is a wonderful opportunity to teach our children the gospel in a very tangible way. Jesus was a real flesh-and-blood person, who chose to die for us. He did this to save us from the just condemnation of God for our sins. And Jesus really rose up from the grave, showing that he has defeated sin and death forever. Everyone who puts their life in God's hands will rise again like Jesus one day. As Jesus said:
'Very truly I tell you, whoever hears my word and believes him who sent me has eternal life and will not be judged but has crossed over from death to life. Very truly I tell you, a time is coming and has now come when the dead will hear the voice of the Son of God and those who hear will live … a time is coming when all who are in their graves will hear his voice and come out—those who have done what is good will rise to live, and those who have done what is evil will rise to be condemned.' (John 5:24–29)
Our children might ask us whether the person who died was a Christian. It's probably best not to speculate and to leave that final judgement up to God. We can focus our attention on what we do know: that everyone who trusts in Jesus will live forever with him. We don't need to be afraid of death anymore!
Appreciating a life
Attending a funeral also provides the opportunity to learn more about the life and times of the person who has died. By listening to the eulogies and looking at old photographs, our children can come to appreciate the experiences and achievements of others, especially those from previous generations. When the funeral is for a relative, our kids can also develop a deeper sense of connection to their ancestors and wider family. Before the funeral, tell your children what you remember about the person who has died. Then you can challenge the kids to listen to the eulogies and find out something new.
A symbol of hope
In my experience, people really love seeing children at a funeral. Children are like a crack of light in the darkness of grief—a sign of new life and hope for the future. In general, we parents will be far more bothered by our children's noises than anyone else. I've lost count of the times that an older person has said to me, 'It's so nice to hear children in church'.
If you're worried about your kids making noise or moving around at the funeral, I suggest arriving early to find out if there's somewhere you can take them out for a little while if they get restless. And if you're involved in the funeral service, it's helpful to organise for a relative or friend to supervise your children while you are up the front.
It may help to bring a favourite toy or book, or a notepad and pen for drawing and writing down questions or notes. Funerals can be long so it's good to bring some snacks and water bottles as well. People love seeing children at funerals, but it does take some effort and planning to keep the kids from becoming being excessively loud or silly.
Learning to comfort
For older children, a funeral is a good opportunity to learn how to recognise and respond to a person who is sad. Before the funeral, we can have a conversation about how different people express their grief: some people might be crying, either quietly or out loud; others might just have a serious or sad face; still others might be sad on the inside, but seem 'normal' on the outside. Children might find it especially hard to see their parents or grandparents upset. But it's good for them to learn that grief is a normal and important part of life. One of the reasons we have funerals is so that we can come together in our grief and support one another.
We can prepare our children for what they can say and do when they see a family member who is grieving. Suggest that they simply offer to give someone a hug and say, 'I'm sorry about your [mother]' or 'It's very sad that you lost your [mother]'. At first our children thought that they should avoid talking about the person who has died, because that would make people sad. But we explained that people are already sad, because death is a sad thing. Talking and asking about the person who has died (in a respectful way) actually gives others the chance to remember and honour them. In general, people avoid speaking directly about death, so we can teach older children to understand and use phrases like 'passed away' or 'lost'.
Tips for taking kids to funerals
Inform. Find out and tell your kids as much information as possible about where you will be, who will be there and what will happen on the day. Give them time to ask as many questions as they like, no matter how strange they might sound.
Set expectations. Help your kids to understand what you will expect of them on the day. Try to keep your expectations realistic. For example, you can expect the children to whisper and play quietly during the service, but you can't expect them to remain completely silent and still.
Prepare. Pack a few books, toys and snacks. Organise for a relative or friend to help you manage the children, especially if you need to take part up the front.
Debrief. After the funeral, take time to ask your kids how they found it. They may have more questions or responses to share with you.
Funerals are a sad and hard part of life, but they can become opportunities for our children to learn about death and grieving, with us right by their side. We can take the chance to point our children to Jesus, who declared, 'I am the resurrection and the life. The one who believes in me will live, even though they die' (John 11:25).
---
Harriet Connor is the Content Editor for Growing Faith and the author of Families in God's Plan: 12 Foundational Bible Studies and Big Picture Parents: Ancient Wisdom for Modern Life (Wipf and Stock, 2017). She lives on the Central Coast of NSW with her husband and four sons.
For more articles from Growing Faith, subscribe to our monthly e-newsletter.
To hear about the latest books and resources from Youthworks Media, subscribe here.
Related Posts: