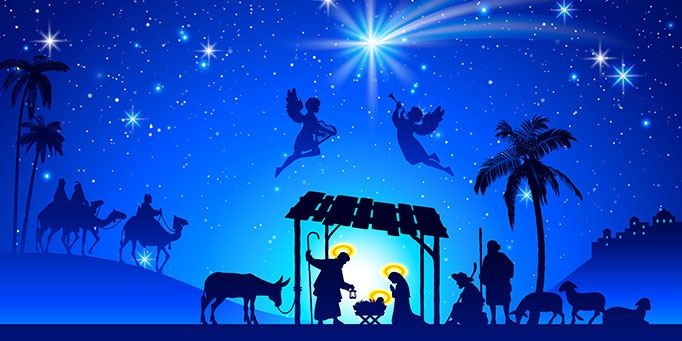 Nativity Notes: Angels
A 'cheat sheet' for answering kids' Christmas questions.
Angels play a significant role in the Nativity story, but we don't tend to talk much about them at other times. It's natural for children to ask questions about them given the mystery and 'magic' that they inspire. It's time to learn something new about these heavenly creatures, so we can give some helpful perspective when we answer these questions!
What are angels?
Angels are a large 'host' or army of heavenly beings created by God to worship him and serve humanity. Unlike God, they can only be in one place at one time (see Daniel 10:12–14). They include other kinds of heavenly beings, like the 'cherubim' or 'living creatures' who serve in God's temple (see Ezekiel 10; Revelation 4) and the 'seraphim' in Isaiah's vision of the temple (Isaiah 6). The Bible mentions an archangel, Michael, who leads an army of angels (see Daniel 10:13; Revelation 12:7–8). The only other angel whom the Bible names is Gabriel.
We can't say with certainty, but God probably created the angels all at once, right at the beginning when he created the heavens. As God says to Job:
'Where were you when I laid the earth's foundation?
Tell me, if you understand.
Who marked off its dimensions? Surely you know!
Who stretched a measuring line across it?
On what were its footings set,
or who laid its cornerstone –
while the morning stars sang together
and all the angels shouted for joy?' (Job 38:4–7)
What do angels do?
Angels serve God by bringing messages to people like Mary and Zechariah. Angels also come to the aid of God's people, as they did for Elijah and later Jesus in the wilderness (1 Kings 19:5-6; Matthew 4:11). Angels also fight spiritual battles against evil (see Daniel 10:13; Revelation 12:7–8).
Angels worship and praise God continually, as we see in the visions of heaven that came to both Isaiah (Isaiah 6) and John (Revelation 4–5).
'Praise the Lord, you his angels,
you mighty ones who do his bidding,
who obey his word.
Praise the Lord, all his heavenly hosts,
you his servants who do his will.' (Psalm 103:20–21)
Are angels male or female?
Angels do not have gender like we do because they do not marry or reproduce. But in the Bible, angels always have male names and pronouns. Jesus said: 'At the resurrection people will neither marry nor be given in marriage; they will be like the angels in heaven' (Matthew 22:30).
Are angels good or bad?
Most angels are servants of God, who praise and obey him faithfully. However, a number of angels, including Satan, fell into sin before the events recorded in Genesis 3 and now work to deceive, rather than serve humanity. Peter writes that 'God did not spare angels when they sinned, but sent them to hell, putting them in chains of darkness to be held for judgement' (2 Peter 2:4).
Can you see angels?
Since angels are spiritual beings, we don't usually see them at work. However, when angels appear to people, they often take on a bodily form. God can also open a person's eyes to see the spiritual realm. For example, when Elisha and his servant were outnumbered:
'Elisha prayed, "Open his eyes, Lord, so that he may see". Then the Lord opened the servant's eyes, and he looked and saw the hills full of horses and chariots of fire all round Elisha.' (2 Kings 6:17)
Do we have guardian angels?
Angels are charged with guarding and protecting people, but they probably do this in a general way according to need, rather than one-on-one. In speaking about children, Jesus said:
'See that you do not despise one of these little ones. For I tell you that their angels in heaven always see the face of my Father in heaven.' (Matthew 18:10)
In the Psalms we also read:
'For he will command his angels concerning you
to guard you in all your ways;
they will lift you up in their hands,
so that you will not strike your foot against a stone.' (Psalm 91:11–12)
When we experience an extraordinary escape from danger, it is right to assume that God sent an angel to protect us, even if we didn't see them.
Who is the angel of the LORD?
In the Old Testament, the angel of the LORD is usually an appearance of God himself. God reveals himself in this way to Hagar, Abraham, Moses and Jacob, among others. Some theologians believe that the angel of the LORD is the pre-incarnate Christ.
Will we become angels?
Humans cannot become angels because we are completely different kinds of creatures. However, Christians are destined to become like angels, in terms of their glorious, spiritual bodies and their pure, unending worship of God.
What should we make of angels today?
Angels are servants of God, who exist to bring him praise. Therefore, it is never right to worship angels or expect them to give us any new revelations about God's plan of salvation (such as in Mormonism and Islam).
However, we probably should think of them more often than we do. Angels remind us that there is a spiritual realm behind what our eyes can see. Angels model for us how to do God's will 'on earth as it is in heaven' (Matthew 6:10). The writer of Hebrews explains what happens in the spiritual realm when we worship God on earth:
'But you have come to Mount Zion, to the city of the living God, the heavenly Jerusalem. You have come to thousands upon thousands of angels in joyful assembly, to the church of the firstborn, whose names are written in heaven.' (Hebrews 12:22)
This Christmas, let's praise God with his choir of angels!
References
Grudem, W 1994, Systematic Theology: an Introduction to Biblical Doctrine, Inter-Varsity Press, Leicester, pp. 397–411.
Jordan, J 1999, Through New Eyes: Developing a Biblical View of the World, Wipf & Stock, Eugene, pp. 105–113.
Stewart, RA 1996, 'Angel' in Marshall, IH, Millard, AR, Packer, JI & Wiseman, DJ, New Bible Dictionary, Third Edition, Inter-Varsity Press, Leicester, pp. 36–37.
---
Harriet Connor is the Content Editor for Growing Faith and the author of Families in God's Plan: 12 Foundational Bible Studies and Big Picture Parents: Ancient Wisdom for Modern Life (Wipf and Stock, 2017). She lives on the Central Coast of NSW with her husband and four sons.
For more articles from Growing Faith, subscribe to our monthly e-newsletter.
To hear about the latest books and resources from Youthworks Media, subscribe here.
Related Posts: