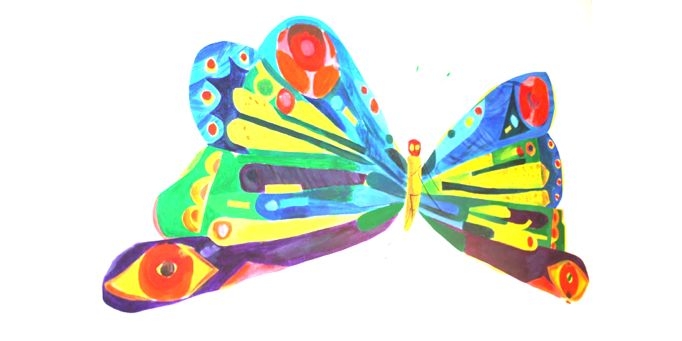 A wise Mum cultivates her relationship with the Lord
Like the Very Hungry Caterpillar, Christians have been transformed. Don't let the troubles of life turn you back into a caterpillar.
One of my favourite children's picture books is The Very Hungry Caterpillar by Eric Carle. This rather dull and tiny caterpillar pops out of an egg and begins to eat and eat and eat until he becomes one very fat caterpillar. After putting himself into a cocoon, he emerges transformed into a beautiful butterfly. I remember becoming a Christian – that transformation had just happened to me. I had been a non-descript caterpillar and suddenly I had become a beautiful butterfly! It was a miracle of sorts, a reminder of the beginnings of new life. Life as a butterfly... life as a Christian ... how do we continue living life as if we are that beautiful butterfly?
Mums with babies and small children will probably struggle with this. Most of the time we don't feel like a butterfly, let alone a beautiful butterfly. There is that challenging verse in Colossians:
"... since you have taken off your old self with its practices and have put on the new self, which is being renewed in knowledge in the image of its Creator." (Colossians 3:9-10)
Our new self is a beautiful creature in contrast to the old. How is it possible to develop and cultivate this new self? A wise mum, indeed any wise Christian woman, will know that cultivating her relationship with the Lord will let that butterfly blossom and flourish.
Mary and Martha
Are you familiar with the story of Mary and Martha? For years, I identified strongly with Martha. Why did Mary get commended? It was Martha who was bustling around getting food ready, cleaning up and doing the chores while Mary simply sat. But she wasn't simply sitting, she was seated at the feet of her Lord, and she listened to his words. Jesus told Martha that Mary "had chosen what was better." (Luke 10:38-42).
Good, better, best. In life we often have to make choices on how we spend our time and a wise Mum knows the value of turning towards Jesus and doing this regularly day after day - not just when she feels like it.
After children arrive, it is hard to have long uninterrupted blocks of time to read the Bible, listen to a sermon on an I-pod, or spend time praying. We can set the bar too high and in the process we turn away from our Lord. It is easy to fill our day with distractions. There is always something that needs doing, seeing to, or fixing, leaving us with no time or energy. If we keep doing this, we will start thinking we look less like a butterfly, and more like a caterpillar crawling in the dirt.
Find some quiet time
Think about your daily routine, and work out when might be a "do-able" time for prayer & Bible reading. Are you an early morning person? Are you a night owl? What are your children's routines? Do they have a sleep or rest time?
Decide on a time and see if you can commit to it each weekday. Start with just 5-10 minutes - even five minutes most weekdays is better than no minutes a day. If we are women who regularly set time aside to be with our Lord, then God will use His word to change us and make us more Christ-like. God uses His word to nourish our souls and to feed our hearts and minds. If we don't read it, we will gradually starve and stop looking like that butterfly. If this seems all too hard, don't berate yourself or be too hard on yourself.
Sometimes life can be hard and getting through each day is tough enough. However, setting aside time to be with the Lord is of immense help and encouragement when it happens. If you use electronic devices, use them to remind yourself at a set time each day to read God's word and pray. I was given an iPad recently and it is amazing how helpful it can be in cultivating good habits - sometimes we simply need reminding.
Don't give up meeting with God's people
With small children and busy lives, it is tempting to use Sunday morning as the catch up morning to sleep in, be slow and have five minutes peace. Don't let children's sleep routines distract from time with God's people, listening to His word being read and spoken about, spending time with His people, praying for each other and encouraging each other. Simiarly with Bible study group - don't give up on it!
I love this exhortation:
Let us hold unswervingly to the hope we profess, for he who promised is faithful. And let us consider how we may spur one another on toward love and good deeds. Let us not give up meeting together, as some are in the habit of doing, but let us encourage one another - and all the more as you see the Day approaching." (Hebrews 10:24-25)
Good, better and best. We will constantly have to choose how to spend our time. Don't you want to keep being like that butterfly?
For more articles from Growing Faith, subscribe to our monthly e-newsletter.
To hear about the latest books and resources from Youthworks Media, subscribe here.
Related Posts: