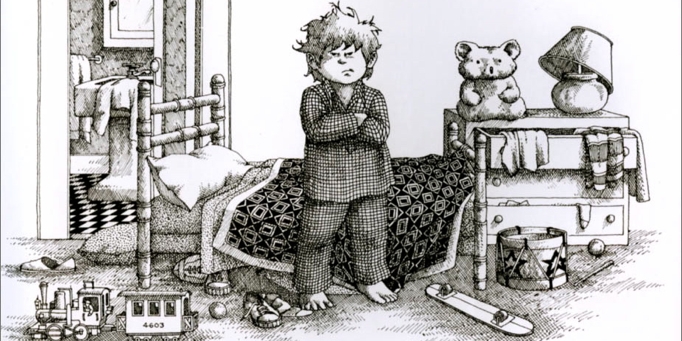 A wise Mum helps her children deal with the stuff of life
Kids and adults both have terrible, horrible, no good, very bad days. So did King David, and we can learn from how he handled it.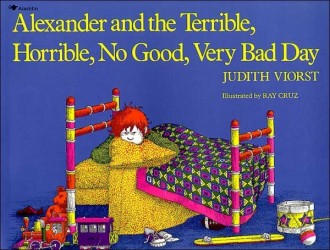 This is a picture of Alexander on the morning of his terrible, horrible, no good, very bad day. From the moment he wakes up everything seems to go wrong. This timeless picture book called Alexander and the Terrible, Horrible, No Good, Very Bad Day by Judith Viorst opens a window into how Alexander and his Mum deal with this day. We are all going to have good days, not so good days and bad days and sometimes, very bad days. It seems to me this is just a part of life.
It is a part of the pattern of life described by the writer of Ecclesiastes:
There is a time for everything, and a season for every activity under heaven: a time to weep and a time to laugh, a time to mourn and a time to dance. (Ecclesiastes 3:1, 4)
We could add a verse of our own "A time for good days when everything goes our way and a time for bad days when everything seems to go badly wrong". The Mum in this particular story is a wise Mum. She does not rescue Alexander from this particular terrible, horrible no good very bad day, but lets him deal with it. She doesn't promise to buy him a new box of cereal when he discovers that his cereal is the only box of cereal with no toy, nor does she apologise when she forgets to put dessert in his lunch box, and even at the end of the day, she doesn't tell Alexander that he can wear his favourite pyjamas because he has had a bad day. Alexander's mother responds quite simply to his plea that it has been a terrible horrible no good very bad day by saying "some days are like that".
From a very young age, we can be teaching our children how to deal with life when things don't go our way. We don't have to make our children feel better, nor do we need to rescue them. We can encourage them to express how they feel about a situation by listening to them and allowing them to have a "little rant", but this is all we need to do.
This book was a great favourite in our family. Our children regularly took this book to bed with them - perhaps they could identify with Alexander's day. I certainly could. For me, there was a freedom and permission to have a bad day and openly label it a bad day. Surely we all have days that don't seem to go so well. In our family, we sometimes had a little conversation that centered around the truth of this book:
"How was your day?"
"I had a terrible, horrible, no good, very bad day"
"That's no good, it's not nice to have a day like that is it? ... but then, some days are like that - aren't they?"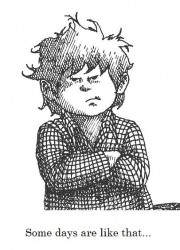 There is nothing wrong with verbalising how we are feeling about life when bad things happen - Alexander does this openly and his mother lets him. She even has the audacity to serve him lima beans for dinner, knowing full well that he hates lima beans - again, she doesn't offer an alternative. At the end of the book, we leave Alexander sound asleep at the end of his terrible, horrible, no good very bad day. He manages to self sooth, or use his own thoughts to make sense of his day. This is the challenge for Mums - to equip our children to deal with the blows of life, and I like the example set by Alexander's Mother. She wants Alexander to develop resilience.
Psalm 13 provides us with another picture of someone having a terrible, horrible, no good very bad day. David is obviously feeling completely overwhelmed and swamped:
Lord, how long will you continually forget me?
How long will you hide your face from me?
How long will I store up anxious concerns within me,
agony in my mind every day?
How long will my enemy dominate me?
Consider me and answer,
Lord, my God.
Restore brightness to my eyes;
otherwise, I will sleep in death,
my enemy will say, 'I have triumphed over him,'
and my foes will rejoice because I am shaken. (Psalm 13: 1-4)
David ends his outburst by reminding himself of things he knows to be true about God:
But I have trusted in your faithful love;
my heart will rejoice in your deliverance.
I will sing to the Lord
because He has treated me generously. (verses 5-6, Holman)
David models a way of dealing with despair and a difficult season in life that is wise and godly. We can begin helping our children deal with the disappointments, frustrations, hurts and sadnesses that will inevitably come their way. They are a part of living in a broken world.
PS: I would love to rewrite this Psalm for children. Perhaps ... one day.
For more articles from Growing Faith, subscribe to our monthly e-newsletter.
To hear about the latest books and resources from Youthworks Media, subscribe here.
Related Posts: