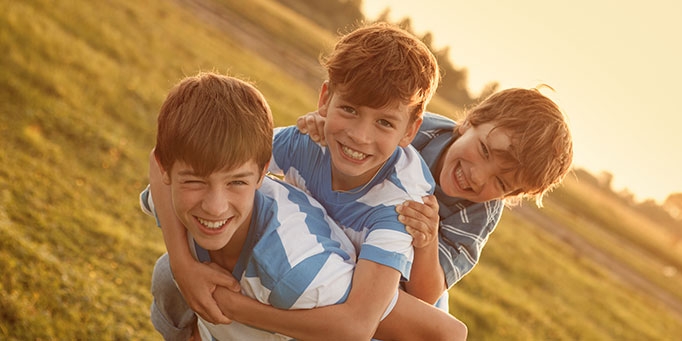 5 things I learnt from 'Raising Boys'
Nicki Jeffery shares some important truths from Steve Biddulph.
Are you raising boys—busy, loud, energetic, rambunctious boys? If you are, you'll know that it's both a blessing and a challenge.
My husband and I were delighted to discover that we were having a boy after suffering a miscarriage. Fast forward a couple of years and we were welcoming a second boy into our family. I grew up with three sisters; my husband, two. Neither of us even knew what it was like to have a brother! And then God blessed us with two sons.
The adventure of raising boys has been full of learning and discovery. Along the way, I have benefitted from the wisdom of Australian psychologist Steve Biddulph. I've read his book Raising Boys a couple of times, including the updated version, Raising Boys in the Twenty-first Century: How to help our boys become open-hearted, kind and strong men.
Here are five important truths I learnt. (The Bible verses are my own addition.)
1. There are three stages of boyhood
Ages 0–6 are the 'gentle years', when mum is most important.
Ages 6–14 are the 'learning to be male' years. Mum will always be important, but in these years, dad's role becomes vital.
Ages 14–adult are the 'becoming a man' years. Mum and dad are both critical, but male mentors come to the fore.
Our time with our children is limited, particularly the time we have to influence them in the ways of the Lord. Let's use it wisely. And let's work hard to surround our boys with positive male role models and mentors.
Deuteronomy 6:6–7 says:
These commandments that I give you today are to be on your hearts. Impress them on your children. Talk about them when you sit at home and when you walk along the road, when you lie down and when you get up.
2. Service and self-worth are linked
Young men have a tendency to become arrogant or self-absorbed. A good antidote is to get your sons involved in service to others, whether on their own or together with you. Ironically, serving others will actually grow their sense of satisfaction and self-worth at the same time. It's good to feel useful!
Church is a great supportive place for boys to start helping others. They could serve the elderly or people with disabilities; they could look after or teach some younger children; they could help with a 'working bee' or another hands-on project. Look around your church or local community for ways that your boys could serve. Let's teach them the satisfaction of showing true Christian love:
This is how we know what love is: Jesus Christ laid down his life for us. And we ought to lay down our lives for our brothers and sisters. If anyone has material possessions and sees a brother or sister in need but has no pity on them, how can the love of God be in that person? Dear children, let us not love with words or speech but with actions and in truth. (1 John 3:16–18)
3. The eight-year-old meltdown is a thing
Did you know that at least two years before puberty, the emotional stability of boys can be affected? Because of this, they can become more tearful or bad-tempered. It's called 'adrenarche' or the eight-year-old meltdown. Around 10–13, puberty hits with obvious signs like pubic hair and a deepening voice. But inside, things are bubbling up at eight.
As parents, it is challenging for us to keep our own emotions in check, especially when confronted with a tantrum or meltdown. Colossians 3:21 urges us to be understanding, gracious and self-controlled: 'Fathers, do not embitter your children, or they will become discouraged.'
4. Boys can cook!
As a guideline, Steve Biddulph suggests teaching your son to prepare a complete evening meal by the time he is ten. To lead up to this, five-year-olds can set the table for meals and find their clothes from a pile of laundry. Seven-year-olds can clear the table, and nine-year-olds can start handling boiling water. Finally, your sons will become little master chefs!
Proverbs 29:17 (where the word 'discipline' includes the idea of training) says, 'Discipline your children, and they will give you peace; they will bring you the delights you desire.'
5. Technology limits are crucial
Left to themselves, most boys' computer gaming will get out of control. Kids are not good at putting limits on themselves, because of their immature brain development, so one of our jobs as parents is to set them.
Therefore 30–40 minutes on weeknights, and two hours on the weekend is probably a good daily limit for playing computer games. Of course, you can make allowances for some special times when friends come over and play. Each family will have to decide what works best for your own values and your own kids. But whatever you decide, setting technology limits is crucial. Let's teach our boys to be careful what they fill their minds with:
Finally, brothers and sisters, whatever is true, whatever is noble, whatever is right, whatever is pure, whatever is lovely, whatever is admirable – if anything is excellent or praiseworthy – think about such things. (Philippians 4:8)
Raising boys is an adventure! I hope these truths that I learnt from Steve Biddulph can help you on your way.
---
Nicki Jeffery is the author of Faith-based Travels: A Devotional Guidebook for the Faith-filled Traveller, Encouraging Mums with Hope: Light in the Darkness of Maternal Depression and Precious Michelle: A Sister Reminisces a Life Lost to Suicide. Nicki lives with her husband and two sons, their puppy, cat and four chooks on the mid north coast of NSW, Australia.
For more articles from Growing Faith, subscribe to our monthly e-newsletter.
To hear about the latest books and resources from Youthworks Media, subscribe here.
Related Posts: