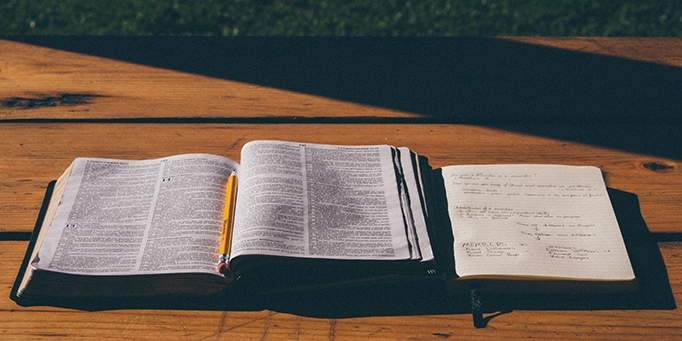 Your faith matters
Why parents need to be growing in their faith to help ensure their kids grow too.
Have you ever had those moments when you are suddenly and acutely aware that those little eyes are taking in everything that you do and say, both what you want them to absorb and what you don't? One moment where this became more real to me was watching my 18-month-old daughter standing in front of the washing machine, shouting, "Come on" through gritted teeth. To my dismay, I recognised my own actions, of which I was barely aware, as I battled the buttons on our temperamental machine. I can talk about being patient all I like but if my actions don't match my words, my daughter will see that. Now before that ugly perfectionism and shame rear their heads as we talk about our children noticing our example, can I please remind you that we are under grace, that it is in our weakness that God's power can shine, that we are all works in progress.
Authentic faith
Before we can begin to look at supporting our children in their faith, we have to ask ourselves what difference our own faith is having in our lives. Does our Tuesday have the same level of faith, prayer and connection with God as our Sunday? Is the fruit of the Spirit evident in our lives? Can you see growth in your faith journey over the past year?
Why are reflections like these so important? Children are unlikely to continue with faith into their teen years and beyond if they don't see the difference it can make. They need an example to follow. They need to see what it looks like to pursue a relationship with Jesus, to wrestle through doubts and tough questions with God, to model love and grace in relationships. What they don't need is a parent with all the right words to pull out but no substance to their faith. Being intentional with teaching our children Scripture and Biblical truth is vital but lectures will not bring lasting faith without authenticity. We cannot lead them on a journey of faith beyond where we are in our own faith.
Giving up the need for perfection
Am I saying we have to be perfect, never losing our temper or messing up? Far from it. Before sitting to write this article, I had a terrible afternoon of yelling, a slammed door and venomous looks and that was just my behaviour. We are all human beings and are guaranteed to mess up. How you handle those times can be just as strong a demonstration of your faith lived out as doing it all right. Our children need to see how to handle the times they mess up.
I had the privilege of growing up in a Christian home where authentic faith was modelled. What sticks out the most to me is the way my father would handle the times where he had been in the wrong with me. He would apologise, genuinely, and repair the relationship. The humility and integrity he showed in those moments lasted far longer in my memory than the offenses he was apologising for. I have tried to do the same with my daughter. After that horrendous afternoon, I sat with her in my lap, told her how sorry I was for my behaviour and asked for her forgiveness. I prayed out loud asking God to help us both to be at peace and show His love and grace. I made a point of putting on praise and worship music, using it to reconnect with God myself and so change the atmosphere of my home.
God doesn't require perfection from us. He simply asks us to stay in relationship with Him, walking with Him, abiding in Him and allowing His Spirit to be doing the transforming work in us as we take steps of obedience. This is what we model to our children.
And this I pray, that your love may abound more and more [displaying itself in greater depth] in real knowledge and in practical insight, so that you may learn to recognize and treasure what is excellent [identifying the best, and distinguishing moral differences], and that you may be pure and blameless until the day of Christ [actually living lives that lead others away from sin]; filled with the fruit of righteousness which comes through Jesus Christ, to the glory and praise of God [so that His glory may be both revealed and recognized]. Philippians 1:9-11 (AMP)
Making the most of our time with our kids
When you consider the amount of time a child spends in school, with their peer group and exposed to various media, the time we spend with them becomes even more vital. We are reminded in Romans 10:17 that faith comes from hearing the Word of Christ. What role does Scripture play in your life and your home? Are you getting into His Word for yourself and teaching it to your children? I used to get annoyed that my up-before-the-sun daughter would constantly interrupt my morning time with God. I have come to value the fact that she sees me engaging with Scripture and praying. Knowing that I am an example to her spurs me on to keep pursuing that. Consider how you can incorporate Scripture into your everyday, ordinary life. There is life and power in those Words for both your own faith and for your children.
Love God, your God, with your whole heart: love him with all that's in you, love him with all you've got! Write these commandments that I've given you today on your hearts. Get them inside of you and then get them inside your children. Talk about them wherever you are, sitting at home or walking in the street; talk about them from the time you get up in the morning to when you fall into bed at night. Tie them on your hands and foreheads as a reminder; inscribe them on the doorposts of your homes and on your city gates. Deuteronomy 6:5-9 MSG
Pass the baton
Christine Caine talks about the analogy of passing the baton on to the next runner in a relay race. This is our role as a parent, to pass on the baton of faith to the next generation. I pray that you will feel that pull to be deeply connected to our Father God and that your lived out example of authentic faith will draw your children to seek relationship with God too.
For more articles from Growing Faith, subscribe to our monthly e-newsletter.
To hear about the latest books and resources from Youthworks Media, subscribe here.
Related Posts: