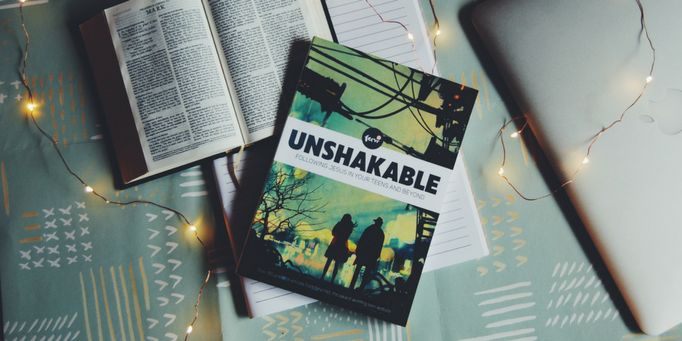 Unshakable: Book Review
"Unshakable provides a helpful perspective to readers of all ages by applying timeless Biblical truth to modern situations."
Parents learn quickly that their kids can be full of questions, and it's not always easy to come up with answers to satisfy their curiosity. The queries might start small, like "Why is the sky blue?" before moving on to "Where do babies come from?" and "Does my dog go to Heaven when he dies?"
And it's not just toddlers and primary school kids who come up with tough enquiries. Teens are full of questions, too, about "Life, the Universe and Everything." Christian teens in particular tend to wonder how their faith in Jesus can and should shape their understanding of life's big questions. Unshakable provides a valuable resource for teens, families and the people who minister to them by gathering together a collection of articles from Christian website fervr.net to tackle many of the important questions facing teens and young adults.
Unshakable organises its articles into four headings—Faith, Church, Life and Future—and each section covers a range of topics, addressing matters that speak into the decisions and dilemmas of young Christians. Broad-ranging and relevant, the questions range from "How do I tell my friends about Jesus?" to "What should I do with my money?" and "What is God's will for my life?".
Some of the issues addressed in Unshakable have been around "since Adam was a boy", like "How do I talk to God?" and "How does God communicate with me?" Other articles, though, touch on topics that the parents of today's teenagers never faced when they were young, like how to use social media in ways that honour God. Because some of these questions are new territory for parents of contemporary teenagers, Unshakable provides a helpful perspective to readers of all ages by applying timeless Biblical truth to modern situations.
The 50+ articles in Unshakable were originally blog posts on fervr.net, and so are generally short, focused and engaging. With over thirty different contributing authors, the articles display a variety of different writing styles, but each one reflects the centrality of faith in Christ and reliance on the word of God. One of the strengths of Unshakable is how consistently the articles turn to the Bible and seek God's wisdom in his word. This gives the answers a strong foundation, but also models for its readers just how precious God's word is whenever we are grappling with a doubt, a question or a choice. Young people, having read the book, may be encouraged and better equipped to seek Biblical wisdom when facing future decisions.
Another advantage found in the variety of styles is how it reminds us of the body of Christ, made up of many parts with different roles to play. For young people who are simultaneously forming their idea of self while also longing to fit in, it is reassuring to see that not all Christian believers will write or speak a certain way, or use the same vocabulary; our unity comes through Christ, not from uniformity or conformity.
At the end of each section is a "want to read more" list, offering suggestions of both online and printed resources. For readers who want to think harder, explore further and dig deeper, the lists provide great ideas of where to start.
Unshakable's contributing writers clearly grasp that the teen years are not always easy, and that standing up as a Christian can be really challenging. Young readers are encouraged to seek support and help from parents or other trusted adults if things are getting too much for them. Unshakable acknowledges that Christian believers are bound to experience some peer pressure as they live as followers of Jesus in our fallen world. One of the great messages that comes through is one of encouragement. Unshakable urges young people not just to persist in their faith and remain in their churches, but to grow in their faith by going deeper in their understanding and getting involved in service and fellowship.
Many of Unshakable's articles are short, simple and helpful on their own. Others might be really useful as conversation-starters for heart-to-hearts between teens and their parents or youth leaders. The book is an easy read and each article can stand on its own, making it worthwhile for Christian parents to read, as well as for teenagers. Many of the questions are relevant not just for teens, but into early adult years as well. Unshakable does what it sets out to do: help young believers follow Jesus in their teens and beyond.
---
Dana and her husband Phillip are parents of three great 20-something young adults. Dana loves God's family in all its ages and stages:single and married, with kids and without, young and old, frail and able-bodied.
Photo by Lauren Russell
For more articles from Growing Faith, subscribe to our monthly e-newsletter.
To hear about the latest books and resources from Youthworks Media, subscribe here.
Related Posts: