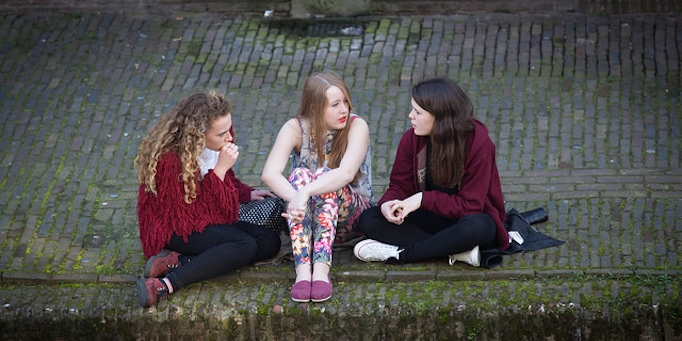 Families and churches: raising teens together
Parents have a role to play, churches have a role to play. But are they talking to each other?
Raising an adolescent in a hyperactive, individualistic, consumer culture is tough. We know that youth want more independence and personal space to explore their self-chosen identity, and whilst parents want their teenagers to have every opportunity to succeed, we often feel that 'experts' have more to offer than mum or dad.
Christian families and churches have largely bought into this paradigm of thinking as well. As parents, we can outsource the responsibility for our teenager's knowledge and love of Jesus to the youth leaders, as we know the church provides an age appropriate, developmentally appropriate, culturally engaging place for youth to hear the gospel and grow in their knowledge and love of Jesus.
It all seems pragmatically reasonable but a little bleak. We know from research like The Spirit of Generation Y and the National Church Life Survey that family plays a fundamental role in the faith of their children, but at the same time we haven't really committed as a church to working cooperatively with parents for the sake of our young people.
Who should do what when raising our youth?
"Youthful spirituality, in its traditional forms, derives its support principally from families who share it, and it seems rarely to thrive without support from this source." (The Spirit of Generation Y)
Parents are undoubtedly responsible for raising their children in Christ: "Fathers, do not exasperate your children; instead, bring them up in the training and instruction of the Lord."
However, children are also part of the body of Christ and therefore the body also bears responsibility for their upbringing.
Timothy Paul-Jones in his book Perspectives on Family Ministry helpfully describes the roles of parents and church as the two banks of a river where both are needed to guide the river on its path. This is a helpful analogy because it takes both roles seriously and recognises that it's not enough to simply do one or the other well - a great youth group encouraging a deep love of Jesus will be undermined by a family who models Jesus being part of a well-balanced life fitting comfortably amongst the aspirational values of our secular culture. Parents who are deeply committed to encouraging their children will be undermined when youth group starts to look more like a music festival than a Jesus-transformed community of Christians.
What can we do to work together?
In nine years of working in a church, I don't think I ever asked that question. I told a few parents what they should do and I told them what I was doing but I didn't ask what can we do? I suspect I am not alone. Fortunately we are at the beginning of another year with opportunities for fresh starts and new ideas. It's novel, and fraught with danger but here's an idea: invite the parents of the youth ministry to meet and talk about how you can work together.
It would be helpful if your senior minister was also involved, partly because he can give some perspective as a parent and partly because we want this to be part of the culture of the church and not just another one-eared mickey mouse on the side. Use it as an opportunity to tell parents what you are trying to do in the youth ministry, ask them what they are trying to do with their children, invite questions, ask how you can be helpful in supporting them, tell them how they can be helpful in supporting you.
There are points where you will disagree; there are points where parents will disagree with each other. But give them a voice, even when you can't agree, allowing people to say their piece and then move on can be enormously helpful.
Unfortunately these meetings often have very little lasting impact because we fail to follow up with any meaningful concrete action. The most important outcome is improving the way you communicate with parents but there are things you can actively do to help. You need to come up with a plan. From everything you talked about, what are you actually going to do? And equally important, what are you not going to do? Whatever the plan, it must be achievable and sustainable and that means sometimes saying no to good ideas. You then need to communicate that plan to the parents and the church.
Ideas for working together
I am hoping that others will add their comments at the end of this article to improve this list but here are a few ideas that build cooperation and communication.
Commit to meeting regularly with the parents to keep the conversation going. Perhaps once at the beginning of the year and once in the middle.
Invite parents to call the youth ministry if they need some pastoral support for their teenager.
If your parents have expressed their commitment to working together then take up that commitment and give them a call when you need help or prayer.
Send a newsletter home each term so parents know what has been happening in the youth ministry - what they have been talking about in the bible, what has been encouraging or discouraging, what is coming up. This gives the parents an opportunity to follow up with you or their children, it allows them to encourage their children to be involved, and it allows them to pray specifically for the ministry.
Connect parents with articles and resources that would be helpful.
Stand up in the services and share what has been happening in the youth ministry.
Introduce the leaders in the services so people can have some idea of what is happening and pray for their leadership.
Invite parents to help out with camp.
Encourage leaders to go and talk to the parents at church.
Invite parents to a youth group night
I am sure there are lots of other things that we could do but the most important thing is to change this outsourcing culture in our churches and recognise that parents and the youth ministry have a common goal and responsibility to see our young people grow into mature disciples of Jesus.
Please share any other ideas you have below.
For more articles from Growing Faith, subscribe to our monthly e-newsletter.
To hear about the latest books and resources from Youthworks Media, subscribe here.
Related Posts: