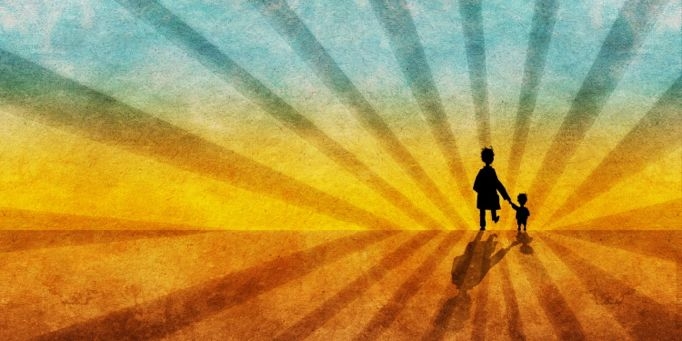 Thoughts to Make Your Heart Sing
Sarah Condie says kids and adults will both be uplifted by this simple, yet profound book by Sally Lloyd-Jones.
What thoughts make your heart sing?
Do you know what thoughts your children have that make their hearts sing?
When I am discouraged, feeling a little down or spiritually flat, one thought that makes my heart sing is to remember I have a God who loves me with a "never stopping, never giving up, unbreaking, always and forever love".
Growing up in today's world is hard. Our children are bombarded with different messages that must mess with their psyche. As a parent, it is virtually impossible to protect them. And then, there are the messages they get from us, their parents.
I am yet to meet a Christian parent who doesn't long for their child to know that God loves them, and for them to believe and become part of God's family. So, we work hard to teach our precious children about God, we read the bible with them, pray with them, pray for them and attempt to "train them up in the ways of The Lord".
Sometimes I wonder what are children are thinking:
What thoughts do they take with them to bed as they lie awake trying to sleep?
What thoughts are in their head when they awaken?
What thoughts fill their mind when they know they have disappointed us, and we have responded with anger? Do they go to bed with the echoes of our harsh words in their heads?
When I struggle with sin and ungodly behaviour, it is often a glimpse of God and His love that melts my heart to repentance and change. On my own, I will not, indeed I cannot change. When reminded of how much God the Father loves me, just for who I am and what He has done for me by letting His son Jesus die for me, I find that His Spirit turns my heart towards him. In response, my heart once again sings of His marvellous love.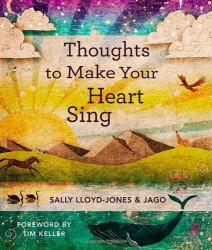 Sally Lloyd-Jones has written a magnificent book for children called Thoughts to Make Your Heart Sing, which consists of 101 simple and yet profound thoughts on faith. It has been beautifully and sensitively illustrated by Jago and includes a forward by Tim Keller. Each double-spread page includes one thought, based on a Bible verse, and is written as if the author is speaking directly to you with an illustration that matches the words.
This is the type of book that older children can have sitting beside their bed and read each evening. The predominant theme of the book is God's marvellous grace, and it shines forth in each and every single thought. My biggest disappointment is that this book did not exist when my children were little! In fact, I prayed that one day God would raise someone to write such a book and finally, it is here. Parents, if you have not seen this book, this is one of the most useful books available to help you teach your children some of the deep, rich truths of God. These are truths they can fill their heart with, and remind themselves that they have a God who is their Father who loves them unconditionally.
I will let you in on a secret. It is not just children who can benefit from reading this book. I have been giving this book to family and friends, young and old and each have responded with joy and excitement. This year, I have read one thought from this book to my Bible study group at the end of our time together. I have a few friends who struggle big time with depression, serious, significant depression and this book has been a lifeline - filling their minds with truths that they struggle to remember. One of my friends has bi-polar and she has been sharing this book with her non-Christian bi-polar friends. This has led to much discussion and one consequence has been that a couple of these friends have committed their lives to The Lord.
Thoughts to Make Your Heart Sing sits permanently beside my bed and I read one thought each night. God has used this book amazingly and profoundly and I am constantly reminded that I have a God who loves me with a "never stopping, never giving up, unbreaking, always and forever love".
For more articles from Growing Faith, subscribe to our monthly e-newsletter.
To hear about the latest books and resources from Youthworks Media, subscribe here.
Related Posts: