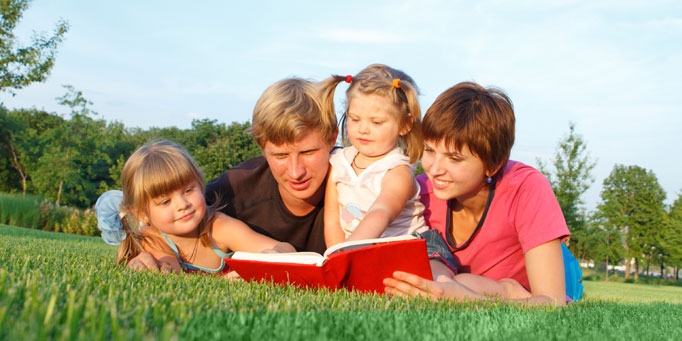 The benefits of reading together
It's never too early (or too late) to start reading with your kids.
The only parenting book that I had read before I had even fallen pregnant with my first child was a book called Honey for a Child's Heart by Gladys Hunt. An inspiring Christian woman, Gladys writes about the imaginative use of books in family life. I was set: I started collecting books for my as-yet-unborn family. That was 25 years ago. I now have three children, all of whom were read to almost from day one.
We still have all our picture books. They are rather tattered and torn, but each is a well-loved friend and we are reluctant to part with them.
In my own personal experience as a mother, I have spent huge chunks of time reading with my children. I enjoyed doing it and it filled time – those wet rainy days and those days when a child had a sore ear or throat and wanted lots of cuddles – we would sit together and work our way through a pile of books. It also helped fill those arsenic hour times when I was tired, they were tired and we needed something to do.
Some of our family routines revolved around reading books: bedtime and daytime sleep routines included 'two books and then bed'. At night-time, we would read two books followed by a Bible story and prayer with our children before putting them into bed. As our children grew older, this changed slightly as we worked our way through chapter books together.
Our children were encouraged to take books to bed with them. Even from a very young age, while still in a cot, they would have a pile of books with them – either to read quietly on their own before sleep or to look at the next morning. Most of our books have survived being slept on and held by a small and feisty toddler as they have developed the fine motor skills necessary for turning pages.
Why read aloud to your children?
Babies and toddlers can be exposed to all kinds of experiences through the pages of books. Sharing books and reading with your child is a wonderful way to spend time with them and to develop your relationship with them. With a small child sitting on your lap, or snuggled next to you, you share an experience as you look at a book together. 'Books can be bridges between children and parents and children and the world.' (Dorothy Butler) You can teach your child about their world through books. They will develop their understanding of language, words and how to communicate. For example, Mr Gumpy's Motor Car introduces them to various animals and different ways of asking for something. It is also humorous. Or in Polar Bear, Polar Bear they will learn about the types of noises that different animals make.
Who influences our children?
We unconsciously teach our children what is important in life. We have choices about how we spend our time with our children. Socrates in 390 BC said:
Could I climb the highest place in Athens, I would lift up my voice and proclaim, 'fellow citizens, why do you burn and scrape every stone to gather wealth and take so little care of your children to whom you must one day relinquish all?'
If he was looking at Sydney today, he might well say exactly the same thing! One way of taking care of our children is nurturing and developing their minds, imagination and ability to question. Reading books together is one way in which we can really develop these qualities in our children and spend special time with them.
Books face much competition from television; DVDs; parents who work long hours and are time poor; children with many scheduled activities; homework; and the busyness of life. How do we choose to spend our time with our children? The choices we make show them what we think is important in life. Do we read? Do our children see us reading? Do we take the time to read to them? They won't magically gravitate to books without gentle encouragement and modelling by us, their parents.
Children who are not spoken to, by live and responsive adults, will not learn to speak properly. Children who are not answered will stop asking questions. They will become incurious. And children who are not told stories and who are not read to will have few reasons for wanting to learn to read. (Gail Haley, 1971 Caldecott Medal acceptance speech)
If you, as a parent, can lure them into the wonderful world of the written word, you have given them a gift worth more than gold.
When do I start to read to my child?
Start reading to your children as early as possible. I started reading to my first child Michael when he was 10 days old. I remember terrifying him with my lion's roar as I read Dear Zoo and my husband, Keith, suggested that I tone down my enthusiasm slightly. When Susannah arrived, she had books read to her constantly, as I would read to Michael while breastfeeding her.
Jim Trelease suggests the following:
Read to children when they are still young enough to want to imitate what they are seeing and hearing.
Make sure the readings are interesting and exciting enough to hold their interest while you are building up their imagination.
Keep the initial reading short enough to fit their attention spans and gradually lengthen both.
How do I start reading to my baby?
There are some wonderful books for children under one year old. I would choose an ABC-type book, flap books and very simple books with little writing. Babies love colour so they will be attracted to books with bold bright pictures that are simple. When your baby reaches the age when they grab everything and wants to put the book into their mouth, it is a great sign, but rather frustrating. Try giving them a rattle or toy to hold, and persevere.
Board books are invaluable – particularly little board books, at this stage. They are small enough to handle and help children learn how to hold a book and turn the pages.
Read one or two books at one time, perhaps after a feed when they are feeling happy and settled or just before going to bed. Read two books and then bed – if you do this consistently, it will become a pattern, a habit and a part of your life.
Have your child's book collection kept in a place that is easily accessible to them. Don't be too precious with books – they may get torn, but Scotch Magic Tape can work wonders. Children will learn to treat books with respect and learn to turn the pages without tearing them – it just takes a little practise.
What about a reluctant older child?
What interests your child and grabs their attention? Is it cars, trains, dogs, cats, balls or teddy bears? Each child is an individual and what appeals to one, will not necessarily appeal to another. Joining your local public library will help you try and experiment with a wide variety of picture books and books for older readers, without spending any money.
A child who is read to will learn about life. They will broaden their vocabulary, imagination and use of words. Their language skills will grow amazingly and they will discover the meanings of countless words otherwise unknown to them. Books will cultivate your child's imagination, transport them to different places and open their eyes to different experiences and life circumstances.
As a Christian parent, we can use books to introduce our children to God's world and let them enjoy, appreciate and learn, so that they will become people who exhibit qualities such as kindness, gentleness and bravery. We can introduce them to people who display these qualities in the books we choose to read to our children.
For more articles from Growing Faith, subscribe to our monthly e-newsletter.
To hear about the latest books and resources from Youthworks Media, subscribe here.
Related Posts: