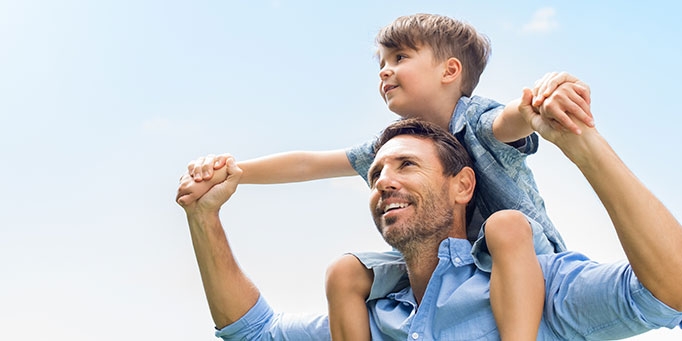 The difficulty and delight of fatherhood
Being an imperfect father to imperfect children is tough going. Joel Deacon shares how knowing God as Father releases us from the pressure to be everything our children need.
Picture the scene. It's a Thursday afternoon and I'm working in my home office in Melbourne when my wife, Emma, and my youngest son, Isaac, approach my door.
'Joel, Isaac has something he wants to tell you.'
With tears in his eyes, Isaac says, 'Dad, I'm so sorry I did it again'.
I follow them inside, take one look at the crime scene and then walk into my bedroom. I mutter to myself 'Joel, it was just an accident'.
As I'm trying to keep it together, my oldest son, Elijah, crashes into my room and says, 'Don't be angry at him, Dad! I know it's the third window he's broken, but it wasn't his fault'.
I snap back, 'Give me a moment!'
Parents under pressure
As a father of three who lives in Melbourne, this year has been a slap in the face. In 2020 my family has endured extended lockdowns, facemasks, home learning … and three broken windows! Even as I write this article, my three kids—like heat-seeking missiles—are tracking me down from room to room in a perpetual quest for my attention or simply for some snacks.
Being a parent means you rarely clock off. Being a parent in a pandemic means you never clock off.
As a pastor of a church, I have heard the quote 'Never let a good crisis go to waste' a thousand times. It's an inspiring quote by Winston Churchill that has influenced me to see difficulties of 2020 as opportunities for my character to be sharpened.
But as a father, I rarely apply this quote to my parenting. And yet the truth is that tantrums, fights, toilet training, home learning and sleepless nights are actually parenting opportunities—where my character will be exposed for what it really is and refined into what it could become.
The Bible: a mirror for your soul
As a follower of Jesus, I'm a fan of the most read book in human history: the Bible. And what I love about the Bible is that it's a mirror for my soul. It doesn't shy away from revealing to me the beautiful and ugly parts of my character. In a politically correct society, the Bible is not afraid to offend me—to tell me that I'm just as rebellious as my children. In fact, they get their disobedience from me. As the writer Paul says:
All have sinned and fall short of the glory of God. (Romans 8:23)
The gospel: gold for your soul
I love the bluntness of the Bible, but also the grace of the gospel—that by faith in the death and beautiful resurrection of Jesus I can be undeservingly adopted into God's family. I can become a child of grace!
In love he predestined us for adoption to sonship through Jesus Christ. (Ephesians 1:4–5)
As an imperfect father, the gospel is gold for my soul. Because in the gospel of Jesus I learn that I am a loved and forgiven son! And I learn that I'm not the only father of my children: they have a perfect Father who loves them even more than I do.
Released from the pressure of fatherhood
This good news releases me from the overwhelming pressure of fatherhood—it's not all up to me. But it also helps me to see the gift of fatherhood—that even the difficult moments are opportunities that can mould me into the likeness of Jesus and enable me to demonstrate the love of Jesus.
Fathers, listen to Robert Fulghum when he says, 'Don't worry that your children never listen to you; worry that they are always watching you'.
When my youngest son broke that third window, I was able to display the grace of Jesus that I always preach about. When I lost my temper at my oldest son, I had an opportunity to model the concept of repentance that I always teach him about.
The greatest gift this Father's Day
Being a father is a difficult task but it's also delightful one. This Father's Day, if you are a dad, I hope you are celebrated and appreciated. I hope you are gifted with a sleep-in, breakfast in bed, a hand-made card and a Bunnings voucher.
But no matter what material gifts you receive, don't forget to see the little gifts in front of you. For your children are the greatest gift you will receive on Father's Day: little human beings who long for your affection, your attention and your approval; little humans who are broken like you and need the gospel of Jesus preached and demonstrated to them daily.
Dads, keep pressing on. Keep working hard. Be present, be affectionate, be attentive. You cannot be a perfect father; but you can tell your kids that you love them, you can repent in front of them, and you can tell them that you're proud of them. And, most importantly, you can talk to them about their heavenly Father, who loves them even more than you do.
This year, do your best to turn Father's Day from being about you to being about God, the perfect Father, who so loved you and your children that he gave his one and only Son, that whoever believes in him shall not perish but have eternal life (John 3:16).
---
Joel Deacon is a husband of one, father of three and friend to anyone. He is a pastor at City on a Hill: Melbourne and a servant of the servant King.
For more articles from Growing Faith, subscribe to our monthly e-newsletter.
To hear about the latest books and resources from Youthworks Media, subscribe here.
Related Posts: