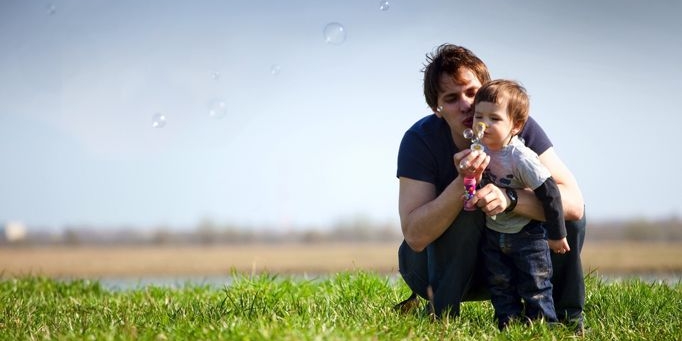 What's so important about dads?
Decades of research have shown the disastrous social and spiritual impact of disengaged and absent fathers.
"I never thought of fatherhood as something that could affect a kid." Homer Simpson.
Fatherhood is back on the agenda. Two generations ago, the cultural norm for fathers was the aloof breadwinner. Earn the wage, bring home the pay packet, and that's where your household and parental responsibilities ended. Next came the goofy dad. TV fathers like Homer Simpson, Tim Allen and Ray Romano gave us the caricature of the dad who may try to be involved, but would get a gold medal if they were able to 'babysit' their own children for an hour (with sure-fire disaster and hilarity ensuing).
Thankfully, there are now significant voices that are fighting this tide of disengaged or inept parenting, and fighting for a stronger vision of fatherhood in our modern culture. Professional voices like family counsellor Michael Gurian and family psychologist Steve Biddulph advocate for strong fathers in the raising of boys and girls. The blogosphere is represented with prominent websites like goodmenproject.com, fatherhood.org and thefatheringproject.org, and in the Christian world there are titles like Raising a Modern Day Knight and Wild Things, which look at the topic of raising boys with a positive view toward the man and father we hope them to become.
Bringing about change
One of the reasons for this resurgence is the recognition of the indispensable place of fathers in families.
The last few decades of research have shown the disastrous effect of disengaged and absent fathers. Socially, children from fatherless homes are more likely to be growing up in poverty, be victims of child abuse and more likely to engage in childhood delinquency. In regards to health, the fatherless are more likely to suffer from infant ill health, engage with substance abuse and more likely to have a teenage pregnancy. Conversely, as well as improving these aspects of a child's physical and social health, children from homes with engaged fathers perform better academically, shown through and increase in test results (1).
The evidence affirms that holding dads to a high level of accountability and engagement, while equipping them for the task, is critical to the emotional, psychological and social health of our children.
A father's spiritual impact
Fathers are critical to the spiritual health of their children too. A 1994 study in Switzerland found that the regularity of a father's religious practice had a significant effect on the religious practices of their children.
A regularly practicing father and regularly practicing mother resulted in 32.8% of their children practicing regularly and 41.4% practicing irregularly.
An irregularly practicing father with a regularly practicing mother resulted in a mere 3.4% of their children practicing regularly.
A non-practising father with a regularly practicing mother resulted in only 1.5% of their children practicing regularly and 61.1% becoming non-practising observers of the faith.
Interestingly, the children of a regularly practicing father and a non-practicing mother had a 44% chance of being regular themselves (larger than having both parents being regular practitioners).
Therefore the spiritual influence of the father is striking. Whether in households where the parent's faith practice is equivalent, or in households where the parent's differ in expression, it is the regularity of the father's religious practices which has an immediate and dramatic effect on the religious practices of their children (2).
God's directive to fathers
As Christians, this should come as no surprise. As readers of God's Word, we are aware of the weighty task that God has bestowed on fathers in bringing up their children in the Lord.
As God's people prepare to enter the Promised Land, Moses speaks to the whole congregation about the importance of following God's commands and passing them down diligently to the next generation. From Deuteronomy 6:
"Now this is the commandment, the statutes and the rules that the LORD your God commanded me to teach you, that you may do them in the land to which you are going over, to possess it, that you may fear the LORD your God, you and your son and your son's son, by keeping all his statutes and his commandments, which I commanded you, all the days of your life, and that your days may be long…

… And these words that I command you today shall be on your heart. You shall teach them diligently to your children, and shall talk of them when you sit in your house, and when you walk by the way, and when you lie down, and when you rise."
Given the Ancient Near East's patriarchal context in which this is given, we can assume that it was the fathers and male leaders of the community which were specifically under orders here to bring up the children in their households and communities in the ways of the Lord.
The Book of Proverbs is likewise written within this context; a father passing on his wisdom and guidance to his son. However, as a public document, Proverbs not only functions as Solomon's specific word to his sons, but as a community document, for the equipping of all fathers in their role of discipler.
"Hear, my son, your father's instruction, and forsake not your mother's teaching, for they are a graceful garland for your head and pendants for your neck." Proverbs 1:8
In the New Testament, Paul gives specific instructions to fathers on their responsibility to their children.
"Fathers, do not provoke your children to anger, but bring them up in the discipline and instruction of the Lord." Ephesians 6:4
Taking fatherhood seriously
God, in his Word, gives fathers the primary responsibility of leading their household and raising their children. What God's Word affirms, the social research confirms; fathers are indispensable for a child's social, but also spiritual well being.
Therefore, taking fatherhood seriously must be one of the task of our churches and our communities. For the sake of our men, our children and our society, we must encourage and equip the fathers in our congregations to take up the mantle that has been bestowed upon them by God.
In the next post, I will investigate some ways in which churches can engage in this task.
About the author: Tim Beilharz is a Children's Ministry, SRE and Boys Ministry Advisor for Youthworks. He lives in Gymea with his wife and two kids.
[1] http://www.fatherhood.org/media/consequences-of-father-absence-statistics
[2] https://wcd.coe.int/ViewDoc.jsp?id=430177&Site=COE
For more articles from Growing Faith, subscribe to our monthly e-newsletter.
To hear about the latest books and resources from Youthworks Media, subscribe here.
Related Posts: