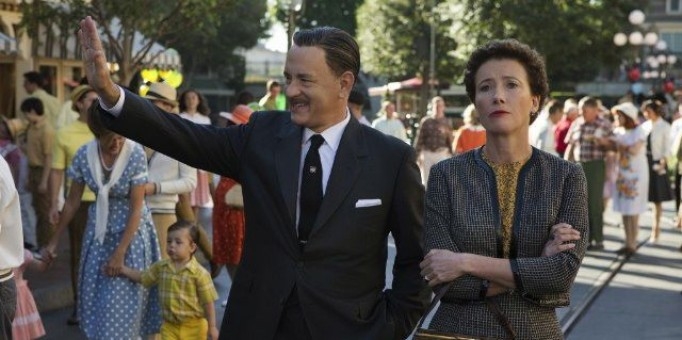 Mr Banks and other imperfect fathers
More than a tale about Mary Poppins, Saving Mr Banks is a thoughtful story about relationships with dads.
I love when cinema captures you just by telling a great story. I love it even more when it's a story that hasn't been known or shared before. And so for Saving Mr. Banks to reveal the tale behind the making of much-loved Disney film Mary Poppins, I was drawn in from the first trailer.
While it may seem that this is the story of how the 1964 classic came to be, there's actually a much deeper and darker story being told. Saving Mr. Banks is really the story of P.L. Travers (Thompson), the author and creator of the Mary Poppins books.
She is wooed by an insistent Walt Disney (Hanks) to come to his studios in Los Angeles to work together to bring Mary Poppins (Travers insists, it's never just Mary) to the big screen. Disney had been pursuing this adaptation for decades, but Travers is highly protective of her story and unwilling to budge on an endless list of elements that Disney wants. No music. No colour red. No cartoons. It's incredible that Mary Poppins was ever made!
The real Mr Banks
Throughout the battle over the script, the action cuts back and forth to Travers as a child in rural Australia in the early 1900s. Her father, Travers Goff (Colin Farrell) is a banker who she loves dearly, however Goff is stuck in a sad struggle between being a father and a banker, mixed with an addiction to alcohol.
Before I saw Saving Mr. Banks, I watched Mary Poppins for the first time. As I watched, I noticed this major turn from the whimsical adventures of Mary and the children in the first half of the film to the dark, gloomy tone of the London bank and Mr. Banks' redundancy in the latter half.
Saving Mr. Banks helps us discover how Travers was deeply affected by her childhood, in particular her relationship with her father – who she dearly loved. Writing these characters into her fictional world was her way of dealing with the joy, pain, and hurt of reality. It's when she and Walt are frank about the issues of their own pasts, that understanding is brought about.
Imperfect fathers
Saving Mr. Banks and Mary Poppins both deal with the issue of fatherhood, and in particular, dearly-loved yet imperfect fathers. You might watch this film and resonate with having fathers like Banks or Goff, who may have been far from perfect ... or you might recognise your own failings too. The sad reality is that because of the fall, we are all imperfect. This does not excuse sin and abuse – far from it – God will hold all people accountable for their actions. But fortunately for us, we have the example of the ultimate father, the one in Heaven who loves us unconditionally.
See what great love the Father has lavished on us, that we should be called children of God! And that is what we are! (1 John 3:1)
What a great thing to teach our children. That although all fathers are imperfect, God the perfect Father lavishes love on us. He cares for us so much that he would send his son Jesus to die in our place, to save us from our imperfections. And when we personally know this love through trusting Jesus for the forgiveness of our sins, he calls us his children, and we can call Him Father (Galatians 4:6).
Watching Saving Mr Banks with your kids
Saving Mr. Banks is a marvellous film. It will play with your emotions, have you craving spoonfuls of sugar, and make you want to book a trip to Disneyland. It is rated PG in Australia, and if you do see it with your kids, here's a few questions you can ask them when the film is over:
Why do families forgive each other when we make mistakes?
What do you think it means for God to be our heavenly father?
What are your favourite things to do with dad?
Sam Robinson reviews movies and music on his blog, Reel Gospel.
For more articles from Growing Faith, subscribe to our monthly e-newsletter.
To hear about the latest books and resources from Youthworks Media, subscribe here.
Related Posts: