Preparing ourselves for Halloween
What's your family policy?
At about this time every year, I notice a decoration going up on a house or a costume for sale in a shop and think to myself: 'Ah yes, I really must work out what to do about Halloween—what should our family "policy" be?'
Just shut the door?
When our kids first became old enough to notice that something was going on, I was a little bit afraid of Halloween and we had a 'just shut the door' policy. I couldn't understand why anyone would want to deliberately scare children for fun. I told my kids simply, 'We don't do Halloween in our family'.
Then our children started seeing the neighbourhood kids walking past, all dressed up to go 'trick or treating'. 'Can we go too?' they started to ask.
Just hospitality?
My next policy was one of 'just hospitality'. I thought how sad it would be if the only house in the street with their door shut was the one where the Christians lived. So we began putting a bowl of lollies outside the house and welcoming trick or treaters as they passed. I let our kids get dressed up if they wanted to and encouraged them to invite the trick or treaters to come and take something. Gradually, my kids started making homemade decorations too. One year, they made a skull out of Lego. Another year, they wanted to try carving a pumpkin.
This week I listened to a podcast from Faith in Kids and was inspired by the example of some Christian families who make little gift bags to give out to the kids of their neighbourhood, sometimes including a Bible verse or a Christian Halloween story or tract (you can find some here and here).
No fear!
In previous years, I have felt reluctant to actively participate in Halloween beyond buying a few bags of lollies. I didn't like all the dark spiritual undertones and the themes of death, violence and fear that seemed so anti-Christian.
However, my approach has changed since reading an article by James Jordan (there's also a video from SpeakLife that takes a similar approach). Jordan explains the Christian origins of Halloween or All Hallow's Eve (the night before All Saints Day) like this:
'The concept, as dramatised in Christian custom, is quite simple: On October 31, the demonic realm tries one last time to achieve victory, but is banished by the joy of the Kingdom. What is the means by which the demonic realm is vanquished? In a word: mockery. Satan's great sin is pride. Thus, to drive Satan from us we ridicule him … because he has lost the battle with Jesus and he no longer has power over us.
'The gargoyles that were placed on the churches of old had the same meaning. They symbolised the Church ridiculing the enemy. They stick out their tongues and make faces at those who would assault the Church. Gargoyles are not demonic; they are believers ridiculing the defeated demonic army.
'Similarly, on All Hallows' Eve, the custom arose of mocking the demonic realm by dressing children in costumes. Because the power of Satan has been broken once and for all, our children can mock him by dressing up like ghosts, goblins and witches. The fact that we can dress our children this way shows our supreme confidence in the utter defeat of Satan by Jesus Christ—we have no fear!'
So last year, I spoke more with our kids about the freedom that we have to laugh at death. Along with Paul, we can mock: 'Where, O death, is your victory? Where, O death, is your sting?' (1 Corinthians 15:55).
In line with this, we spontaneously got into the spirit of Halloween by drawing some 'chalk outlines' of the kids on our driveway. We also tied two sticks together to make a rough cross. Last year, I wasn't even afraid to take the kids to see the 'spooky house' on the corner of our street. Every year, its owners dec the house out with moving skeletons, spiders, ghosts and coffins and dress up in some very scary costumes. One year they were even holding a real snake!
I want my kids to know that we can talk about death and evil without fear. We can even joke about it because "The God of peace will soon crush Satan under your feet" (Romans 16:20)
A house of light
This year I have been challenged to go beyond simply giving out lollies or doing something a little bit spooky for Halloween. I'm asking myself: How can we proclaim loudly that Jesus is the light of the world on a night that celebrates all that is dark?
The guest on the Faith in Kids podcast, Nay Dawson, spoke about a movement in the UK called 'Streets of Light', which encourages Christians to decorate their front windows with themed light displays throughout the season of Halloween. Although it gets dark later in Australia, this could still be an effective way to point our neighbours to Jesus. You can see some examples on the Streets of Light website:
Perhaps we could also think up some distinctively Christian costumes. Lazarus, anyone? Or perhaps an angel?
Undoubtedly, Christian families will come to different opinions on whether—or how—to participate in Halloween. Whatever we decide, it's a great opportunity to stop and think about our witness in our neighbourhoods. On a night when the world seems dark and fearful, how can our family hold out Jesus' offer of light and life?
---
Harriet Connor is the Content Editor for Growing Faith and the author of Families in God's Plan: 12 Foundational Bible Studies and Big Picture Parents: Ancient Wisdom for Modern Life (Wipf and Stock, 2017). She lives on the Central Coast of NSW with her husband and four sons.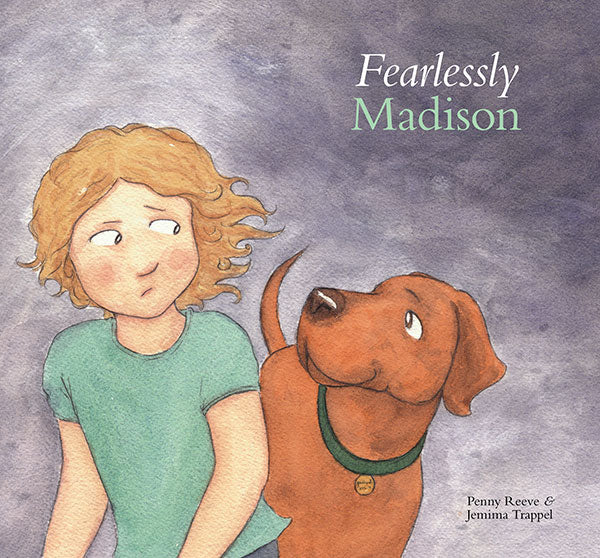 Fearlessly Madison
In this delightful new adventure, Madison learns that no matter what our circumstances might be, we need not be afraid; God is with us and he's working in all things for our good.
For more articles from Growing Faith, subscribe to our monthly e-newsletter.
To hear about the latest books and resources from Youthworks Media, subscribe here.
Related Posts: