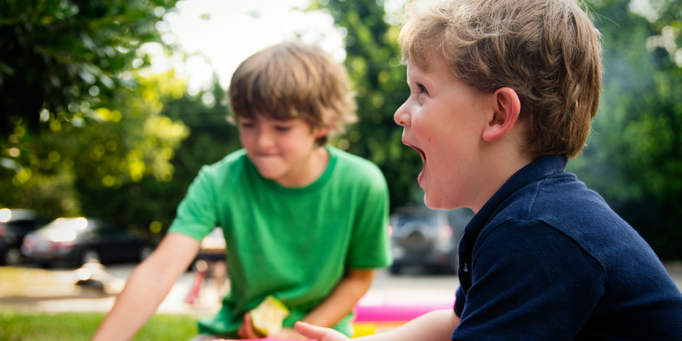 "Do I have to go to playgroup?"
4 reasons why playgroup should be a priority when we have little ones at home
I must confess, this is a question that I ask myself several times throughout the term. I have two little boys aged 1 and 3. By the time Tuesday play group rolls around it is the third day in a row we have been at church as our bible study group meets on Monday. Sometimes the boys are tired. Sometimes the 1 year old should be napping. Sometimes I'm tired. Sometimes other commitments pop up. So I find myself asking the question "Do I have to go to playgroup?"
Well, the answer is no. I don't have to go. As a mum (or dad) with little ones at home it is ok to show ourselves some grace. Some weeks it makes more sense to stay at home and let the baby sleep or clean the house or do whatever keeps you sane! And we shouldn't feel guilty about that.
On the other hand there are some good reasons why we should go along to play group.
Connecting with our kids: playgroups offer a great opportunity to play with our kids in a different context and with different materials or toys. Kids are given the opportunity to play, create, learn and experience outside the home. Parents are also given the opportunity to slow down and spend specific time playing and engaging with our kids.
Connecting with other parents: parenting can be hard work, and playgroups provide a safe environment to share with others the joys and challenges. It creates a network of parents who can offer support, advice and personal experience. Playgroup can be beneficial for anyone who is feeling isolated, struggling or just needs to get out of the house. Friendly faces, programmed activities and a cup of tea can make a long day of parenting more bearable!
Connecting with our communities: playgroups are a place where lots of parents and grandparents from our local communities are happy to come along to. They are keen to get out with their toddlers and babies and meet with other adults. Playgroup is an opportunity to connect with other families in our local community. I've been delightfully surprised at how many pre-school families are also attending our playgroup. Playgroup is another opportunity to connect with these families.
Connecting with the gospel: those who come along to playgroups are generally happy to hear bible stories, sing songs about God and make connections with church goers. Both the kids and the adults are hearing about the message of Jesus. It is exciting that people freely bring themselves along to our church buildings each week and that the gospel is shared in simple terms. It is a truly amazing gospel opportunity!
These are some strong reasons why playgroup should be a priority in our weeks when we have little ones at home. Playgroup offers so much to our kids, ourselves and our communities. But rather than asking "Do I have to go to playgroup", perhaps we should be asking ourselves "Can I make it to playgroup today?" And if the answer is yes, you had better go get everyone dressed and out the door!
For more articles from Growing Faith, subscribe to our monthly e-newsletter.
To hear about the latest books and resources from Youthworks Media, subscribe here.
Related Posts: