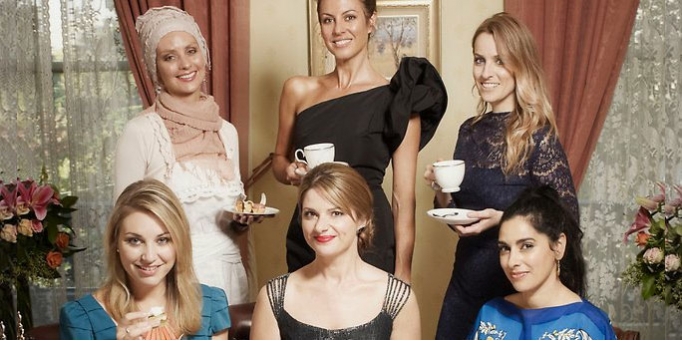 Agony Aunts: TV Review
A show for mums and teen daughters who want to talk about what to look for in a relationship.
What women want
Sigmund Freud, the father of modern psychoanalysis was just like every other man when it came to what some consider the world's greatest mystery:
The great question that has never been answered, and which I have not yet been able to answer, despite my thirty years of research into the feminine soul, is 'What does a woman want?
Agony Aunts is interviewer Adam Zwar's attempt to answer that question. This six part series gathers together a range of high profile Australian women to quiz them on what they are searching for in a relationship. The roster of talent includes a range of women used to speaking their minds, drawn from entertainment, media and art circles: Judith Lucy, Denise Scott, Myf Warhurst, Wendy Harmer, Julia Zemiro, Mirka Mora, Sam Lane, Hannah Gadsby and Leah Vandenberg. For such a diverse group, it's surprising how much unanimity they achieve when it comes to deciding what they expect from men.
The perfect relationship
Agony Aunts is Zwar's follow-up from the successful Agony Uncles series that has already aired on the ABC. In it, Australia's male counterparts seemed to inject sex into most things ... which some might say is a fair reflection of the male psyche. So, forewarned, I was expecting a lot of deliberate titillation and coarse handling of what is actually a very sensitive subject. Agony Aunts certainly spends its fair share of time talking about sex, which seems to be synonymous with 'relationship' for the non-Christian world. However the series provides a surprisingly Christian view (of sorts) of things that make for a happy marriage.
To begin with, these modern women all like the idea of men taking the lead. Approaching them, expressing interest in a forthright way, showing them that he is a person who knows his own mind and is confident enough to communicate it are all positive points raised. More interesting, though, is the tell-tale signs of affection that emerge. In an age that virtually worships individualism, Zwar's guests encourage women to run a mile from a man who doesn't know how to put his woman first. The ideal relationship, it seems is other-person-centred and sacrificial. Someone should introduce these women to Jesus. Apart from being a carpenter (apparently being practical is a real bonus), there's never been a man on earth who was better at putting his bride before his personal gain:
Husbands, love your wives, just as Christ loved the church and gave himself up for her (Ephesians 5:25).
Watching Agony Aunts with your kids
I could see agony Aunts as the sort of program you might enjoy watching with a teenage daughter. Dating is a fraught topic, but TV is an easy-in. Instead of lecturing them on the proper behaviour of boyfriends, try starting a conversation with one of these:
What sort of things can all of the women interviewed agree on?
Is sex the most important thing – would you like to be any of the women who seem to talk about it the most?
What's missing from the conversation – did you hear any of the women say what they thought they should be doing?
For more articles from Growing Faith, subscribe to our monthly e-newsletter.
To hear about the latest books and resources from Youthworks Media, subscribe here.
Related Posts: