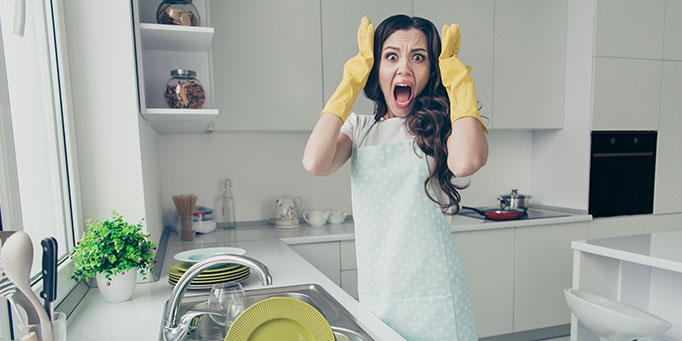 To the 'beast mum'—who are you pleasing?
Jocelyn Loane describes how God challenged her parenting priorities.
No matter how well prepared I think I am, the last 15 minutes before guests arrive usually induces a panicked frenzy in our house. It seems I'm never as far along in the food prep as I'd like to be, the sofa cushions have somehow been strewn around the room again, the box of Duplo has been upended and every stuffed toy within a 5km radius has gravitated to a surface I thought I'd cleared. Needless to say, those 15 minutes do not bring out my best parenting.
One Mother's Day, one of our kids, who was just learning to write, inscribed her card with: 'To the beast Mum'. We had a secret giggle at her spelling of 'best', but sometimes the person I become in the pre-guest-arrival period is pretty aptly described as the 'beast mum'!
I like a tidy house for our guests. I have a low tolerance for mess generally and I've always felt it shows respect for visitors if you've prepared for their arrival. I'm someone who sits on the 'tending to OCD' end of the tidiness spectrum: my guilty pleasure is following professional organisers on Instagram, observing Marie Kondo fold actually lowers my blood pressure and I find nothing so satisfying as watching a pantry makeover. While I don't think there is anything wrong with appreciating a tidy house per se, lately I have felt rebuked about the parenting that this preference has brought out in me.
'Beast mum' priority check
It started one day when I went into one of these tidy-up frenzies—this time not related to the imminent arrival of guests. I raced around replacing cushions and shouting out directions at children to pick up their toys. No-one was quick enough for me, my tone was exasperated and there was plenty of deep sighing. The emoji to describe me would be some sort of angry face and eye-roll combo. Then my youngest child asked, 'Mum, is someone coming over?'. Ouch! Immediately it struck me. That was the model of hospitality I had been giving my kids: rather than prioritising relationships, I was placing a premium on looking put-together. While I was preparing to warmly welcome guests, I had made my own beloved children feel unwelcome and unable to please me.
A week or so later I was reading chapter 16 of Luke's Gospel where Jesus is rebuking the Pharisees. Jesus was addressing their love of money, but his words struck me to the heart in a different way:
You are the ones who justify yourselves in the eyes of others, but God knows your hearts. What people value highly is detestable in God's sight. (Luke 16:15)
I think Jesus' reproach applies to anything we might value so highly that it overshadows God's values; when we're outwardly striving to please other people, but the attitude of our hearts doesn't please God. That day God's word challenged me: I had been valuing a tidy, put-together home above the way I treated my kids.
I don't think it is necessarily sinful to have a tidy home. In fact, there are many ways in which having a messy one could be a symptom of sin too! But there was sin in the way I was doing it. Yes, I like things tidy and I want guests to feel comfortable. But there was also pride in my heart. I wanted to seem organised in the eyes of others; I wanted them to admire my home and how 'together' I have it. What only God could see was the sin it took to achieve that: harassing my children and stressing the family out to get things ready in time. Striving for what I valued highly had produced thoughts and actions that were detestable to God. My beautiful-looking home was bought at the cost of ugliness towards my kids.
Are you pleasing people rather than God?
I'd like to say that since God convicted me of this sin, I no longer fly into hospitality-induced 'beast mum' mode. In reality it's still a struggle, but I'm praying that God helps me change. For you, the challenge might be in another area. Ask yourself: where are you tempted to put what you think others value highly above what God values? Perhaps you overreact to your children's bad behaviour in public out of embarrassment, rather than a desire to discipline them in a godly way. Perhaps you make parenting decisions because they will look good to others, rather than because they would please God. Sometimes we care more about looking like we're doing the right thing than actually doing it.
The gospel reminds us that we will sin in many ways—and we ought to pray that the Holy Spirit will keep convicting us of sin and bringing us to repentance. We won't be perfect parents, but we have a perfect parent in our heavenly Father. We need God's grace in abundance every day: he forgives our sins and he can help us to change. In our parenting, we may sometimes fall into the trap of justifying ourselves in the eyes of others rather than prioritising what God values. But we don't have to be overrun with guilt at our failures. We can be fully forgiven—free to keep loving our kids with the love God has given us.
---
Jocelyn Loane is married to Ed, and together they have five children. They have been serving in full-time ministry in a variety of contexts since 2008. They are a part of Naremburn Cammeray Anglican Church.
For more articles from Growing Faith, subscribe to our monthly e-newsletter.
To hear about the latest books and resources from Youthworks Media, subscribe here.
Related Posts: