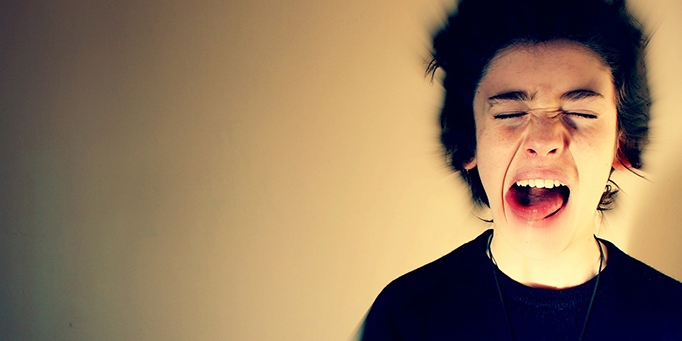 Tips for staying godly when your kids are driving you crazy
How can you imitate Christ when all you want to do is shout?
As newlyweds my husband and I used to imagine what our family might look like five or ten years down the track. We hoped and prayed that the pitter-patter of little feet would be part of our future. In my mind's eye, we would be firm but kind, godly parents to a brood of happy, well-behaved children…
Then we actually had kids, and boy, did those ideals come crashing down! Now, as parents of a 10 year old and 8 year old, we know that staying godly when our kids are driving us nuts is a daily challenge.
How do we honour Jesus when…
All we want to do is yell and scream, or run away?
We have no idea how to handle that child?
We're sick, they're sick and no one has had a decent night's sleep?
Depression and anxiety hang over your life like a dark cloud?
The demands at work, at home and at church seem never ending?
It feels hard enough just to get through the day, let alone get through it in a godly way?
Here are some tips I have found helpful over the years:
Breathe! Stop. Pause. Take some deep breaths. Remove yourself from the heat of the moment.
Diffuse and Distract. Depending on the situation, sometimes all that is needed is a good laugh. A silly voice or song. Going outside into the fresh air. Tickling. Throwing the dog his favourite toy.
Pray. Pray without ceasing. In your head, in your heart. Out loud. With your kids. With your spouse. Cry out to God. Confess that without His grace, you cannot be the godly parent you want to be. Call out to him in the midst of the messy moments. Take your child's hand and pray together. Ask for help; for wisdom; for forgiveness.
Read. Read the Bible. Read parenting books and articles.
Talk. Talk it over with a trusted friend. Share your parenting dilemmas, frustrations and concerns. Celebrate the victories together, and commiserate over the struggles. (Coffee and cake optional but highly recommended!!)
Take a break. If help is offered, accept it. If it isn't offered, don't be afraid to ask for it. Take some time out for rest and reflection. This will bring some perspective to the situation.
Take comfort in God's promises. Here's just a small sampling to start you off:

Psalm 103 describes God as our faithful Father, full of great love and compassion for us, his children.
James 1:5 reminds us to ask God for wisdom.
James 4:6-10 commands us to humbly draw near to God, who gives grace to the humble.
Lamentations 3:22-23 speaks of God's mercies being new every morning
Romans 8:31-39 speaks of God's great love for us in Christ Jesus, and that nothing can separate us from His love.

Take a reality check. Gone are the days of rosy idealism. Gone is the pride of thinking I can handle things on my own. The truth is, there will be times my kids will drive me nuts, my spouse will drive me nuts, and I will drive them nuts too! That's just what life is like this side of heaven. The truth is, we all need Jesus, and huge helpings of His grace and mercy.
Practise. In the words of Colin Buchanan,
"Never give up, make it your aim,
To practise being godly,
If you've been forgiven in Jesus' name,
You've gotta practise being godly,
He paid the price for all our sin,
His Holy Spirit dwells within
So centre all you do on Him,
And practise being godly."
Rest in the everlasting arms. God's love for us is so big. Come to your Father God as a little child. He remembers we are dust. He knows, He cares and He works all things together for good, for those who love Him, and who are called according to his purpose (see Romans 8:28). Here's a prayer you might want to use to help you find rest in God.
Father God, we thank you that you loved us so much that you gave your only Son Jesus for us, that we might have eternal life. Father, you did not spare your own Son but gave him up for us all, so we know that you will graciously give us all things, including the grace and wisdom we need to parent our children in a godly way.+ Thank you for your love for our children and for us – love that is so much deeper and stronger than we can even comprehend. Help us to rest in You and wait on You in this season of parenting. We ask this in the precious Name of Jesus, Amen.
For more articles from Growing Faith, subscribe to our monthly e-newsletter.
To hear about the latest books and resources from Youthworks Media, subscribe here.
Related Posts: