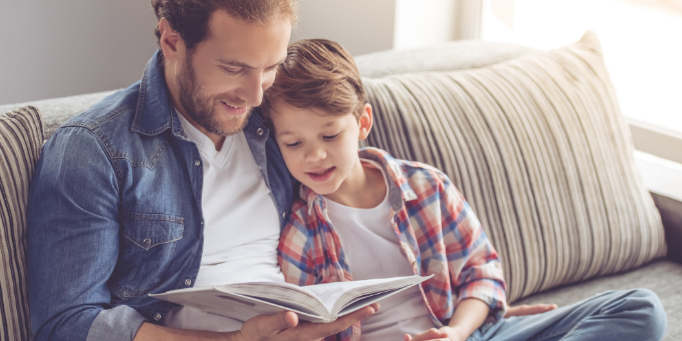 Raising readers
5 things busy parents can do to encourage a love of reading
I know what it's like. The clock is proclaiming bed time, the home reader's still on the floor—AND it's boring. Everyone knows it's boring. You're weary, rushed off your feet but trying to end the day well. The guilt is mounting.
'Your child needs to read more.'
'20 mins of reading a day.'
'Literacy is the most important skill'
We've heard it all before and, what's worse, we agree with it all. We know reading is important. We know we need to fit more reading in. We're disappointed when our kids choose screens over books and don't even recognise the favourite storybook characters we grew up with. But how on earth can things change? How can we encourage a love of reading in our kids when our schedules leave barely enough space to breathe?
Many people assume that because I'm a children's book author, I'm somehow immune to these types of struggles. But, although my life is full of books—I write them, read them, think and talk about them all day long—I'm still familiar with the nagging worry of whether my kids are learning to love books. Sure, they can read—the mechanics aren't so much an issue. But do they WANT to? Can they navigate a wide variety of texts? Are they developing reader's perseverance, committing to potentially challenging writing knowing good things are in store? As a Christian, I also bring to my desires for my children's literacy the hope that these skills will gradually be transferred to exploring the wonders of God's Word.
So here are my top 5 strategies for encouraging kids to read—and they ALL work for busy, run-off-their-feet, don't-make-me-listen-to-another-home-reader type parents because they focus on building a positive attitude and enjoyment of reading, rather than ticking off hours in a log book:
Once your child has mastered the basic mechanics of reading, don't worry about Home Readers.
Yes, I know this may be controversial, but remember: what's important here is that your child is reading and enjoying the process. It doesn't really matter what they read, whether they're reading a few pages to you from their Children's Bible before bed or choosing their own books from the family bookshelf. Give yourself, and your child, permission to read what they like. (Most teachers are fine with this approach and some even encourage it. Just let them know so your child doesn't miss out on any Home Reading rewards.)
Continue to read to your child.
Unless you've had an absolutely crazy day, try and make reading to your child a priority, even if they are mostly confident readers. It may seem impossible, given how busy life is, but consider it a moment for both you and your child to catch a breath at the end of the day. And take turns choosing books. This way you can introduce the books you enjoy and stretch your child out of their familiar reading ruts. Choose children's novels and vary their lengths. If you're running late with the dishes, ask your child to read the first page to you while you finish up, then continue once your jobs are done. (If they're keeping a Home Reading log for school, log this reading too!)
I recently read Storm Boy to my youngest. It's a very short Australian classic, but my son loved it. At the end, when Mr Percival the pelican dies, my son sat snuggled into my side wiping tears from his little face. 'Did you like that story?' I asked, a little nervously. 'Yes',' he said. Sharing a variety of stories with our kids like this teaches them about empathy—it's priceless.
Give your child permission to read on.
If you've been sharing a book with your child and making slow progress (I mean, let's be honest, sometimes there's just not enough time for a full chapter a night) let your child know they can read on without you. The momentum of the story may be enough to convince even a reluctant or struggling reader to push on for a page or two. Keep up the reading the following night, to cement what they have read alone. Or, if they're very confident and enjoying the book, allow them to finish it and tell you what happens!
Listen to audio books in the car.
One of the best lessons we can teach our kids about reading is that it's worth it. And audio books are a great way to experience the wonder and excitement of stories without the sometimes hard work of actual reading. So, borrow out children's audio books from your library, or download them, and listen to them while travelling. Borrow out hard copies too and leave them lying about the house, available for reading. Once our kids realise the amazing treasures that are available in books, they will be more likely to persevere with them.
Talk about what you read.
This is a great strategy because you can fit it in no matter how busy you are. Just talk. Talk about the books the kids are reading, the books their teachers are reading, the books you are trying to read. Go to book launches together, or special events put on by your local bookshop. Allow books to generate conversation about issues and interests. When my son and I were reading Treasures of the Snow (a beautiful Christian children's novel by Patricia St John) we had lots of little discussions about forgiveness and the journeys to faith the children in the novel made. Talking about reading reminds children of the relevance and relationship books can provide, and this all helps build a positive attitude towards reading.
---
Penny Reeve is the Australian author of more than 20 books for children and young adults, including the popular Madison and Tania Abbey series. She writes to empower young readers to engage with—and respond to—the world around them.
'Her most recent children's novel, Camp Max, won the 2018 CALEB Prize for faith inspired writing. It's a fun story for 6–10-year-olds and explores themes of friendship, faith and the true cost of generosity.
You can learn more about Penny and her books by visiting www.pennyreeve.com or www.pennyjaye.com
For more articles from Growing Faith, subscribe to our monthly e-newsletter.
To hear about the latest books and resources from Youthworks Media, subscribe here.
Related Posts: