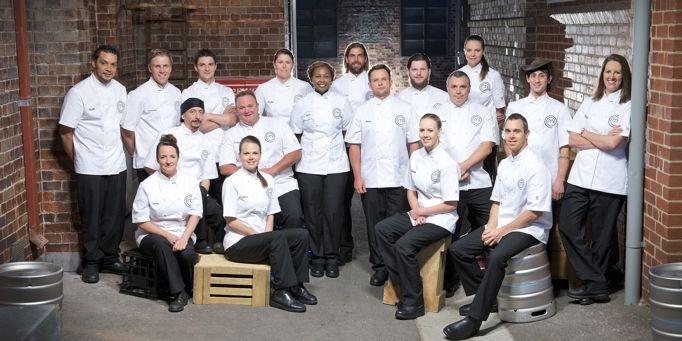 Give thanks for the ultimate master chef
A host of new food shows has Mark Hadley wondering if saying grace before meals is a lost practice.
To paraphrase Star Trek, "It's Masterchef Jim – but not as we know it!". Network Ten's ratings juggernaut returns for 2013, but with an emphasis on the pre-trained in Masterchef: Professionals. But will this only exacerbate the program's inherent problems?
Beginning Sunday night, Australian audiences returned to the confines of the familiar Masterchef kitchen, where this time we were introduced to contestants who have already been proving their skills in kitchens across Australia. Contenders for this year's golden spatula include Matty, a life-coach come chef from Queensland, Coop a caterer with a daughter suffering a brain lesion, and the hearing-impaired Bonny who is a chef at Sydney's Rockpool. What they and the other sixteen contestants have in common is soaring ambitions.
The fundamental change in the style of competition is the increase in time pressure under the eagle eye of world-renowned chef Marco Pierre White. These are professional cooks who already have many of the skills that we saw our hopefuls develop in past series. They're used to being yelled at and racing the clock; the challenge will be turning less into more. In the opening night they were forced to confront a challenge of professional stature: cook a three-course meal for 120 guests in under two hours. In coming weeks they'll have to serve up the same standards on moving trams and from the confines of bush kitchens.
Of course innovation was essential for Ten if it was to stand a chance of beating the slew of cooking programs that will leave audiences salivating this year. Seven will shortly launch the new season of My Kitchen Rules, which pits ordinary couples from each of Australia's states against each other in a battle of home-made menus. Nine is already spruiking The Great Australian Bake-off, a similar home-based format searching for the nation's best baker. Even the ABC will get in on the act, launching The Taste, a 'blind judge' competition where the judges will see if they can pick between professionals and amateur cooks using their taste buds alone.
What Ten and the rest of the networks realize is that food is more than a matter of sustenance. When God created the tongue, he gave it more receptors than were strictly necessary to discern whether something was poisonous or not. In short, food is one of those elements that points to the fact that our God is a hedonist at heart. Jesus even uses words like 'feast' and 'banquet' to describe the Kingdom of God and the final gathering of those who put their trust in Him. Heaven certainly won't be cream cheese and a cracker, whatever Kraft tells us.
The problem with programs like Masterchef: Professionals though, is not the appreciation of the competitors' skills or the amazing dishes they create, but the lack of thankfulness. I'm not saying there is none at all – 19-year-old Cassie looks to her mother for encouraging her as a four year old to pursue her dream to be a chef. But this is certainly a program full of super-charged egos with contestants like Nick telling the camera, "I haven't even scratched the surface of what I'm capable of." Marco fuels that drive by telling them that they are the only person they need to look to, to win: "Dig down deep within yourself – find that strength!" Of course, they're all happy to have the chance to be there, but the gratitude rarely rises higher than that. They love the kitchen, but no one spares a thought for how great the ingredients are. They love to cook, but their skills just come from within.
If you're looking for a distinctly Christian way to participate in what's likely to be a highly watched series, I'd suggest you begin by saying grace. Sadly, it's a teaching opportunity and a personal encouragement that many believers have let pass by the wayside. But that food, however well-cooked, is someone else's creation, and the hands that put it on the table for us demonstrate daily what service is. Jesus reminds us that, 'life is more than food', but meals can still remind us of the One who stands behind every good thing and encourages us to, 'Taste and see that the Lord is good.'
Normally I'd provide a few questions at this point for parents to think through as they try and use culture to turn their kids' minds towards God. Instead, let me ask you just one: do you thank God for every meal you eat? For their sake and yours, now would be a good time to start.
Related Posts: