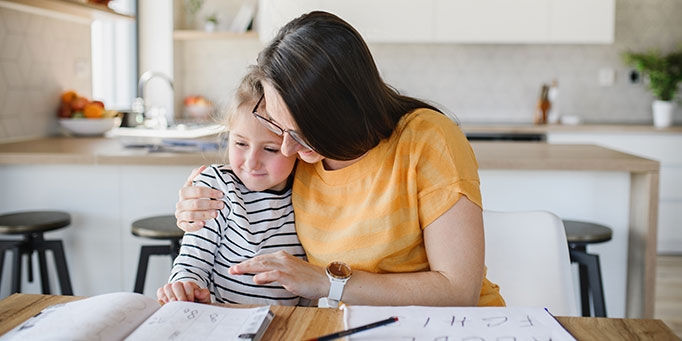 When home education feels too hard, remember this
Parents, it's time to focus on what only we can do.
Well here we are—still stuck at home after months of lockdown. The kids are still home from school and childcare and most parents are still working from home. And we're struggling. We're feeling overburdened by the competing responsibilities of working, running a household, caring for younger children and supervising older children's home learning. It feels like we're failing at everything!
As modern parents, we're used to outsourcing our children's care and education to professionals. But this can leave us feeling unqualified and overwhelmed when it comes to doing these things ourselves.
At this moment in time, when it feels like we're wearing too many hats, it's helpful to stop and refocus on our primary calling. There are many activities that can be outsourced to others, but some things only a parent can do. Your children don't need a perfect home education. They just need you.
We can't do everything, but we can be there.
The word 'parenting' as a verb is a modern invention; previous generations simply called it 'being a mother or father'. For millennia, society understood that raising children is not a set of activities or techniques that need to be performed—at its heart, parenting is a relationship. Simply having children binds us to them forever by blood and love.
As a parent, you already offer your children something they can never find elsewhere: a sense that they belong to you because they came from you. In the words of the Bible, children 'bear the image' of their parents (Genesis 5:3): they resemble and derive from us. No matter how far our children may travel in life, we, their parents, will always represent 'home'—a place where they belong.
Let's stop focusing on what we need to do for our children, but on who we already are to them.
We can't know everything, but we can know them.
There comes a point in every child's education when their parents can no longer help them with their maths homework! We simply cannot know everything that their teachers want them to learn. But as parents, we know them, our children, in a way that no-one else can.
If you've ever taken your child to a doctor or a psychologist, or even a parent–teacher interview, you will have realised that at the end of the day, you are the expert on your child. These professionals can only ever help your child based on the information that you, their mum or dad, provide.
At this time when our children are home with us all day, every day, we have a precious opportunity to get to know them more deeply. As we observe and talk with them, we can make an effort to find out: What do they love? What confuses, frustrates or frightens them? What makes them proud? When are they most contented? Let's become experts on what makes our children tick.
We can't fix everything, but we can love them.
Home learning is hard for many kids, including mine. It's heartbreaking to see them sitting at a computer all day, yet still falling behind their classmates. We've been working on some strategies with our sons' teachers, but there are some problems that I simply cannot fix.
However, I can be ready with an encouraging word or a warm smile when one of our sons is feeling flat. Teachers and friends will come and go, but we parents will always be by our children's side, loving them unconditionally. As God himself says:
Can a mother forget the baby at her breast
and have no compassion on the child she has borne?
Though she may forget,
I will not forget you!
See, I have engraved you on the palms of my hands. (Isaiah 49:15–16a)
We can't 'entertain' them all day, but we can pay attention when it counts.
Many parents are feeling exasperated because they think it's their job to 'entertain' their younger children all day. That is simply not true. In every era, parents have had other things to do around the house. Staying at home with young children has never meant sitting on the floor with them all day playing games. Yes, children need our full attention ... but only some of the time. (I have written more on this topic here.)
In The Secret of Happy Children, Steve Biddulph recommends: 'Spend half an hour of full-attention time with children each day, instead of hours of begrudged half-attention.'
Some tips:
Make the most of 'good mornings' and 'goodnights'. For younger children, take your time with nappy changes and baths.
Spend breaks together: give children your attention as you eat or exercise together.
Let your children join in with what you're doing, such as preparing meals or doing housework.
Set younger children up with a simple game or activity (even call it their 'work'!) then leave them to it. Children can be more content to play alone if you stay nearby.
Take your work outside: kids often play more independently outdoors.
Let siblings play together and sort any differences out themselves.
Have a routine: let children look forward to spending time with you at the same time each day.
Choose 'easy' activities to do together, like reading a book or playing a short game with simple rules.
We can't give them friends, but we can practise friendship skills.
As the months stretch on, it's easy to start worrying about our children's friendships. It feels like a choice between two evils. Do we allow our kids endless time on screens—and online games and apps that may not be healthy—so that they can connect with their friends? Or do we let their friendships simply fade away? I can organise a Zoom here or there, or encourage my kids to send real letters in the mail, but at the end of the day, their friendships may still suffer.
However, I can focus on helping my kids to develop skills for making and keeping friends in the future. We can practise conversation skills, such as taking turns, asking good questions and listening to others, and we can practise relationship skills, like helping others, compromising and apologising. That's the kind of 'home learning' that will equip our children for life.
We can't teach them everything, but we can teach them what matters.
It's wonderful if we can help our children with their school subjects, especially when it's a passion we share. But we can't expect to take the place of their teachers.
However, as parents we can teach our children the things that they won't learn in school—the values that make sense of life and learning. While our kids are home with us, let's take the opportunity to talk about questions like:
What is the meaning of life, education and work?
What kinds of learning can be done outside of school?
How should we manage success and failure?
How should we pace ourselves with work and rest?
Where can you get help if you're struggling in life?
We may not be able to help our children with the specifics of their English or physics or Chinese schoolwork. But we can help them to see the big picture—why education and work matter and why it's worth persevering when things get tough.
Finally, as Christian parents we can teach our children about Jesus, our Saviour and Teacher. Together, we can approach the one who invites us to stop doing and rest in all that he has done for us, the one who said:
Come to me, all you who are weary and burdened, and I will give you rest. Take my yoke upon you and learn from me, for I am gentle and humble in heart, and you will find rest for your souls. For my yoke is easy and my burden is light. (Matthew 11:28–30)
Let's stop trying to do everything for our children, and focus on simply being their mum or dad: knowing and loving them, paying them attention (sometimes!), practising friendship skills and teaching them what really matters.
---
Harriet Connor is the Content Editor for Growing Faith and the author of Big Picture Parents: Ancient Wisdom for Modern Life (Wipf and Stock, 2017). She lives on the Central Coast of NSW with her husband and four sons.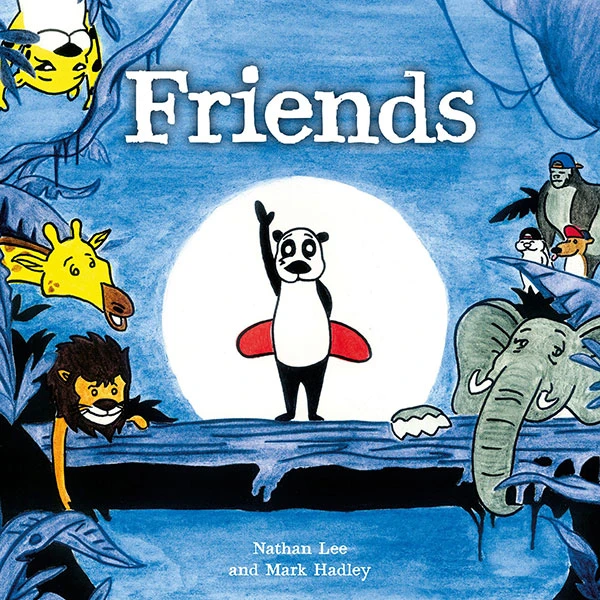 Panda - Friends
Panda loves to paint and play the drums, but most of all he loves to skate! So when he meets some fellow skateboarding enthusiasts, Panda just knows they'll become good friends.
For more articles from Growing Faith, subscribe to our monthly e-newsletter.
To hear about the latest books and resources from Youthworks Media, subscribe here.
Related Posts: