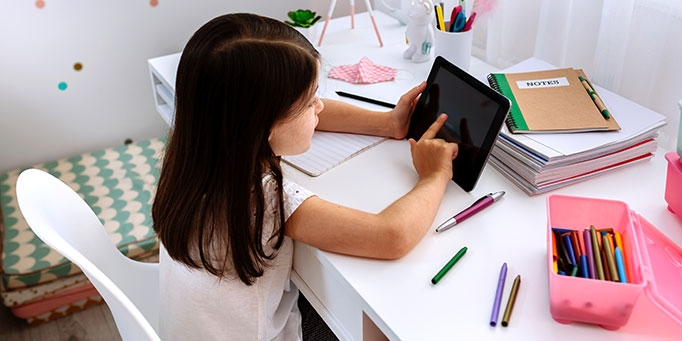 Screens in the time of lockdown
A simple strategy for helping kids to keep the balance.
'Noooooooo!' I screamed internally. It was the first day of the winter break, and because of the COVID-19 Delta variant, the Premier had just called for a Sydney-wide lockdown. We had been on our way north for a much-needed holiday. We turned around and drove home.
The following evening, I was on the phone with a friend, trying to work out how we were going to manage school holidays now. My vague plan involved screens, screens and more screens. Oh, and a subscription to Disney+.
Screens: the good, the bad, the ugly
I am not against screens. My generation was raised on Sesame Street and Saturday morning cartoons. We acquired our first PC in the mid-80s, my first laptop in the early 90s, and our first internet connection in the mid-90s. In 2010, I welcomed both my first child and first smartphone into my life.
I've spent my life around screens and am grateful for them: they serve me and bring me joy. Through them, I connect with people, keep tabs on the news, read the Bible, pray, read books, watch movies, write, edit, play games, and even teach myself new knitting techniques.
Which is why I feel a twinge of annoyance at the hysteria over children and screen time. Conventional wisdom tells us that too much screen time ruins kids' attention spans, primes them for instant gratification, and makes them dumber. The science, however, is not so clear-cut. A lot depends on what kids are doing on screens: learning French is very different to watching YouTube mindlessly.
That said, I cannot ignore screens' downsides—for example, addiction, physical problems and mental health issues (here are some great tips for minimising this in your own life). All technology comes with benefits and drawbacks. Screens are just another part of the created world that we need to learn to use for God's glory. That means drawing limits around and being disciplined in how we use them (Maggie Dent has some good advice on this).
A 'Before screen time' checklist
As I said earlier, the holiday we had to cancel was much-needed. I was depressed as lockdown began. All I wanted was to be away, enjoying time with my family. The prospect of being cooped up at home, doing housework and supervising children who only wanted to be on screens, was soul-crushing. I didn't want my kids on screens all the time, but nor did I want to fight with them about being on screens all the time. This was their holiday too.
There had to be a better way to balance all our needs.
Back to my phone conversation. My friend happened to mention her 'Before screen time' checklist. It wasn't prescriptive about the order or content of activities; the only rule was that the list had to be completed before she would hand over the family iPad.
I thought it was brilliant. After our conversation, I came up with my own 'Before screen time' checklist—one that reflected some of our family's values.
(We do our family devotions together over breakfast, but you might want to add that to your list for older kids. You may also choose to reduce or extend the time limits for each of these activities for your child/ren.)
Our list looks like this:
Music practice
Both my husband and I play instruments, and we have insisted that the kids learn something too. We don't expect them to be prodigies, but we do expect them to practise. They only do five minutes a day, but they do it every day.
Chores
This TED talk by Julie Lythcott-Haims claims that professional success in life is a result of having done chores as a child. Chores teach life skills, independence, responsibility, initiative and other-person-centredness. They help children understand that if they are part of a household, they must contribute to it, instead of just being a consumer. This mentality translates well into church life, where every member of the body of Christ is called to serve one another (1 Corinthians 12).
All children are capable of doing chores. Even toddlers can be taught to carry their plates to the kitchen. The chores you set just need to be age-appropriate: my seven-year-old isn't tall enough to reach the washing line, but she can fold her own laundry and put away groceries.
Exercise/outside play (at least 20 minutes)
Screens keep you stationary, but little bodies need to move. With childhood obesity on the rise, I wanted to make sure my girls did something physical each day. Furthermore, setting a time limit ensured that they didn't just run around for five minutes and claim they were done.
Obviously this one is easier if you have a backyard and nice weather. But even if you don't, you can get your kids to do Pilates or YouTube dance workouts indoors.
Reading (at least 20 minutes)
Reading helps children build literacy and comprehension skills, which helps with Bible reading. But it leads to other benefits too: it fosters empathy and pro-social behaviour; it's relaxing because it's immersive, allowing the reader to detach from the pressures of everyday life; and it's associated with better mental health, better sleep and higher self-esteem.
Colouring, writing or drawing something and Making/building something creative (for 20 minutes)
I believe God created all children to be naturally creative. The problem is they get discouraged out of creativity. These two activities give kids time and permission to exercise their creativity in mental and tactile ways.
Tidying up
This one avoids us ending the day in disarray. It's harder to relax in mess!
Living in lockdown
As the days rolled on and we re-learned how to live in lockdown, my girls' enthusiasm for the checklist surprised me. From the moment they woke, they were self-directed and focused, reading books, drawing comics, building things out of the recycling and even tackling their chores with minimal complaint. They were usually done by lunchtime and spent their afternoons on screens.
I in turn spent the week of our holiday in a similar manner—doing housework, tackling my 'To Read' pile, working on my novel, exercising in the lounge room now that my gym was closed, and streaming The Mandalorian with my husband. It wasn't as restful as a holiday away, but it was still restful. My depression started to lift.
The following week when my husband and I returned to work (well, working from home), the girls happily continued with the checklist. If they hadn't, I'm sure we would have been subjected to more complaints of boredom and demands for screens.
Now that school has begun again, I've tweaked the checklist, adding home learning and removing one creative activity. Furthermore, if home learning activities overlap with list items, I'm happy to tick them off. The girls are usually on screens by the afternoon, but I am grateful: without screens, I probably couldn't do my job.
Unfortunately lockdown is here to stay for now. But God is looking after us. We are OK. Our children are OK. And we have the blessing of screens to help us endure.
---
Karen Beilharz is a writer, editor and comics creator based in Sydney. She works for the Centre for Christian Living and the Priscilla & Aquila Centre at Moore Theological College, and attends Summer Hill Church.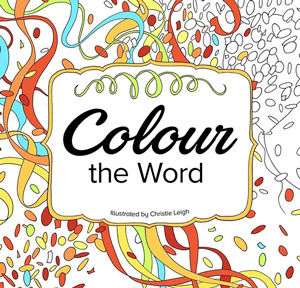 Colour the Word
Be inspired and take time out to colour and create with these beautiful hand-drawn illustrations featuring some of the Bible's most uplifting words.
For more articles from Growing Faith, subscribe to our monthly e-newsletter.
To hear about the latest books and resources from Youthworks Media, subscribe here.
Related Posts: