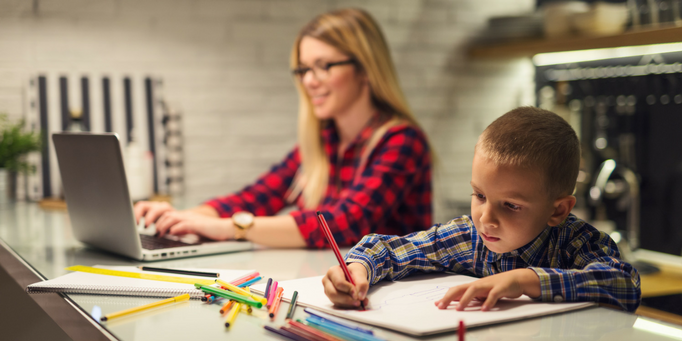 How to work from home with young kids
Sophia Sinclair shares some tried and tested tips for working at home.
After my eldest child was born I took the paid maternity leave offer of 14 weeks then began working from home on a special project. It was a great opportunity to continue working with my co-workers and devote time to more in-depth writing task.
But after a few weeks I felt like I was drowning.
I found it so hard to switch from 'mum stuff' to 'work stuff' during the day, and I desperately wanted to catch up on sleep while my baby napped. I was struggling to make up the 10 hours a week I was contracted for.
So I sat down and developed a plan. Juggling work and stay-at-home parenting is not easy, but we persisted.
Three years on, I've continued to keep up my work and really enjoy the process of working from home. In that time we've moved countries, started studying again and added another child to the mix! So it is from the midst of this chaos that I bring you my tried and tested tips for working with kids at home.
Planning
Planning is essential in making sure you use your time effectively. Some helpful planning tools may include bullet journaling, scheduling apps, a diary or lists. Whatever system you use, make sure it works for you and you are motivated to use it.
I prefer a simple paper list system where I'm able to do a mind dump of all the tasks I have to complete, then a shorter list with a top three tasks to accomplish that day/week. Something about the physical act of hand writing my tasks seems to transform them from overwhelming to do-able.
Break it down
Working from home with small children means work is often interrupted or work periods are very short. This means you need to be able to optimise the time you do have available.
Break up large tasks into defined sections and aim to work methodically. Anything big or especially time heavy will probably need to be scheduled to a larger block of child-free time such as an evening or when a baby-sitter is available.
Develop discipline
It takes focus and discipline to sit down and work when time is available and there are endless distractions these days—Facebook, Pinterest, or house work!
Using an app like Offtime to block Facebook or other social media might be a helpful tool for focusing more on work and breaking the distraction habit of clicking to see new notifications.
A helpful strategy I used was to set a timer for one hour as soon as my baby went down for a nap, or as soon as I started work. Whenever I was tempted by Facebook, the dirty dishes or a non-work task I would look at my timer and tell myself: 'you can relax/do dishes/look at Facebook when the hour is up or when the baby is up'. This method is surprisingly effective for focusing attention!
Prioritise
There are certain jobs you are able to do with a baby or toddler in tow. I believe most housework falls into this category. Embrace baby wearing, or pop the baby in the high chair and talk to them while you work. Encourage small children to help out in safe ways—a chair at the kitchen bench beside you or in a safe space nearby.
Take a look at what needs to happen during the day and realistically plan around what you can do with kids at your feet making noise. Then separate the tasks which need closer focus and plan to get them done during the quieter moments.
Kid-wrangling
This will look different for everyone: our children come with different needs and personalities, and we have different capabilities. Part of winning at working from home involves understanding your unique family and embracing it, challenges and all!
I deliberately encouraged my children toward independent play. For us this involves me setting up an activity or toys and going to focus on something else. Audiobooks are another great tool for focused quiet time.
Sometimes this is wildly successful, other times not so much. At age three, my older son now happily engages in imaginative independent play during our time at home. While I'm sure personality plays a role, it is something I have actively encouraged.
Support crew
A supportive partner, family and 'village' are essential elements in thriving as a work from home parent. During our first year of parenthood we lived on the same property as my in-laws. This was a rich time of developing close relationships and accepting help and support.
My husband is an excellent father who takes his role seriously. He also values the work I do and the contribution my work makes to our family.
We've also had a number of friends who have been willing baby-sitters and listening ears when needed. Working from home has not been a solitary or lonely experience.
What I love about working from home
I love developing the non-mum part of my brain. I love the chance to talk about work and being able to contribute to something outside of the home.
I especially love the flexibility and opportunity to weave my work life in with my home life. My favourite part of working from home is the ability to be available for my children. While it has been tempting to think of the constant interruptions as burdensome, I am often reminded of the privilege of raising these little people.
I believe parenthood has made me a better worker. Along with an increase in productivity came a release of creativity. Motherhood made me relax. My productive timetable has allowed me room to create, laugh and dream. I no longer waste time on projects I hate.
I pray hard, work hard and regularly lean into the chaos of working from home with young children!
For more articles from Growing Faith, subscribe to our monthly e-newsletter.
To hear about the latest books and resources from Youthworks Media, subscribe here.
Related Posts: