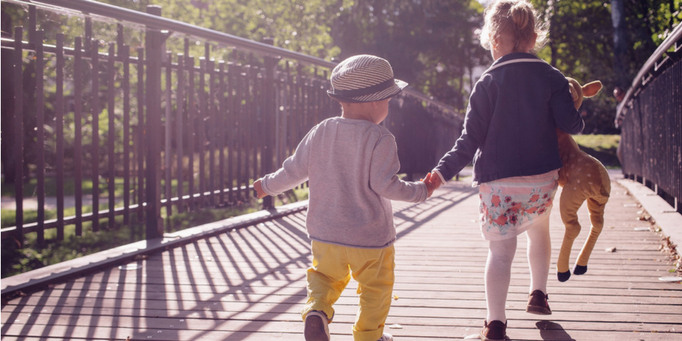 What I wish I knew when my children were still little
'Hindsight offers a new perspective on both the joys and challenges we encounter in our lives...'
As the mother of three young adults, I sometimes stop and think about what I have learned along the way, and what I wish I had known sooner. Maybe there are some things I would have done differently, but most of the lessons I've learned would have done more to change my feelings than my actions. Hindsight offers a new perspective on both the joys and challenges we encounter in our lives. Looking back, I can see that much of my worry was needless, and cost me energy, peace and joy along the way. Here are some of the insights I wish I'd had earlier!
My children are God's creation, "fearfully and wonderfully made" by Him (Psalm 139: 14) according to His good plan. The children I imagined I would have turned out quite differently in real life. With a combination of naivety and pride, I had anticipated they would be a combination of my husband's best qualities melded with my own, making practically perfect offspring! As it turns out, each one is different from what I expected and different from the others. Yes, I get glimpses of some of the "best qualities" I had hoped for, but am also confronted when I see our less-than-best traits expressed in our kids. As well, they surprise and delight us with their uniqueness, reminding us of God's awesome creativity.
God loves my children even more than I do. As I love my children through each stage of their lives, I want to protect and guide them, set a good example for them and enjoy a close relationship with them. And when I think of our Heavenly Father, I know that He wants all these things for them, too, and does all those things better than I ever could. Remembering this helps me to prayerfully hand over my desire for control, and to trust in God's love for my children.
There's no such thing as a perfect parent. The world around us bombards us with images and messages of idealised families, and the pressure to measure up is both unrealistic and disheartening. We know we are not perfect; this is just one more example of how we "all have sinned and fall short of the glory of God" (Romans 3:23). Since out human frailties keep us from being perfect parents, we can aim instead at being good enough parents. I found my kids loved me, even when I wasn't perfect, as long as they felt secure in my love. When our kids were quite young, we had to come to terms with admitting when we had let them down in some way and apologising to them. It was so much better to model repentance, humility and forgiveness in the family than to try to maintain our authority with an illusion of infallibility.
Good parenting cannot shield a child from all difficulties. It seems loving to make things easy for our kids, and fix all their problems. But in fact, over-protective parenting can unfortunately result in adults who don't know how to deal with the hardships that are inevitable in our broken and sinful world. Good parenting helps children develop strength and coping skills, including ones of inestimable value, like trusting in God and turning to Him at all times in prayer. The hard times are part of how we learn we cannot rely on our own strength but that we can trust, instead, in our loving and faithful God. Even the hard times can be worthwhile, as "we know that in all things God works for the good of those who love him, who have been called according to his purpose" (Romans 8:28).
Each stage of parenting has its own joys and challenges. Sometimes, when the broken sleep and nappies (or the terrible two's, or the teenage sulks) are wearing us down, we can wish for the next stage to hurry up and arrive, thinking that life will be better then. Or, conversely, we may fear the changes that come when a child starts school, or needs less help, or moves out of home, or gets married, thinking that this signals a loss of something irreplaceable. Better to know that we can embrace the changes that come, and learn, like Paul in Philippians, to be content in all circumstances.
One big aim in parenting is to work yourself (mostly) out of your job. The complete and utter dependence of our newborn children does not last forever. And thank goodness for that! It is an exhausting stage of life. Each developmental milestone is a step toward skills and knowledge that move our children toward greater independence. Obviously, children with special needs will develop at a different pace and possibly to a different degree than other children, but generally as we watch children mature and learn, they are finding ways to express both individuality and increasing independence.
It came as a shock to me when my kids (and my daughter, especially!) stopped letting me choose their clothes for the day; I should have enjoyed it more while it lasted. Similarly, there came a time when I was no longer arranging play dates for them and thereby helping them choose friends; they were making those decisions for themselves.
Now, as my kids reach the stage for making choices about study, work and relationships, I can see the great benefit of teaching, not just telling, them all the way along. Kids don't learn how to function well as independent adults just by following parental orders up until the day they turn 18. By talking (and listening) about how we make decisions, I hope we have given our kids a sound model of how to do that for themselves (and maybe for their own kids one day). One of the biggest decisions they have to make for themselves is whether to continue to follow Jesus throughout their life. This is a vital discussion to have regularly: the whys and hows of living faithfully as a Christian. And, once again, what could be more important than to pray for them faithfully in this area, as this is one of the best ways we can love our children as God's word tells us. "Start children off on the way they should go, and even when they are old they will not turn from it" (Proverbs 22:6).
---
Dana and her husband Phillip are parents of three great 20-something young adults. Dana loves God's family in all its ages and stages: single and married, with kids and without, young and old, frail and able-bodied.
For more articles from Growing Faith, subscribe to our monthly e-newsletter.
To hear about the latest books and resources from Youthworks Media, subscribe here.
Related Posts: