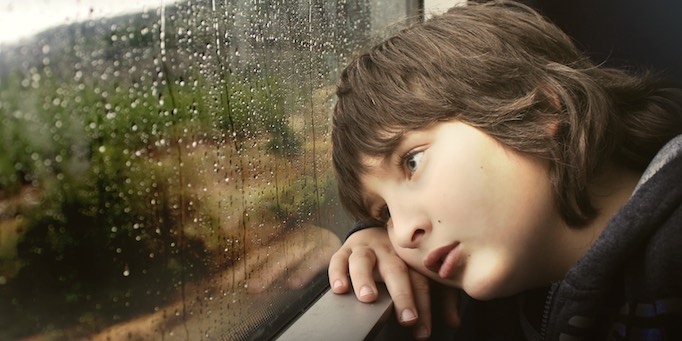 The vulnerability of the fatherless
There's strong Biblical and social reasons to protect and care for fatherless children.
In Part 1 of this series, I looked at the important role of fathers as affirmed by God in Scripture and confirmed by social scientists and researchers, particularly in the last few decades.
And in Part 2, I looked at the role of the church in encouraging and equipping fathers for this weighty role, and suggested some ways in which churches could intentionally engage with the dads in their congregation. I also made a brief comment about the fatherless in our communities.
With 20% of the children in Australia growing up in fatherless homes [1], it is worth slowing down on this point and thinking further about how we can helpful love, care and disciple these vulnerable members of our society and church community.
The vulnerability of the fatherless
The claim that the fatherless are a vulnerable people group could easily be opposed on the grounds of being paternalistic and patronising (ironically, two words grounded in the concept of fathers and fatherhood). Therefore it is necessary to defend this statement from both biblical and sociological sources.
First the biblical evidence.
The Hebrew word yāṯôm, meaning fatherless (occasionally translated as orphan) occurs 42 times in the Old Testament. The overwhelming picture of the fatherless is one of destitution and people in need. The fatherless are commonly grouped with widows and aliens (sojourners) as people groups that are in need to being cared for.
God's people are commanded to care for the fatherless and seek out justice for them in all circumstances. This relates very specifically to their farming practices (Dt. 24:19-21) and the inclusion of the fatherless in their community celebrations (Dt. 16:11, 14). The care for the fatherless is a particular marking of justice being done in the Israelite community (Dt. 24:17).
The people's care of the fatherless marks a particular way in which God's people reflect his own character.
"For the LORD your God is God of gods and Lord of lords, the great, the mighty, and the awesome God, who is not partial and takes no bribe. He executes justice for the fatherless and the widow, and loves the sojourner, giving him food and clothing"— Dt. 10:17-18

"Sing to God, sing praises to his name; lift up a song to him who rides through the deserts; his name in the LORD; exalt before him! Father of the fatherless and protector of widows is God in his holy habitation." —Ps. 68:5
Since the protection and care of the fatherless is a particular mark of justice being done, and God's people following in his footsteps, it makes sense that the failure to do so is one of the major condemnations of God's people by the prophets.
Isaiah's first recorded prophecy against Judea and Jerusalem includes this clear censure of God's people; "How the faithful city has become a whore, she who was full of justice!... Everyone loves a bribe and runs after gifts. They do not bring justice to the fatherless, and the widow's cause does not come to them". (Is. 1:21-23)
Therefore the Old Testament picture of the fatherless is that of a people group whom God cares deeply for, who are in need of provision and care, and for which the fulfilment of this need is a marker of active justice, both God's own justice and that to which his people are called to imitate.
While the New Testament does not speak significantly to the issue of fatherlessness, two direct references are worth noting.
Firstly, Jesus promises that in his leaving and provision of the Holy Spirit, he will not leave his disciples "as orphans" (Jn. 14:18) continuing the theme of God being the father (i.e., provider, sustainer) of those in need.
Secondly, James echoes these Old Testament markers of holy living in stating that "Religion that is pure and undefiled before God, the Father, it this: to visit orphans and widows in their affliction, and to keep oneself unstained from the world" (Js. 1:27). Therefore, the directive to care for and seek justice on behalf of the fatherless is reinforced as one way in which to live in light of the Gospel of Jesus Christ.
Social repercussions of fatherlessness
However, perhaps these directives are culturally bound. Perhaps in a world of Medicare, Centrelink and state education, the call for care of the fatherless is void. Perhaps the situation is not so dire.
Sadly, we know from social, psychological and medical research that this is not the case.
The US-based National Fatherhood Initiative compiles a number of conclusions reached from numerous studies published between 1999-2010[2]. Here's just a small handful of the results published:
Children in father-absent homes are almost four times more likely to be poor
Children born to single mothers show higher levels of aggressive behaviour than children born to married mothers
Youths in father-absent households has significantly higher odds of incarceration
Adolescents in father-absent homes were more likely to report being sexually active compared to adolescents living with their fathers
In many cases the absence of a biological father contributes to increased risk of child maltreatment
Amongst college students, poor parental bond with one's father was highly predictive of depression, a well-known predictor of alcohol abuse and related problems
There is significantly more drug use among children who do not live with their mother and father
Youth who have experienced divorce, separation, or a non-union birth have significantly higher levels of behavioural problems in school than do youth who have always lived with both biological parents
On the flip-side, the positive impact of a father's presence and engagement has also been noted. Examples of a father's positive impact include:
Early positive father-child interactions reduce cognitive delay
Positive father-child relationships are associated with reduced risk of engagement in multiple risky behaviour (including delinquency and substance use)
Children whose fathers are stable and involved are better off on almost every cognitive, social, and emotional measure developed by researchers (including sociability, confidence and self-control)
Father's involvement in schools is associated with the higher likelihood of a student getting mostly A's
Adolescent girls who reported higher levels of relationship quality with their fathers were less likely to have sex before age 16
What does all this mean for Christians and churches who have a heart to support the fatherless?
Continue reading Part 2 of this article for more.
---
[1] http://www.abs.gov.au/ausstats/abs@.nsf/bb8db737e2af84b8ca2571780015701e/5a3e269e290eb5b1ca2571b0001032d8!OpenDocument
[2] http://www.fatherhood.org/media/consequences-of-father-absence-statistics. This link is a summary of the conclusions found. You can request the full 8 pages of conclusions and relevant references to research papers by following the links on this page and registering your email address. All citations are direct quotes from this longer document.
For more articles from Growing Faith, subscribe to our monthly e-newsletter.
To hear about the latest books and resources from Youthworks Media, subscribe here.
Related Posts: