The things we learn when we're at home sick
Helpful reminders for the cold and flu season.
It's official! Cold and flu season is upon us. Winter has barely started and our family has already been knocked down by one thing after another. It's been a brutal reminder that there are still plenty of 'Diseases Other Than Covid' about. Maybe you know the feeling: when you start losing track of who's had what and when, and you've got the school office/absentee line on 'speed dial'.
But when we are home sick, there are some important life lessons that we and our children can learn together.
Part of life
When our children were little, I used to get shocked every time they got sick. I would rack my brains trying to work out where they might have caught the illness, and how I could have prevented it. I expected that with good hygiene and healthy food I could keep the kids healthy 100% of the time.
My perspective changed when a friend pointed out that it's quite normal for preschoolers to get up to six (or more!) colds per year; in fact, that's how their immune system develops.
Actually, my friend's perspective was much more biblical than mine. Getting sick is a tangible reminder for us and our children that we live outside Eden, where every good thing is prone to disease and decay. Sickness reminds us of our own mortality.
We can point ourselves and our children to our perfect future home with God, where 'He will wipe every tear from their eyes. There will be no more death or mourning or crying or pain, for the old order of things has passed away' (Revelation 21:4).
But in the meantime, all we can say to our kids is that unfortunately, getting sick is part of life. The question is not whether we will get sick, but how we can manage when we do. And we are extremely fortunate to have modern medicine to help us through the most common illnesses we face.
Even mummies and daddies
We tend to run our normal lives at such a pace that there's no margin for error—or sickness. We fill our diary up as if we had boundless energy, seven days a week. But getting sick forces us to admit that we're actually very frail and finite. Even mummies and daddies need to stop and rest sometimes!
When sickness strikes, we have to give up the plans we had—that long-awaited meeting or catchup with a friend, that much-needed house clean, that special home-cooked meal—and settle for TV and two-minute noodles instead.
Sickness is the perfect opportunity to swap rushing for resting. Forget about the to-do list! Let's just sit down with our kids and share an extra-long cuddle, read a book, play a board game or even watch TV together. When sickness derails our plans, it's a good reminder that limited human beings need 'margins' in their schedule.
When our kids get sick, it also confronts us with the fact that our power to help them is limited. Sometimes even mummies and daddies can't fix things! I love the way Isaiah 40 describes the difference between God, the Creator and us, his finite creatures:
'Do you not know?
Have you not heard?
The Lord is the everlasting God,
the Creator of the ends of the earth.
He will not grow tired or weary,
and his understanding no-one can fathom.
He gives strength to the weary
and increases the power of the weak.' (Isaiah 40:28–29)
When we and our children are feeling weak and weary, let's look to our infinite Creator for strength, and rest in him.
Fighting to get strong
It's good to teach our children about how our bodies work. When we get sick, we have caught a 'bad germ'—usually by swallowing or breathing it in—and our body needs to fight it. We can help our body do this by resting, eating healthy food and taking vitamins and probiotics ('good germs'). We can avoid passing the germs on to others by washing our hands and covering our cough. Usually, our body will fight off the bad germs and we will get better. Our body will also remember how to fight that germ so that next time, we won't get as sick. (Some bad germs are called 'bacteria' and, if our body can't fight those germs off alone, a doctor might give us a special kind of medicine called 'antibiotics'.)
We can explain the principle that just as our bodies develop immunity by fighting off germs, our characters also get stronger by going through hard times. We can encourage our children that even though some experiences in life are hard and unpleasant, they are helping us to grow. As it says in the Bible:
'We also glory in our sufferings, because we know that suffering produces perseverance; perseverance, character; and character, hope.' (Romans 5:3–4)
'Consider it pure joy, my brothers and sisters, whenever you face trials of many kinds, because you know that the testing of your faith produces perseverance. Let perseverance finish its work so that you may be mature and complete, not lacking anything.' (James 1:2–4)
In it together
Finally, getting sick helps us to learn that as limited human beings in this real, fallen world, we need each other. When our children see their mum and dad looking after one another, we can tell them how we vowed to care for each other 'in sickness and in health … as long as we both shall live'. Kids can also practise showing grace towards their sick siblings by doing their jobs for them, taking them supplies or cheering them up with a card or picture.
When our whole family is sick, we may need to reach out to someone outside the immediate family for help. This week, my husband sent out an 'SOS' message and his mum brought around a couple of hearty meals for us. In the past, our church friends have done the same. This is a wonderful way for children to see how Christians can love one another in practical ways. Hopefully they will develop a reflex for offering this kind of help to others when they need it.
This winter, I pray that you and your families stay well. Eat healthily, take your vitamins and probiotics and wash your hands regularly! But if your family does get sick—and don't be surprised if you do—I hope it can be a time to remember that, although we live in a fallen world as limited human beings, we can grow through trials and help one another. And together we can draw strength from God, the only one who never grows tired or weary.
---
Harriet Connor is the Content Editor for Growing Faith and the author of Families in God's Plan: 12 Foundational Bible Studies and Big Picture Parents: Ancient Wisdom for Modern Life (Wipf and Stock, 2017). She lives on the Central Coast of NSW with her husband and four sons.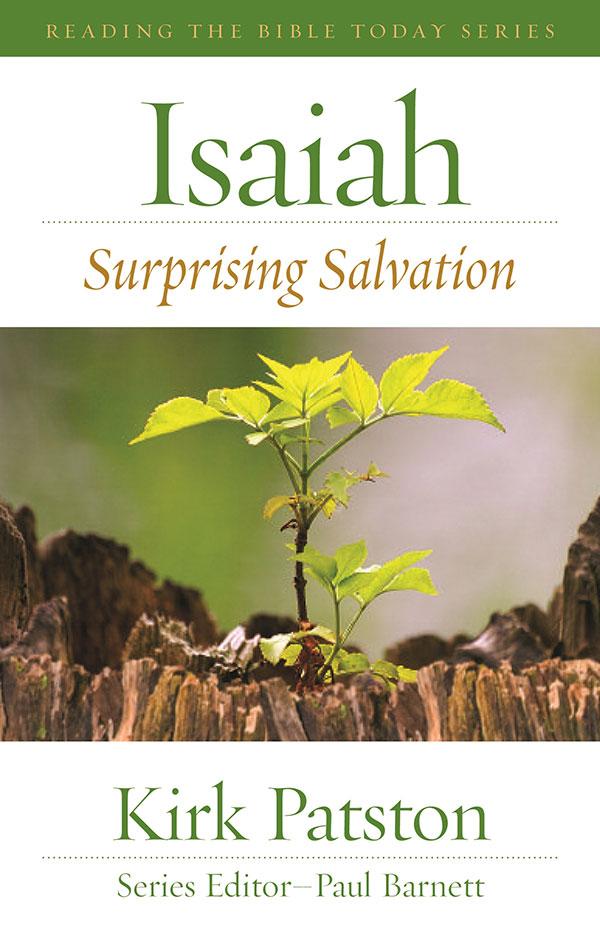 Isaiah - Surprising Salvation
Kirk Patston opens up the complex and majestic book of Isaiah in a commentary, perfectly suited for everyday reading and reference. Drawing out what this book would have meant to Israel in different periods of its history, Kirk highlights the themes of danger, trust, transformation and judgment which run throughout. In Isaiah, we enter a different age. The magnificent book serves as the opening scene for the world-shaking themes the prophets will deliver for hundreds of years.
For more articles from Growing Faith, subscribe to our monthly e-newsletter.
To hear about the latest books and resources from Youthworks Media, subscribe here.
Related Posts: