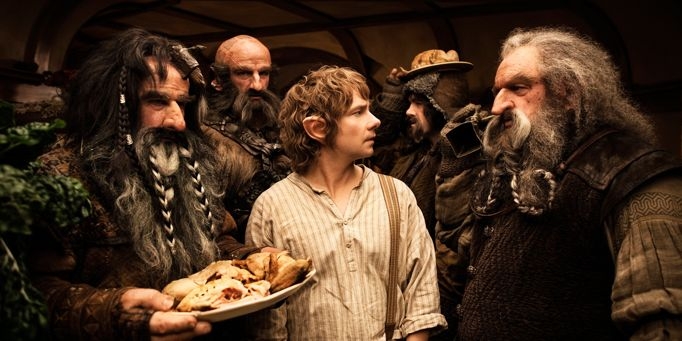 The Hobbit: Movie Review
Bilbo begins his unexpected journey, and you (and some of your kids) should join him.

It's amazing how many stories of personal transformation also involve a journey – consider Little Miss Sunshine, The Beach and Castaway. Long before Tom Hanks went looking for his volleyball, English author J.R.R. Tolkien wrote about a little man looking for adventure. The Hobbit is the book that set the stage for the acclaimed epic The Lord Of The Rings, and tells the story of how Frodo's uncle Bilbo actually came by the Ring Of Doom.
In An Unexpected Journey, we meet a hobbit, played by Martin Freeman (The Hitchhiker's Guide To The Galaxy), who is more homebody than hero. But the wizard Gandalf (Ian McKellan) decides he would be the perfect edition to a party of thirteen dwarves setting off to rob a dragon. This is a case of unwilling transformation, where a wiser head sees more in someone than they can see themselves. God does this every time He dips into creation to catch up a fallen human being. Likewise Bilbo is initially horrified by the prospect of this party of dwarves disturbing his happy existence but he discovers that there is a part of himself that longs to change when he realises the 'green grocer' figure he cuts in others' eyes. As Tolkien put it, "He suddenly felt he would go without bed and breakfast to be thought fierce." And though he has many chances to regret his painful journey, by the end of the film he emerges a wholly different person.
One of the best elements the film preserves is Tolkien's steady turning of Bilbo's eyes from himself to others. In the book we learn that it's pity that stays Bilbo's hand when he has a chance to kill the evil Gollum. The hero puts aside his fear for a moment to feel pity for a creature who has obviously twisted by anger and fear. And though Bilbo keeps up a steady stream of complaints all the way to the edge of the wild, he chooses to stay with his companions, because even though he has a home to return to, he recognises that they don't. Being more concerned about what a person needs than what they deserve is in fact the heart of Christian mercy.
Peter Jackson's impressive achievement
Helmed by Peter Jackson, this Boxing Day release is the first of three films that will encapsulate Bilbo's miraculous journey. You might think it an even bigger miracle that Jackson managed to turn a 256-page manuscript into another trifecta, but his new adventure also bundles in darker storylines developed in Tolkien's history of Middle Earth, The Silmarillion. And cinemagoers will have to be patient waiting for the new Bilbo to emerge. An Unexpected Journey only takes him as far as the edges of Mirkwood. He will need till next Christmas to arrive at the dragon's mountain in The Desolation of Smaug, and the end of his tale won't become known till There And Back Again in July 2014.
There's also an unfortunate kow-towing to innovation that hasn't produced the best result. The distributors have elected to release the film in 48 frames a second to selected cinemas (the average film only contains 24 frames). There is such a thing as too much clarity, though. This level of detail actually does away with the warm palette associated with traditional film, and actually reveals some of the shortcomings of set and make-up. Given the choice again, I would have opted for a lower definition screening to preserve the fantasy.
Still, it's hard to muster a really solid complaint given the scale of Jackson's achievement. Tolkien's Middle Earth is once again realised in beautiful detail and likely to delight for decades to come. More importantly, though, Bilbo's character is undergoing the transformation that is as required in The Hobbit as it is in our own lives.
Watching The Hobbit with your kids
An Unexpected Journey is a great fantasy, but not one necessarily suitable for children old enough to read the book. It's filled with fun but also some rather dark moments, particularly when it comes to Gollum and his cave. But for the more mature minds it's worth asking:
Why is Bilbo so convinced that he doesn't need an adventure?
Why does Bilbo come to care about the dwarves more than his own comfort?
Is that what Jesus did for us – put aside his own comfort so that we could have a chance to come home?
For more articles from Growing Faith, subscribe to our monthly e-newsletter.
To hear about the latest books and resources from Youthworks Media, subscribe here.
Related Posts: