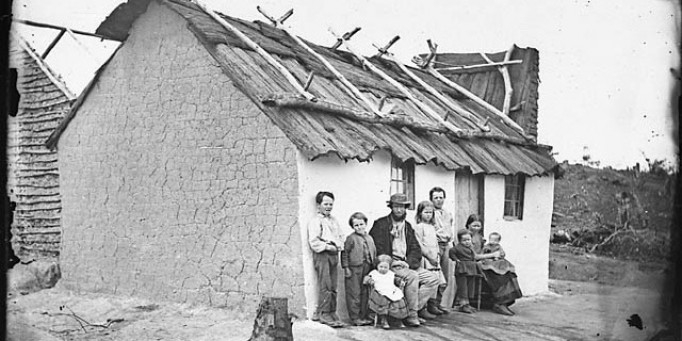 Surviving cabin fever this winter
Being stuck inside with kids all winter can be exhausting. Is there anything that can help?
Take a look at the picture above. It's a photo of an Australian family in the 1870's. Imagine doing all of life in a small house like this with a bark roof - with seven children! Especially when the weather is wet day after day - it makes me understand where the expression "cabin fever" might have derived its meaning.
Australians seem to have had a lot of wet weather lately - each day is dark, cold and wintery. It is bleak. You long for sunshine and warmth and a splash of colour on the horizon. Does the weather sometimes make you long to live somewhere like Paris or Florence? In your imagination these places seduce you - think of all those culturally enriching events you could take your children to! So much history and beauty to enjoy. What a contrast to the above photo where this family lived in the middle of nowhere, surrounded by mud.
I had a friend who lived in Paris for many years in a very small apartment, with four children. The weather for most of the year is cold and wet in Paris. You can be living in Paris and still experience cabin fever. How did she survive? She would dress her children in wet and warm weather gear and get out to let off steam.
I remember a winter holiday from years ago when I was a child and we had had a week of cold, wet weather. One morning after breakfast, my mother told us children to dress in our swimmers, put on rain jackets and go to the beach and entertain ourselves. She didn't want to see us again until lunch time. She had probably had enough scritching and scratching from her noisy children. It is only now, years later that I finally understand her behaviour.
What do you do when cabin fever hits? What strategies do you have to help survive?
It is not only our children who need to let off steam. We all do. One of my favourite children's picture books is called Five Minutes Peace by Jill Murphy.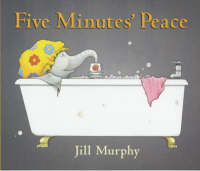 Mrs Large is the mother elephant and she has three small children. One morning she decides she has had enough of their noise and chaos and retires to the bathroom to have a bath - on her own. This peace lasts for exactly three minutes and forty-five seconds.
What do you do when you need five minutes peace? When cabin fever hits? Looking after small children is all consuming and sometimes you just want space and silence and something to relieve the monotony of being cooped up.
This is where good friends can be a balm for the soul - letting a friend or relative look after your children so that you can have a break and collect your thoughts, your brain, your energy, your self-respect and integrity. If you feel slightly feverish and cooped up, can I encourage you to ask someone for help - ask if they could look after your children, even for an hour, just so you can have some space.
When cabin fever hits, remember what you know to be true about our great God. He is there with you. He has not abandoned you to face this time alone. These verses from Habakkuk capture the essence of winter bleakness:
"Though the fig tree does not bud and there is no fruit on the vines,
though the olive crop fails and the fields produce no food,
though there are no sheep in the pen and no cattle in the stalls,
yet I will triumph in Yahweh;
I will rejoice in the God of my salvation!
Yahweh my Lord is my strength;
He makes my feet like those of a deer and enables me to walk on mountain heights!" (Habakkuk 3:17-19)
Out of such bleakness is hope. The Lord is my strength. The Lord is your strength. The Psalmist is still able to rejoice in the God of salvation. His response to cabin fever is to remember His God and what He is like. Fill your mind with this picture. When you feel like you are surrounded by bleakness, don't dream of Paris - rather, remember God is there with you, and ask him for the energy to behave like a deer dancing up the steep, steep slopes of a mountain.
For more articles from Growing Faith, subscribe to our monthly e-newsletter.
To hear about the latest books and resources from Youthworks Media, subscribe here.
Related Posts: