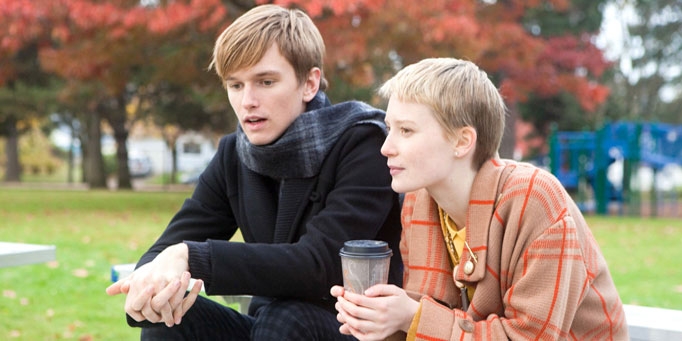 Restless: movie review
A film that explores the question - how do teenagers respond to the reality of death?
Death and teenagers
Restless is a sensitive teenage consideration of death that every parent and Gen-Y pundit would do well to consider.
Henry Hopper plays Enoch Brae, a troubled teen who has taken to spectating at strangers' funerals. His parents have died years earlier in a tragic car accident. Now he stands at the back of eulogy after eulogy, looking for some meaning. At one service he meets Annabel Cotton (Mia Wasikowska), a girl he discovers is contemplating her own funeral. Annabel has an inoperable brain tumor that will end her life inside of three months. Enoch is more accepting of her demise than anyone she knows – not surprising given he spent three minutes dead and three months in a coma after the accident that shattered his family. But what death took away with one hand, it gave back with another. Enoch awoke to find the ghost of Hiroshi Takahashi (Ryo Kase), a young Japanese kamikaze pilot sitting on the end of his bed. Together they form an unlikely trio, each seeking to come to terms with death and what comes next.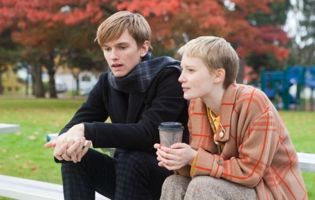 Searching for meaning
Restless is well named for the curiosity that consumes each character. Though the film displays all the classic responses to death – displacement, humour, denial and anger – it is ultimately the teenagers' longing to understand what their lives mean in the face of this one undeniable fact that generates the film's drama.
Enoch struggles to understand death's cruelty;
Hiroshi wonders what he has gained by embracing it;
Annabel looks for the beauty its shadow helps define.
Leafing her way through her favourite bird book, Annabel tells her sister:
"Apparently there's this bird that thinks it will die every night so that when it wakes up in the morning, it's so shocked it sings this beautiful song. Just happy not to be dead I guess."
In the end, this is the attitude they all choose to embrace. Spending too much time focusing on death will rob you of the joy of living. Very early on in the film Annabel tells Enoch that it is his insistence on wearing black that makes it so hard for him to blend in at funerals:
Annabelle: The black was the giveaway. No one nears black any more. You're supposed to wear bright colours.
Enoch: Why?
Annabelle: It's depressing
Enoch: I don't have any colours.
But watch and you'll see that by the end of the film that is exactly what Enoch has found. They may be subdued, but when he attends Annabel's funeral, the clothes he is wearing are the soft greys and muted browns that reflect the Edwardian fantasies they used to enact together. He has turned his back on the wound of her departure to consider the joy she brought to his life.
Final thoughts
Now all of this might sound very familiar, and of course it is. Funerals today seldom spend much time talking about the bitterness of death. They have become 'celebrations of life' rather than sober considerations of what comes next. But there are a few encouraging things Christians can note.
Firstly, all of the teenage characters are comfortable with the idea of a spiritual existence after death. In fact just when director Gus Van Sant looks set to prove that Hiroshi is no more than a figment of Enoch's distressed imagination, he turns his kamikaze friend into a symbol for a love that the grave cannot subdue. Perhaps Generation Y has looked on the atheistic 'this is all there is' philosophy and found it not only unpalatable but unlikely.
Finally, there is hope for those parents who wonder if their children have heard anything they have to say about the important things in life. Long after they are dead, Enoch's parents continue to exert a stabilising influence on their life, even when he is angry at their absence.
One of the most endearing moments of the film is when Enoch introduces Annabel to his parents through a playful chat with their headstone. They laugh, but their responses make it clear that though mum and dad are gone, Enoch is in no doubt what his parents would have said if they were alive. Restless doesn't amount to a Christian consideration of death, and the path Jesus provides beyond it by any means, but it does reveal that the current generation are open to the conversation and likely to remember what you say.
Restless is rated M & is in cinemas December 1st.
For more articles from Growing Faith, subscribe to our monthly e-newsletter.
To hear about the latest books and resources from Youthworks Media, subscribe here.
Related Posts: