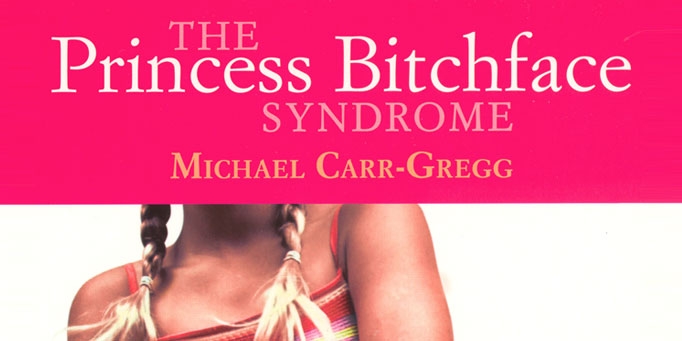 Book Review: The Princess Bitchface Syndrome
A provocative title can often be a turn off, but under the cover can be some very timely wisdom.
I must admit that when I first saw Michael Carr-Gregg's book, The Princess Bitchface Syndrome, I was a little bit shocked by the title. However, the initial shock was quickly replaced by intrigue as I began to read the book. In fact, I was so entranced and caught up in this little book that I read it in one sitting!
Michael Carr-Gregg is a practising psychologist who specialises in the area of parenting adolescents and adolescent mental health. This makes him well placed to be able to offer insight and advice regarding what he calls 'the Princess Bitchface Syndrome'. This book is an invaluable manual for any parents who are navigating their way through the trials and tribulations of raising an adolescent girl.
What is 'the Princess Bitchface Syndrome'?
According to Carr-Gregg, 'the Princess Bitchface Syndrome' refers to:
'An instantly recognisable adolescent female who transforms almost overnight into a rebellious stranger who behaves like a responsible adult one day and a spoilt child the next.'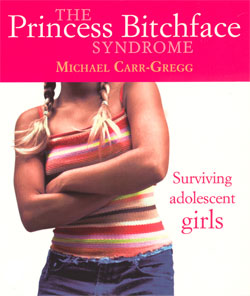 Carr-Gregg makes a number of helpful diagnoses and then offers some suggestions that might aid parents in the parenting of their adolescent daughters.
The first diagnosis is 'Planet Girl is in Crisis'. He acknowledges and is sympathetic towards the fact that life is hard for a teenage girl. In this current climate there is a push for young women to be independent and in charge of their own lives. The reality is that girls are victims of the world around them.
His suggestion is that parents have some knowledge and understanding of how adolescent girls develop psychologically. Carr-Gregg helpfully points out that there may be an inconsistency between the biological and psychological development of an adolescent girl. He suggests that their body and brain development are out of synch. When parents are aware of this, they are more likely to be able to care for their girls and parent them in a proactive, rather than reactive way.
The second diagnosis that he makes is that, as a society, we appear to be losing it when it comes to parenting girls. Carr-Gregg suggests that parents, though well-intentioned, are part of the problem because they don't know how to guide their daughters through 'the Princess Bitchface Syndrome'. What ensues is a parent having a 'hands-off' approach to parenting, and as a result many young women are growing up lacking the firm discipline, support and nurturing they so badly need, especially at this time of their lives.
The book's suggestions for parents:
Carr-Gregg offers a number of helpful solutions and suggestions to parents in the second half of the book. Here are a few of his ideas:
Pick up the reins and get involved.
Think of your role in terms of guiding your children towards adult life and being clear about what the boundaries are, while not enforcing them in a dictatorial way.
Understand that the only way your daughter will respect your views is if you value hers.
Recognise that in this changing world, young people want to have a say in the decisions that affect them.
Always say what you mean and mean what you say and be consistent.
Communication is the key. Take opportunities to talk with your daughter about sex and drugs.
Would I recommend this book?
From a Christian perspective I would recommend this book because it encourages parents to take responsibility for raising their daughters. In some ways, a 'hands-on' approach to parenting has become almost counter-cultural. And yet, the Bible speaks clearly about parents being responsible for the development of their children.
Michael Carr-Gregg offers helpful insights as to how adolescent girls develop psychologically and then he offers parents practical ways for how they can survive (and perhaps avoid) 'the Princess Bitchface Syndrome'.
---
Emma has been involved in Children's and Youth Ministry for the past 15 years, including Children's and Family Minister at Christ Church St Ives. She is currently a Children's and Primary SRE Advisor for Youthworks.
For more articles from Growing Faith, subscribe to our monthly e-newsletter.
To hear about the latest books and resources from Youthworks Media, subscribe here.
Related Posts: