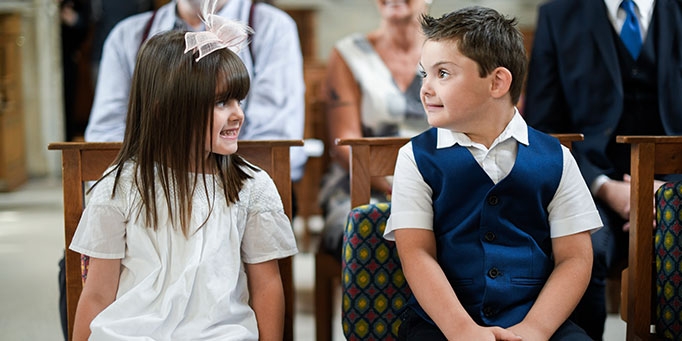 Please invite my kids to your wedding!
Christian marriage is good for everyone.
I know it's been a tough few years for weddings. The COVID-19 pandemic forced many engaged couples to postpone and then eventually downsize their weddings. Under those circumstances, I can completely understand receiving a wedding invitation with 'no children' written apologetically at the bottom.
But now that life—and weddings—are returning to normal, I wanted to ask a favour on behalf of Christian parents. Please, invite our kids to your wedding!
Our kids are growing up in a society that is very anti-marriage. Their generation encounters divorce far more frequently than ours ever did. They are also much more familiar with de-facto relationships, where couples never marry at all, even if they have children together. Our kids live in a society that largely views marriage as 'just a piece of paper' which makes no material difference to a relationship. In fact, 80% of Australian couples now live together before they get married*. We want to tell our children that marriage is significant and lasts 'forever', but they are surrounded by evidence to the contrary.
Our society's view of marriage has shifted dramatically in recent decades, which means that Christian marriage is increasingly distinct. Almost 80% of couples now choose to be married by a civil celebrant rather than a minister of religion*. The two visions of marriage—and the weddings that celebrate them—are completely different.
Good for them!
A secular marriage is all about the couple. The vows—and indeed the entire wedding—are completely personalised. When a family member of mine got married a few years ago, I was shocked that none of their grandparents would be attending the wedding. That's because the couple had chosen a venue that was special to them, but completely inaccessible to the less mobile. This kind of wedding is as an expression of love between two individuals—a contract written on their own terms. The arrival of children is not seen as natural or essential to the marriage—that's just one more choice to be personalised. The guests' response to a secular marriage is simple: 'Good for them!'
When a wedding is all about the couple, then it's logical to exclude children. They are simply an inconvenience to the lavish 'adults-only' celebration that the couple has planned. Such weddings are often 'destination weddings' that require travel and an overnight stay. That means children can be effectively excluded because of the high cost of bringing them along.
Good for us!
By contrast, in Christian marriage we 'enter into' an institution that is much bigger than ourselves. We don't write our own vows or define the terms of our marriage, God does. In the words of a traditional Anglican wedding, the bride and groom 'seek God's blessing on their life together, that they may fulfil his purpose for them'. Christian marriage is not just about us!
In a Christian marriage, the couple's faithful love for one another points to something beyond themselves—to the spiritual reality of God's unending love for his people. The vows are supernaturally huge: 'to have and to hold for better for worse, for richer for poorer, in sickness and in health, to love and to cherish, as long as we both shall live' (A Prayer Book for Australia, p. 649).
Christian marriage promotes the 'good order of society' as the couple (ideally) welcomes and raises children together. It sees children as the natural fruit of a couple's exclusive sexual union. That's why marriage is good for children. Knowing that the two parents who created them have made 'no matter what' promises to each other is the sure foundation children need to thrive.
Finally, Christian couples recognise that they are part of a wider network of relationships—they rely on the support and accountability of their wider family and church. In a Christian wedding, the guests pray for the couple and commit to supporting their marriage. Every Christian wedding that I attend also serves as a 'refresher course' for my own marriage, since the vows being made are the same as the ones that my husband and I made 15 years ago. At a Christian wedding, the guests can heartily respond: 'Good for us!'
Good for kids!
For all these reasons, I would love for our kids to join in the celebration of a Christian wedding. I want them to see and hear and pray for the joining together of two people under God—as a symbol of God's love for us, as the founding of a new Christian family and as a reminder of their parents' 'forever' marriage.
Our kids are growing up in a world where marriage is seen as inconsequential, impermanent and up to each couple to define. Your wedding could help the next generation to build a bigger, better, Christian vision for marriage. Christian marriage is good for all of us, especially for children. So please, invite our kids to your wedding!
*Source: Lixia Qu, 'Couple relationships' in Australian Families Then and Now, Australian Institute of Family Studies, July 2020 p. 8, p. 6.
---
Harriet Connor is the Content Editor for Growing Faith and the author of Families in God's Plan: 12 Foundational Bible Studies and Big Picture Parents: Ancient Wisdom for Modern Life (Wipf and Stock, 2017). She lives on the Central Coast of NSW with her husband and four sons.
For more articles from Growing Faith, subscribe to our monthly e-newsletter.
To hear about the latest books and resources from Youthworks Media, subscribe here.
Related Posts: