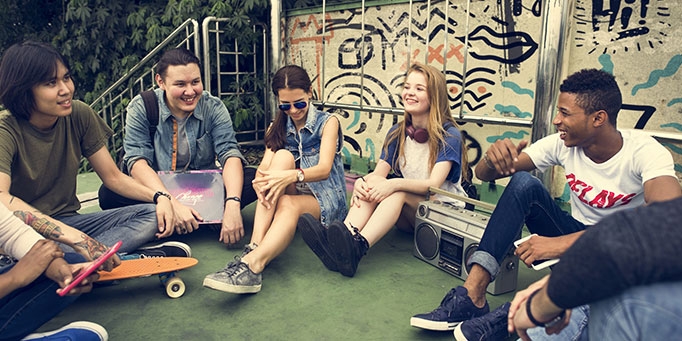 Parenting future teens today
Ruth Baker shares how she is laying a foundation of faith now for her children's teenage years. And surprisingly, it's not just about daily devotions.
'Start children off on the way they should go, and even when they are old they will not turn from it.' (Proverbs 22:6) Fantastic. Now … what does that look like again?
I see posts on social media from people who look like Christian super-parents. They and their perfect, godly kids do their daily devotions bathed in soft lighting while nestled among blooming magnolias. Do I sound churlish? I know I do. It's just that it makes me feel so inadequate. I have two boys, and I can barely get them to remember to put pants on, let alone make a daily commitment to Bible reading.
My boys are eight and ten years old—too old for craft and a lot of Jesus storybooks, but too young yet for more serious devotions. I'm also fighting goldfish-like attention spans and the monumental battle that inevitably follows the 'I'm not touching you' game while we're trying to do prayers.
At this stage, I'm also anticipating those points where they want to rebel or strike out on their own in the coming years. While most Christians make a choice for themselves in their early school years, it's during the later school and university years when kids seem to walk away. That is, when they have seen enough of the world to tempt them away; or their roots weren't deep enough and church just drops out of their new and exciting adult life; or they succumb to the peer pressure of non-Christian friends.
For many different reasons, dangerous times are coming. How do I get my children to at least pay enough attention so that when they are older, they won't turn from the Christian faith?
I first had to remember that this stage is part of a journey. My Grampa, who was in the navy, used to say: 'When in convoy, you're only as fast as your slowest boat'. Well, the boys are my slowest boat, so I need to go at their speed, not mine. I also need to remember that just because I can't get them to do devotions every day doesn't mean that I've failed as a parent.
Similarly, the fact that I haven't yet been able to get them to focus completely in prayer doesn't mean they are destined to rebel against God in their teenage years.
But there are some things I can do now to lay the foundations for those 'danger years' later on. Here are four things that I have chosen to do over and above continuing attempts at devotions and Bible discussions.
I've chosen prayer
I can't make anything happen; but God can. So instead of purely focusing on getting the kids to pray, I have begun tending to my own prayer life. Someone recommended A Praying Life by Paul E Miller and it has really impacted the way I pray. As he explores prayer, Miller tells stories from his own family life—how he has been challenged to pray for his children.
Since reading this, I've been talking to God as my Father, telling him about what the boys have done that day, and chatting through the things I love about them, the things I worry for them and the things I would want for them in their lives.
While I have carriage of the day-to-day parenting and guiding, I'm involving God in the whole process—allowing him to take the lead, allowing him to change me as a parent and sitting under his sovereignty.
I've chosen modelling
I am an avid reader and the boys are used to seeing me reading. I realised that they also need to see me reading the Bible and doing my devotions. Telling the boys is one thing; showing them is equally, if not more, powerful.
In addition, I've joined a Bible study group on a Sunday. The group's leader once said something that profoundly affected me: he grew up being dragged to his parents' Bible study groups, and it was just normal for him to see grown-ups sitting around discussing the Bible. It struck me that all my Bible study groups to that point had been hidden from view—after bedtime or during school hours. Now, every Sunday, my sons see me gathering with a bunch of other families around God's word—it has become a normal part of life.
I've chosen logistics
This is a much more practical choice. I spent some time looking for a church in my area with the best teaching and kids' programs, both close by and a bit further away. While I don't mind travelling to a church for good teaching, I found that distance makes it hard to grow in a community.
So in the end, I decided to join our nearest church because when my sons come into those danger times, I don't want distance to be an excuse to stay home. I want church to be really easy for them to get to as they move into more autonomous years.
I've chosen community
I am also trying to encourage the boys to form a close connection to a cohort of church kids now so that they will have more reasons to go to church in their teenage years. This community will be (hopefully) self-affirming as they grow up as Christians together.
I chose to join the 5 pm service, because the youth group kids attend this service and hang out together afterwards. The boys are watching how these kids come along and interact with one another, and they can look up to them. It shows my kids that church is not a boring, grown-up thing—this is a place for them too, one they can grow into in the next few years.
One of my good friends says that she was always Christian. There was no defining moment when she made a decision—no whistles and bells or fireworks. She wishes she had a more exciting testimony, but her experience is exactly what I pray for my boys. May there never be a day when they were not certain that God is real and that Jesus is their Saviour, Lord and treasure. It is God who will hold them and lead them. But in the meantime, I will think and pray and plan and act, knowing that God guides my steps. And in his mercy, may the boys never turn from the way.
---
Ruth Baker is a single mum of two boys. She blogs at 'Meet me where I am' and is the author of 'Are We There Yet?' (ArkHouse Press, 2020).
For more articles from Growing Faith, subscribe to our monthly e-newsletter.
To hear about the latest books and resources from Youthworks Media, subscribe here.
Related Posts: