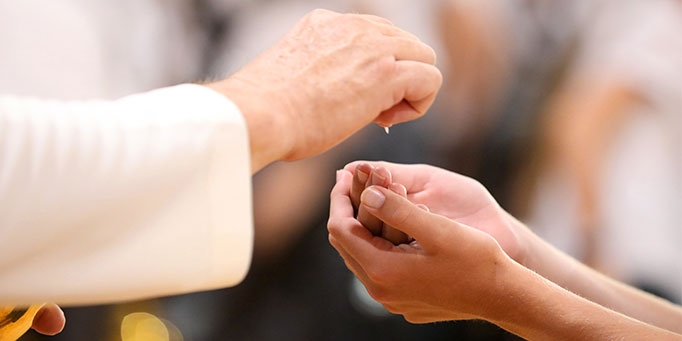 Our children belong to God's family—communion
An introduction to the sacrament of communion for families.
In this series of articles, we have been exploring how the children of believers belong to God's family. First, we saw how the Bible sees the children of believers not as non-Christians, but as Christians-in-training. Last time, we looked at how this influences our approach to baptism. In this article we will look at the second sacrament that Jesus instituted: communion (also called Holy Communion, the Lord's Supper or the Eucharist).
Communion started at Passover
Matthew, Mark, Luke and Paul all record Jesus' institution of communion at the last supper he shared with his disciples before his death. Significantly, this was a Passover meal—the first night of the Feast of Unleavened Bread when Israelites commemorated the events of Exodus 11–12, when God had rescued his people from slavery in Egypt. On that night, God's angel of death had 'passed over' the houses where a lamb had been sacrificed in obedience to God's word.
At the Passover meal, Israelite families would sacrifice a lamb and eat it together with unleavened bread, wine and other symbolic foods. At different points in the feast, cups of wine would be poured out and drunk, unleavened bread would be handed around and the head of the family would say a prayer of thanksgiving, pronounce a blessing or give an explanation of the elements. Throughout the feast, Israelite families would sing through Psalms 113–118.
At Jesus' final Passover meal, as the head of a new 'family' of disciples, he added a new layer of meaning to the feast.
A new salvation to celebrate
Paul describes what happened:
For I received from the Lord what I also passed on to you: the Lord Jesus, on the night he was betrayed, took bread, and when he had given thanks, he broke it and said, 'This is my body, which is for you; do this in remembrance of me'. In the same way, after supper he took the cup, saying, 'This cup is the new covenant in my blood; do this, whenever you drink it, in remembrance of me'. For whenever you eat this bread and drink this cup, you proclaim the Lord's death until he comes. (1 Corinthians 11:23–26)
By dying at Passover, Jesus became 'the Lamb of God, who takes away the sin of the world' (John 1:29). His broken body would become the new 'manna': 'bread that comes down from heaven and gives life to the world' (John 6:33). His blood shed in sacrifice would atone for our sin once for all and usher in a new covenant of peace between God and humanity (Hebrews 10:19–22). At the Last Supper, Jesus was announcing a new Passover and Exodus: he was about to free his people free from slavery to sin and death forever.
What is communion?
From the earliest days after Jesus' ascension, his disciples met together to 'break bread' in a meal of fellowship (e.g. Acts 2:46). On the first day of the week, they began to celebrate the Lord's supper or communion as part of these meals (e.g. Acts 20:7). This sacrament involved sharing bread and wine in remembrance of Jesus' death, as Jesus himself had instructed.
In 1 Corinthians, Paul emphasises that participating in the sacrament—the act of eating and drinking—symbolises and expresses our union with Christ and with each other:
Is not the cup of thanksgiving for which we give thanks a participation in the blood of Christ? And is not the bread that we break a participation in the body of Christ? Because there is one loaf, we, who are many, are one body, for we all share the one loaf. (1 Corinthians 10:16–17)
Over the centuries that followed, the Church continued to celebrate the sacrament of communion, although different denominations would come to different understandings of its precise inner workings.
Why let children take communion?
Originally, the Passover meal was a family celebration, with children eating and drinking along with their parents. (Although once the temple was built, only the men were required to travel to Jerusalem to celebrate it.) Communion can also be seen as a fulfilment of the Old Testament fellowship or peace offering, which the whole family ate together at the temple1:
There, in the presence of the Lord your God, you and your families shall eat and shall rejoice in everything you have put your hand to, because the Lord your God has blessed you. (Deuteronomy 12:7)
Paul alludes to both baptism and communion in emphasising that all Israel (which we know included children) participated in the salvation of God: 'They were all baptised into Moses in the cloud and in the sea. They all ate the same spiritual food and drank the same spiritual drink' (1 Corinthians 10:2–4).
For these reasons, many have argued that anyone who has received the sacrament of entry into God's family, baptism, ought to partake of the family meal.
Why not let children take communion?
On the other hand, many are hesitant to let children participate in communion owing to Paul's strong warning:
So then, whoever eats the bread or drinks the cup of the Lord in an unworthy manner will be guilty of sinning against the body and blood of the Lord. Everyone ought to examine themselves before they eat of the bread and drink from the cup. For those who eat and drink without discerning the body of Christ eat and drink judgement on themselves. (1 Corinthians 11:27–29)
Paul's primary concern is that Christians do not take communion in a way that undermines the unity of Christ's body, by putting themselves ahead of others. But his warning has prompted many denominations to deny communion to anyone who is too young to publicly profess their faith (through a service of adult baptism, confirmation or church membership).
In the Anglican Church, children were not traditionally permitted to take communion until they had been confirmed, usually around the age of 14. In confirmation, older children affirm for themselves the faith that their parents and godparents expressed on their behalf at their baptism.
Since 1985 (or in the case of the Sydney Diocese, 1997) there has been greater flexibility for Anglican churches in Australia to allow children to take communion, provided that they are baptised, demonstrate faith in Jesus and an understanding of communion and have the intention of being confirmed.2
Including children (whether they partake or not)
The issue of children taking communion is still being debated by theologians, even within Anglicanism. So it may be helpful for churches to find ways of celebrating communion that allow for children to be included, but leave the question of their participation up to parents, in conversation with their minister.
For example, in some churches, communion is celebrated by the whole church together, with the elements handed out and everyone eating and drinking together in their family groups. In some churches, children return from their kids' program in time to go up for communion with their parents. Children who do not take communion can receive a blessing from the minister instead.
On this issue of conscience, let's remember Paul's words to the believers in Corinth:
So whether you eat or drink or whatever you do, do it all for the glory of God. Do not cause anyone to stumble, whether Jews, Greeks or the church of God. (1 Corinthians 10:31)
Our children are members of God's family along with us. Whatever we decide about communion, let's find ways of expressing this wonderful truth in the way we meet together at church.
Next time we will look at the issue of when the children of believers reject their parents' faith.
[1] Mason, Matthew W 2007, 'Covenant Children and Covenant Meals: Biblical Evidence for Infant Communion', Churchman, Summer, p127–138. Available at: https://biblicalstudies.org.uk/pdf/churchman/121-02_127.pdf
[2] General Synod—Admission of Children to Holy Communion Canon 1985 Adopting Ordinance 1997. Available at https://www.sds.asn.au/general-synod-admission-children-holy-communion-canon-1985-adopting-ordinance-1997
---
Harriet Connor is the Content Editor for Growing Faith and the author of Big Picture Parents: Ancient Wisdom for Modern Life (Wipf and Stock, 2017). She lives on the Central Coast of NSW with her husband and four sons.
For more articles from Growing Faith, subscribe to our monthly e-newsletter.
To hear about the latest books and resources from Youthworks Media, subscribe here.
Related Posts: