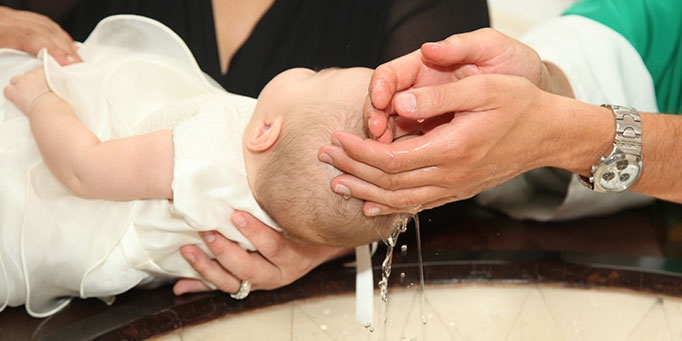 Our children belong to God's family—baptism
An introduction to the ancient practice of infant baptism.
Last time, we saw that, according to the Bible, the children of believers belong to God's family. Both the Old and New Testaments expect that children will be part of the community of faith along with their parents. Generally speaking, children who grow up in Christian families gradually take on the faith that their parents model and teach. (The final article in this series will address the issue of when this does not happen.)
In these next two articles, we will explore how the children of believers can be included in the two sacraments that Jesus instituted: baptism and communion (also called the Lord's supper or the eucharist).
What is baptism?
A sacrament is a visible, tangible sign that points to a spiritual reality. Baptism, although not unique to Christianity, has been the universal sacrament of entry into Christ's kingdom and family since the days of John the Baptist.
Baptism literally means 'plunging' and involves immersing a person in water and bringing them out again in the name of the Father, Son and Holy Spirit. This action symbolises the washing away of a person's sin, as well as that person dying and rising with Christ. An alternative practice of baptism involves pouring or sprinkling water on a person's head, which also draws on other biblical symbolism, such as the outpouring of the Holy Spirit and the Old Covenant cleansing rituals.
Before ascending to God, Jesus told his disciples:
All authority in heaven and on earth has been given to me. Therefore go and make disciples of all nations, baptising them in the name of the Father and of the Son and of the Holy Spirit, and teaching them to obey everything I have commanded you. (Matthew 28:18–20)
The disciples took up this mission, calling on people to: 'Repent and be baptised, every one of you, in the name of Jesus Christ for the forgiveness of your sins' (Acts 2:38). The apostles saw baptism as the New Covenant equivalent of circumcision (Colossians 2:11–12), which was also foreshadowed in Noah's family's salvation from the flood (1 Peter 3:21) and the Israelites' Red Sea crossing (1 Corinthians 10:2). Baptism became the marker which identified the members of Christ's body, the Church (1 Corinthians 12:13).
Why baptise the children of believers?
As the apostles took the gospel into new regions and people groups, adults who converted to Christianity (such as the Ethiopian eunuch in Acts 8) were baptised at the time of their conversion.
But when the head of a household converted to Christianity this naturally had implications for their whole household, including their children. Acts records several instances of whole households being baptised together (e.g. Acts 16:15, 33). In our highly individualistic society, we tend to see someone's religious faith as something consciously and personally chosen, independently of their family. But the Bible has a more balanced view: while each of us must make our own decision to follow Christ, the children of believers also grow up within God's family, (God willing) following their parents' example and teaching and developing their own faith.
Paul certainly considered the children of at least one Christian parent to be 'holy'—that is, members of God's chosen people (1 Corinthians 7:14)—and addressed them directly in his letters (Ephesians 6:1; Colossians 3:20). When Peter called adults to repentance and faith, he told them that God's promised Holy Spirit was 'for you and your children' (Acts 2:39). All of this was simply a logical extension of how God had worked through families under the Old Covenant. After all, Noah and his family were saved through the flood, the Israelites and their children crossed the Red Sea.
What happens at an infant baptism?
The Church has been baptising the children of believers since the early centuries after Christ. When a child is baptised, their parents and godparents (spiritual mentors chosen by the parents) make a confession of faith on behalf of the child and commit themselves to discipling them.
In Anglican baptisms, parents and godparents have to answer a series of questions beginning with 'Do you turn to Christ?' and 'Do you repent of your sins?'. Together with the congregation, they then affirm their Christian faith in the words of the Apostles' Creed. At this point, the child is baptised with water in the name of the Father, Son and Holy Spirit; the minister also marks them with the sign of the cross. Finally, the whole congregation welcomes the child as a fellow member of the body of Christ and child of the one heavenly Father.
Why not baptise children?
The practice of infant baptism depends on children being part of a family—and a church family—that is committed to raising them as Christians. There is no point marking children out as members of the Church, if their parents have no intention of helping them to learn what that means and live accordingly.
In some times and places, there has been a cultural practice of having children baptised—or 'christened'—as a matter of course, regardless of whether the parents and godparents are Christians themselves. This approach to baptism empties the sacrament of its true meaning and forces the adults participating to make declarations and promises that they don't really mean. Holding 'private' family baptisms, with no connection to a local church congregation, also undermines the meaning of the sacrament.
From the time of the Reformation in the 16th century, some Protestant groups (namely Anabaptists and later, Baptists) rejected the practice of infant baptism, because of an infant's inability to make their own profession of faith and the lack of explicit teaching on the topic in the New Testament.
Confirming their faith
In the Anglican tradition, children who have been baptised are encouraged to make their own declaration of faith through the ordinance of confirmation (traditionally around the age of 14). In this service, an older child or teenager confirms the baptismal vows that were made on their behalf when they were a baby. This usually follows a period of formal instruction in the doctrines of the Christian faith.
God is at work through it all
I was one of those babies who was 'christened' as a merely cultural practice. (Due to a miscommunication, my sister was accidentally baptised twice!) Although we were baptised, we didn't grow up going to church or hearing our parents pray or read the Bible or talk about God.
And yet, in his kindness, God still brought me into his Church through the faithful ministry of my SRE teachers and holiday camp leaders. When I was 14, I was confirmed in the faith of my baptism.
Now that my husband and I have children of our own, we have delighted in having them baptised as babies. We want them to know that they are members of God's family along with us. We want them to grow up owning the Christian faith that their baptism symbolised: that Jesus died to wash our sins away, that we have died and risen with Christ, that God has cleansed us by water and blood and poured out his Spirit on us.
In fact, this year, we have been doubly delighted to see both our youngest son baptised and our eldest son confirmed. What a joy it is to know that our children belong to God's family.
Next time, we will look at a variety of appraoches to including children in the sacrament of communion.
---
Harriet Connor is the Content Editor for Growing Faith and the author of Big Picture Parents: Ancient Wisdom for Modern Life (Wipf and Stock, 2017). She lives on the Central Coast of NSW with her husband and four sons.
For more articles from Growing Faith, subscribe to our monthly e-newsletter.
To hear about the latest books and resources from Youthworks Media, subscribe here.
Related Posts: