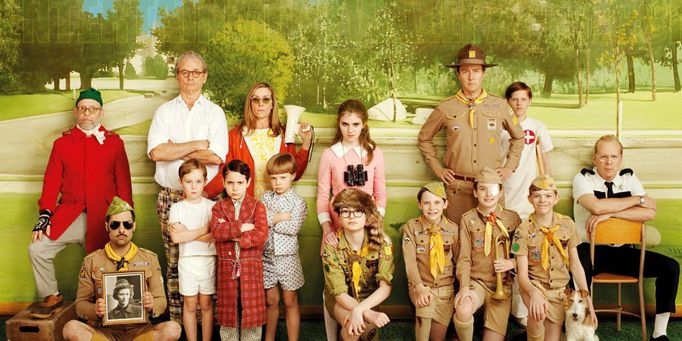 Moonrise Kingdom: Movie Review
"Moonrise Kingdom preserves that childhood longing to be swept up in a drama larger than yourself."
Wes Anderson has done it again – an offbeat comedy that is as hilarious as it is thoughtful. The writer / director of triumphs like Fantastic Mr. Fox, The Darjeeling Limited and The Royal Tenenbaums introduces us to a love-struck couple who have all the conviction of Romeo and Juliet at the age of twelve in Moonrise Kingdom.
Sam Shakusky (Jared Gilman) is an orphaned 'Khaki Scout' attending Camp Ivanhoe under the care of Scout Master Ward (Edward Norton). Sam is one of those quirky kids, proficient but doomed to stand out. When he goes missing one morning Ward calls in local police chief Captain Sharp (Bruce Willis) and the rest of the khaki scouts are deputized to form a search party. But it soon becomes clear that Sam hasn't just wandered off. A year earlier during a church production of Noah's flood, he fell in love with troubled schoolgirl Suzy Bishop. One letter at a time they planned to run away on an adventure together. The success of their journey will turn on a portable record player, a marriage and being struck by lightning, but whatever befalls they will always have their Moonrise Kingdom.
Wes Anderson is exceptional at bringing together a peculiar collection of personalities to draw out a mainstream maxim. As usual, he's ably assisted by a cast of experienced character actors that would be reason enough to hand over the price of admission – Bill Murray, Tilda Swinton, Harvey Keitel, Frances McDormand and Jason Schwartzman joining Norton and Willis. Murray and McDormand are married lawyers who've lost sight of each other in their preoccupation with the law. Norton is a mathematics teacher who has fallen in love with the purpose scouting provides. Willis is charged with putting everyone's lives back together but is personally lost and lonely. As they pursue runaway Sam and Suzy they're forced to admit that their own run of the mill lives might not be worth recovering.
Moonrise Kingdom preserves that childhood longing to be swept up in a drama larger than yourself. At times it's the source of the most absurd moments. Mourning the accidental death of the scout troop's dog, Suzy asks, "Was he a good dog?" "Who's to say?" Sam replies, lost in his own John Wayne moment, "But he didn't deserve to die." But it also reminds us that life devoid of grand gestures is a drab place.
Though love is most often displayed in day-to-day service and enduring commitments, it's worth remembering that these are just the more usual forms it takes. At key times, our commitment to others will require the sort of extravagant sacrifices that place their concerns far above our own. If Suzy's parent's marriage is headed for the rocks then there's no room for half-measures. If Willis really wants to end his loneliness then it will call for decisive action. And if normal life offers Sam and Suzy nothing but sadness then maybe setting off on a ridiculous adventure is not so silly after all. Jesus calls for the same sort of extravagant commitment when he points the rich young ruler to eternal life:
"One thing you lack," he said. "Go, sell everything you have and give to the poor, and you will have treasure in heaven. Then come, follow me."
God calls for that level of extravagant love because nothing can be allowed to occupy His throne – not money, an excellent reputation or even a safe life. It's not His ego that is at stake but our own good. His love will first cost us everything we have to give before we discover that it is worth everything we handed over.
Watching Moonrise Kingdom with your kids
Moonrise Kingdom is an accessible story for older primary and high school kids, though I suspect the conversations will go better with the latter. Try the following for starters:
Sam and Suzy are a little crazy, but do you think their love makes sense?
What were they prepared to give for each other?
How do you know what someone's love is worth? Is it the same for Christians?
For more articles from Growing Faith, subscribe to our monthly e-newsletter.
To hear about the latest books and resources from Youthworks Media, subscribe here.
Related Posts: