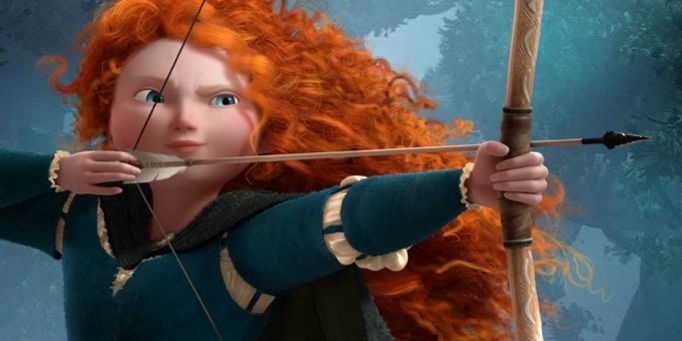 Brave: Movie Review
Pixar's Scotland-based animation is a tale of forgiveness, firmly targeted at mothers and daughters.
Disney has now produced ten animations through its Pixar studios, but Brave is the first to be truly marketed to mothers and daughters. Using ancient Scotland as a looking glass, its animators examine what happens when the women of a house can't agree on what constitutes an acceptable destiny.
Brave is the story of Merida, a willful princess who has inherited a skill for weapons from her father and a sharp tongue from her mother. The voice talents of Kelly Macdonald bring this precocious teen to life as she complains about having to curtsy to the formalities her mother thrusts upon her. Emma Thompson does a magnificent job voicing Queen Elinor, a caring but equally strong-minded mother. From sundown to sunset Merida is lovingly lectured on how to eat, how to walk, where to sit and what to say. But every now and then this flame-haired free spirit manages to avoid her mother's lessons:
"Every once in a while there is a day I don't have to be a princess. When there are no lessons, no responsibilities and I can change my fate."
What follows is an excess of archery, horse riding and mountain climbing. Merida dreams of being a brave warrior like her father King Fergus (Billy Connolly), who lost his leg fighting a monstrous bear. What she doesn't reckon on, is her parents' decision to marry her off to the clans' most eligible heir. This is the issue that Brave uses to pull into focus the clash between older and younger expectations:
Queen Elinor: Merida, this is something you've been preparing for your entire life.
Merida: No mother. This is what you've been preparing for your whole life.
The arrival of the princess's potential husbands culminates in an almighty argument between mother and daughter. Merida declares she would 'rather die' than be like Queen Elinor, and rips a family tapestry, dividing their images with a jagged tear. Frustrated, she runs off into the forest where she discovers a witch who promises to 'transform' her mother and change her fate. However the spell backfires and Merida discovers she's turned her mother into a bear. Can she prevent her father from hunting down his unrecognisable wife, and repair her mistake before the transformation becomes permanent?
A modern dilemma
Whether it be the unreasonable expectations of parents, or the unimaginable stubbornness of daughters, women of all ages will find plenty to sympathise with in Brave. The male characters may be a little two dimensional for a 3D film, but this is definitely one for the girls – and despite the ancient settings, the viewpoints are definitely drawn from the 21st century.
Both the princess and the queen believe their problem arises from the unwillingness of the other to listen to their point of view. 'Listening' is in fact a strong theme throughout the film and often referenced as the key to finding our real destiny. However, the assumption is that both mother and daughter have something valid to say, and more importantly, the right to shape decisions. Where the Bible advises Merida, 'Children obey your parents', Disney responds, 'Parents negotiate with your children'. It comes down to where we think our destiny lies, in the Creator's hands or in our own. Brave concludes, "Our fate lives within us. You only have to be brave enough to see it."
Yet the film has an ending Christian families should find very useful, and I don't think mums will mind me spoiling it. The only way to reverse the witch's spell is to 'Mend the bond torn by pride'. Merida thinks this refers to the tapestry, but ultimately realises the power to change their fates lies in an apology. By admitting she is wrong, the princess mends the bond between herself and her mother, and so changes the direction of her life. This is the same path we tread from rebellion back into relationship with God, and the beginning of real bravery in this world.
Watching Brave with your kids
There's no real inappropriate vision concerns when taking a family to a Disney film. The only real worries relate to the philosophies they'll pick up while they're there. Some of these might spark helpful conversations,
What happened when she decided to ignore her mum?
How did she manage to 'mend the bond torn by pride'?
What's the bravest thing Merida did?
For more articles from Growing Faith, subscribe to our monthly e-newsletter.
To hear about the latest books and resources from Youthworks Media, subscribe here.
Related Posts: