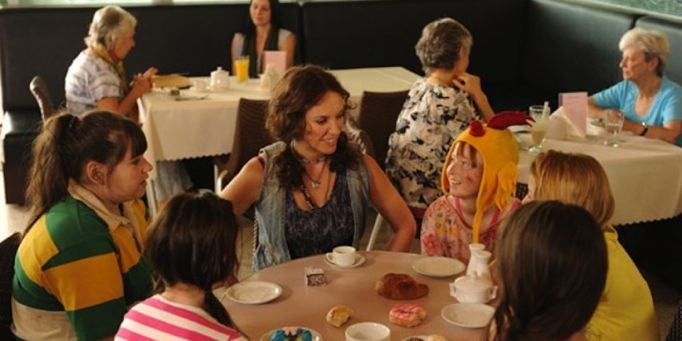 Mental: Movie Review
From the creator of 'Muriel's Wedding' comes a potential new classic Aussie film about mental illness and families.
To quote its director, "Mental is a comic intervention," that plays out like, "… The Sound Of Music on acid." When I heard that, I thought it was just a bit of PJ Hogan spin to grab attention. Now I've seen Mental, I think it's not a bad summary of what has the potential to become a benchmark Australian film. Even more importantly, it underlines the value of the Christian message for a beautiful but sad world.
Mental glides down from the clouds into the township of Dolphin Point to discover Shirley Moochmore (Rebecca Gibney) dancing through her backyard belting out the Julie Andrews classic, "The hills are alive with the sound of music…". Ironically it's the fence line that's alive with the eyes of neighbors watching Mrs Moochmore's latest break with reality. Shirley is the troubled mother of five girls who all believe they suffer from acute mental conditions. In reality, their family is dysfunctional because their dad, Mayor Barry Moochmore (Anthony LaPaglia) is too uncomfortable with their eccentricities to come home of a night.
When Shirley is finally shipped off for a 'holiday' in a Wollongong sanitarium, Barry has to find someone to take care of his crazy brood. Desperate, he settles on Shaz (Toni Collette), a hitchhiker who looks responsible because she owns a dog. In fact, Shaz is a recovering mental patient who believes the entire country is an asylum founded by the First Fleet. Yet her brand of cascading madness may just be the dose of reality this family needs to take themselves and each other seriously.
Fans of Australian director PJ Hogan's work will recognize in Mental all the hallmarks of his classic Muriel's Wedding. It's not surprising given Toni Collette's return and the contribution of other key crew. But there's a more personal reason why the films reflect the same scatty approach to life. "It's not Muriel's Wedding 2," says Hogan, "but they have the same DNA." Both films are built around a dysfunctional family living under the pressure of public scrutiny in a small coastal town – in short, both are based on Hogan's actual home life.
Lessons learned
Given the personal nature of the story you'd expect some hard-won lessons to surface. Hogan doesn't disappoint. What presents as another kitsch Australian comedy in the vein of Strictly Ballroom and Young Einsteen, actually delivers a darker message about the struggles of mental illness. "I think we're living in a time where film making takes very few risks and audiences don't get the full meal," Hogan explains. Shirley is modeled off the director's own mother, and the rest of the storyline draws on his experiences with his schizophrenic sister and autistic children. "If I hadn't been in the trenches I don't think I would have had the right to make the movie."
The film's setting is a familiar world where, rather than accept the diversity God provides, the mainstream threatens to crush all disagreement. Shaz tells the Moochmore girls,
"Your problem is that you let everyone call you crazy. If someone calls me crazy, I cut their throats. Why aren't you out cutting throats?"
Mental finds its saving grace in developing a character that refuses to submit to the 'instinct of conformity', and the support of a loving family. However they're solutions that will ring hollow for the weak and the lonely. Life has a habit of pushing us towards those points where our resources fail us. But on those occasions I take comfort from the Bible's assurance that God is never far away from those who've found their 'right' in Him:
However it's not just society's outsiders that need His help. Shaz tells her charges that there's no such thing as normal, "… just different shades of crazy."
Though I'm sure it's not what Hogan had in mind, the Bible would agree that we're all battered souls in a blighted world. Jesus told a self-satisfied audience that the sooner we realize our spiritual sickness, the sooner he'll be able to help us.
Watching Mental with your kids
Mental has a higher than expected rating because of the mentally unstable Shaz's f-bombs and a bit of typically larrikin nudity. That said, it's likely to draw a lot of attention because of its Australian pedigree.
If your teens want to see it, tag along and try and ask one of the following:
Does Shaz believe there's such a thing as normal?
What's her solution – fight for the right to be different?
Mental illness is actually no laughing matter; neither's spiritual illness. What's the first step to getting help for both?
For more articles from Growing Faith, subscribe to our monthly e-newsletter.
To hear about the latest books and resources from Youthworks Media, subscribe here.
Related Posts: