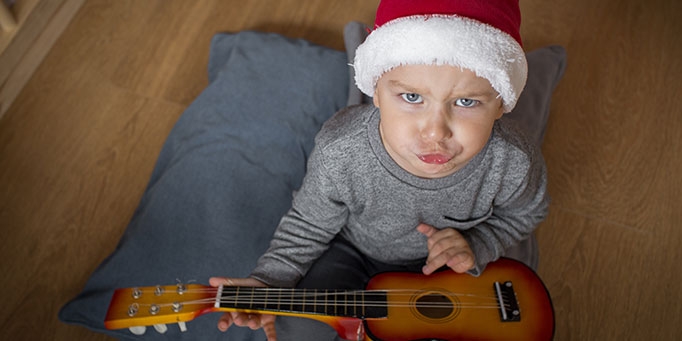 Kids got the post-Christmas blues? Try this.
Tips for turning disappointments into discipleship moments.
So Christmas is done. It was six days ago. That means that kids are tired, presents are already broken and you've probably lost your temper more in the last six days than you have in the last six weeks. But how do we turn these disappointments into discipleship moments?
Broken toys
The joy of presents at Christmas is beautiful. Our kids are grateful. They don't get obsessed with their toys at all. And they are great at sharing … Unless of course you have kids like mine—rotten little sinners (whom we love to bits!). Which means they're most likely devastated at the fact that they have one or more broken presents. They've been overenthusiastic with their new toy or they've fought over it with a sibling. But either way, you've got to pick up the pieces of a broken heart. What can you do to turn this into a discipleship moment?
Remind your kids that toys don't last forever. Toys can bring a moment of joy, but Jesus brings joy that lasts forever. That's what Christmas is all about. What a gift!
It is also a good opportunity to help your kids grow in their thankfulness. They get so much plastic over Christmas that it is easy for them to start feeling entitled. Let's help them to remember the need to be grateful, and to steward the wonderful gifts they've been given (regardless of whether it cost 20 cents or 200 dollars).
Goodbyes
Did you get to have family visit this year? We didn't and it was a disappointment. But whether the disappointment was ruined plans or cousins having to go home at the end of a fun visit, the kids can get upset at the thought of saying goodbye (or not getting to say hello!). What an opportunity for discipleship!
Because of Christmas (and Easter), there is someone we never have to say goodbye to again! If we trust in Jesus we never have to say goodbye to God again. We get to have eternal life with him. That lasts forever and the good times will never end! Even better than our Christmas parties (and way better than our cancelled ones!).
Packing down
The time comes to pull down the Christmas tree, the lights and the paper chains. The Christmas playlist should probably stop soon. The end of the festive season is sad news for us all. What doesn't have to end is the joy that comes from the gospel. Yes, we particularly celebrate the birth of Jesus at Christmas, but it doesn't have to be limited to December. We get to celebrate Jesus all year round. Let your kids see your joy at the prospect of having eternal life with him. Get pumped up as you read the Bible with them.
Spread the love
Why not use the new year to come up with a list of people that the family (and individual kids) can share the good news of Jesus with? Christmas time has provided the family with lots of details about Jesus, which you can use to help your kids evangelise. Use the list to start praying and come up with plans for chatting to our family and friends about Jesus. What better way to start 2022!
This article originally appeared at Parents for Eternal Life.
---
Dale Brown lives on the Mid North Coast of NSW with his wife, Amy, and their two boys. He has been telling kids and youth about Jesus for over 15 years. He also enjoys blogging about Christian parenting at Parents for Eternal Life.

For more articles from Growing Faith, subscribe to our monthly e-newsletter.
To hear about the latest books and resources from Youthworks Media, subscribe here.
Related Posts: