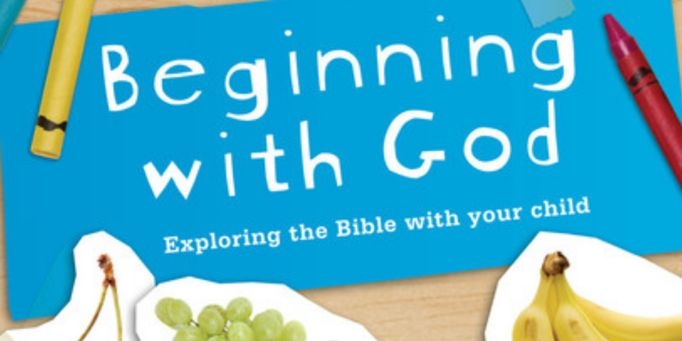 Introducing the Bible to your child
'Beginning with God' gives children the chance to explore the Bible from a young age.
Beginning with God is an excellent way of introducing kids to Bible reading – I love how interactive it is.
It is designed to go along with The Beginners' Bible. You have a short passage to read from the Bible and then some questions to talk through. There are big stickers for each session and a number of options so you can tailor it to your child's ability and interests. There are also ideas for things to chat about while you're out and about.
I really like how the writers have thought about getting kids involved and setting patterns that will be continued through their lives. For instance, prayer time is 'hands up' (for praising God) and 'hands in' (for saying sorry or asking God for something). An idea like this is fab – our children love getting involved in any way they can. It also teaches children what prayer is without them even realising!
Book One covers Genesis in fourteen sessions and stories about Jesus in fifteen sessions. I am pretty certain each story is designed to last a week, but it's not actually explicitly said in the booklet. That way, the resource lasts a good six or seven months, which is amazing value for money! There are extra stickers so that you can do it all again – a great idea.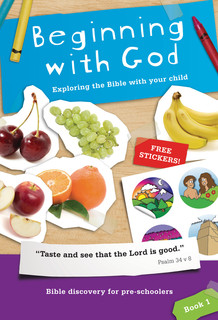 I really like Beginning with God, it is one I would give away both to friends who are very familiar with reading the Bible with their kids and those who have never done it before but are keen to start.
If you use it with a different children's Bible, it's worth checking the stories before, just in case your book misses one out or the notes are going to focus on something not particularly addressed in your version.
Although designed for young children, Beginning with God is really aimed at kids who have good language skills (the sessions are based on asking questions about the passage you've read together) and, like anything, it needs to tweaked for your individual child (there are good suggestions for how you could do this throughout the book). Take a look at this video to see how one family are using this resource.
Book two and three are also available, and there is a special Christmas one as well. I've not seen either of these, but if they're anything like book one, they will be great!
Beginning with God is available from The Good Book Company or at Koorong.
For more articles from Growing Faith, subscribe to our monthly e-newsletter.
To hear about the latest books and resources from Youthworks Media, subscribe here.
Related Posts: