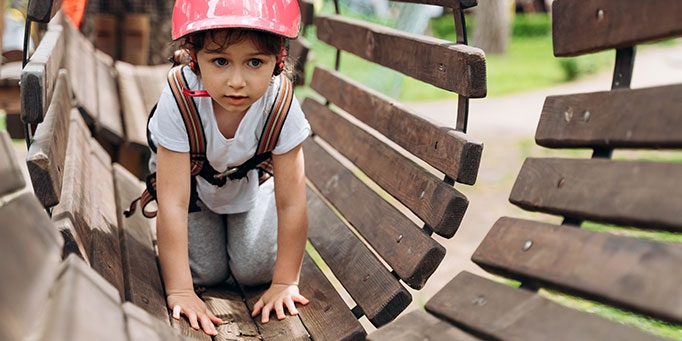 How spiritual growth makes children more resilient
Insights from Professor Holly Catterton Allen
Many children today are growing up in the midst of adversity, whether brought on by family difficulties or larger societal crises. All children need to be able to deal with stress, cope with challenges and persevere through disappointments. While we cannot protect children from all hardships, we can promote healthy development that fosters resilience.
Professor Holly Catterton Allen has been researching the relationship between spirituality and resilience in children. In her new book, Forming Resilient Children: The Role of Spiritual Formation for Healthy Development (IVP, 2021), she explains how helping children to grow spiritually also helps them to foster the resilience needed to face the ordinary hardships of childhood and to persevere when facing trauma.
This article is based on Professor Allen's recent interview with God's Story podcast —a new podcast which explores the story of the Bible, from Genesis to Revelation, and our place within it.
How can parents encourage spirituality and resilience?
Professor Allen defines spirituality as a person's relationship with self, others and God. Relationships are also at the heart of resilience. If we want to equip our children to face adversity, a good starting point is to encourage their relationships with themselves, others and God.
Fostering these relationships helps children build trust, a sense of belonging and hope—which are considered key protective factors that promote resilience. Other protective factors include qualities like emotional regulation, agency, self-efficacy, self-motivation and problem-solving abilities. These are all cushions and buffering agents that equip and prepare children for when adverse events inevitably come. And helping our children understand themselves, get along with others, and come to know God can help promote most of the protective factors resilience scholars have identified.
Foster their relationship with God
Knowing God is the most important factor in children's resilience and recovery from trauma. When children have a deep sense that there is a God—who knows them by name, knows their story and is calling them into his story; who is accompanying them on the journey and can effect change; who is in the business of restoring and healing—knowing that God can surely be the most important resilience 'armour' a child can have. When a child sees him or herself as a child of God as their primary identity, that can sustain a child even if some of the other protective factors aren't present in that child's life.
Read stories
The number one way for parents to nurture spirituality and resilience in their children is to read children's books together. (And it doesn't have to be a 'God book' or a Bible story.) Many parents do this already but there's an important extra piece—the discussion afterwards. After reading a story book we can ask children how they relate to it with the questions 'Who are you in the story? Why?' Most children, even as young as two, can answer these questions in a simple way. As they get older they'll even start asking you the same questions!
Revealing who they are to you nurtures that child-self and child-others relationship, which in turn grows their spirituality and resilience.
Tell stories
Another important way to foster resilience is by telling stories of your childhood—times when you got in trouble. Your child will want to know, 'How did you get out? or 'What happened when you lied?'. And you can tell them. You can say, 'That was really hard because then my parents didn't trust me anymore'.
We can also tell stories about when they were a child, in the time before their memories begin. For example, when they were seriously ill and many people came to pray around them. That happened with one of our grandchildren and we made a book about it. When we read the book with him, we can say this is our testimony to a God who has always been present with you.
We can also tell stories that our children might remember, but our retelling of those stories helps them cement those stories in their minds: how they were precious to us, how God was present in their lives.
You can tell your children stories about how God has been at work in your life or in their lives. They need ordinary stories. We absolutely need to tell our children Bible stories, but God is still at work today—he's at work in you and me. Let's tell our children the stories we remember of when we could nearly see the footprints of God.
Carry the weight
Another way to nurture children's resilience is by being a capable parent—that is, when adversity or stress or even trauma comes, be a parent who carries the weight. Children need their parents to carry the weight. It is really hard for children if their parents become frantic or panicked, because it models a lack of trust in God. Instead, you can say, 'I'm not sure what we're going to do, but we're going to pray and we know God is here with us at this time'.
Even in the ordinary things like running out of petrol or having a flat tyre, we can say, 'With God's help we will manage this: we will call roadside assistance or we will call a friend. This is what we will do'. This exhibits to them that we are calm, that we're present in this situation and that we're resting in God.
Another thing that parents can do is to listen to their child. Listen to their hopes and fears and don't dismiss them.
How can we help children through the pandemic?
Jerome Berryman, a former chaplain in a paediatric hospital, says that children in paediatric hospitals are dealing with four existential issues: fear of death, threat to freedom, aloneness and making meaning. During the pandemic it's not only sick kids who are dealing with these issues! Children of all ages have had their lives shaken up. COVID-19 is having an effect on children, especially in producing high levels of anxiety.
I would say one important piece of helping children through this is for parents not to be anxious. If parents can say, 'We will do what we can to guard ourselves and those around us, we will protect ourselves and we will follow the rules as best we can—and then we will rest in this'.
If parents can keep their levels of anxiety down and say, 'Yes, it's all around us and we're doing what we can; but we are also dwelling in peace, resting in our Father', that will have a tremendously peaceful effect on our children.
---
Dr Holly Catterton Allen is a professor of family studies and Christian ministries at Lipscomb University in Nashville, Tennessee.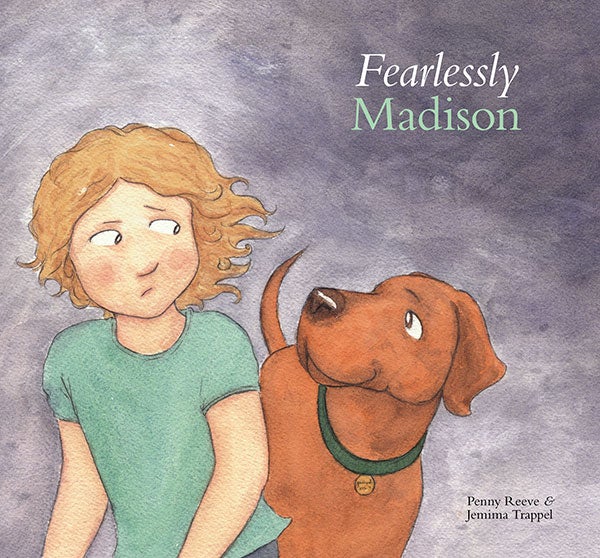 Fearlessly Madison
Madison is looking forward to a play day at Grandma's house—that is, until she sees Ferdinand the new dog. That's when Madison's belly starts to tremble like raspberry jelly! She keeps a wary eye on Ferdinand as she and Grandpa build towers and head out to the shaky shed for paint. But as a thundery storm takes out the lights, where is Ferdinand? Where is Grandma?
For more articles from Growing Faith, subscribe to our monthly e-newsletter.
To hear about the latest books and resources from Youthworks Media, subscribe here.
Related Posts: