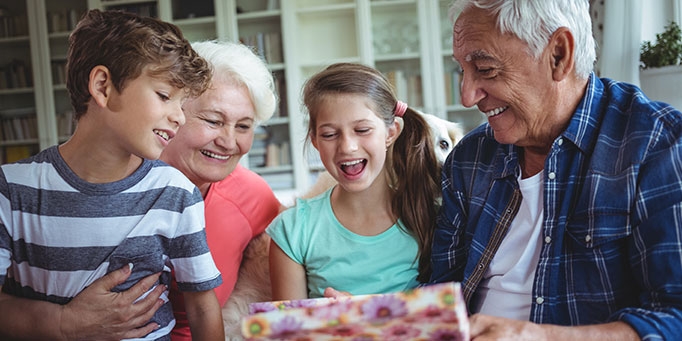 Grandparents' dilemma: gift giving
Dorcas Denness reflects on what to give to grandkids who 'don't need anything'.
I find giving gifts to grandkids a big challenge. My husband and I have a wonderful assortment of 18 grandchildren varying in ages from 15 to one. None of them live close by so we miss out on knowing them well enough to give the 'just right gift at the just right time'. But we do want to show each one that we love them and they are special.
Our grandkids are fortunate to have great parents who already provide them with things that encourage creativity, build skills and give hours of pleasure. When we ask the parents for ideas on what to give, they often say, 'They don't need anything'. Like so many Aussie kids, our grandchildren bask in an abundance of food and material possessions.
The danger of gifts
The dilemma for us is wanting to give—but not wanting to feed into materialism. We recognise our own malady of wanting the latest and greatest for self, and we see the younger generation also struggling with greed, under the influence of our affluent society.
As grandparents who've acquired some wisdom, we know the emptiness and disappointment that things ultimately give: 'When you get what you want, you don't want what you get'. We've also discovered the treasure of knowing Christ and the abundant life he gives, which comes when we decisively turn from self-centredness to follow him.
Jesus warns about materialism in his parable of the four soils (Matthew 13:1–23). Some of the seeds start out well and have good potential, but thorny plants spring up and choke them. This illustrates how the worries of this life and the deceitfulness of wealth choke out our spiritual life in Christ. So I realise the dangers in gifts—both the buying and the receiving. I don't want gift giving to consume me, nor do I want to encourage materialism when I give. I'd like to use gifts as tools to foster relationships—helping our grandkids to love God and others.
So how can we give gifts to our grandkids in a way that promotes love and encourages eternal values?
A suitcase full of gifts
Last school holidays we flew to Queensland to spend time with family: three young couples, four kids and three dogs. My suitcase contained more gifts than personal belongings. I consider giving gifts to grandkids both a delightful privilege and a responsibility—intensified by the frustration of being apart so much, especially due to Covid restrictions. Beforehand, I ask advice and pray about what to give; I choose carefully, but without spending a lot of time or money on shopping. I tend to give our grandkids things we can do together—fun things that enhance relationships.
On the holiday, I staggered the gifts, waiting for the opportune moment when we needed something to do. We did some sticker books and activities together. In addition, we spent time looking at what the kids made, appreciating their various achievements, playing games, walking the dogs, riding bikes, visiting their school and church, reading, singing and telling stories. We deliberately stayed away from electronic devices. We also attended a Christian convention for a few days, camping in tents and roughing it in the rain. We talked, played, cooked, ate, washed dishes and enjoyed the sessions. We also helped out in the kids' program, which gave us even more time with our grandkids.
An even better gift
At the end of our time together, I realised that several of the presents we gave weren't really that great, and some still lay in the suitcase, forgotten in our busyness.
Looking back on that wonderful holiday, I've realised that the best gift we gave our grandchildren was the one we thought about least. It came as a vintage package—complete with wrinkles and grey hair—it was us. We tried to make the wrapping look nice with clothes that were not too old-fashioned. We had to 'market' ourselves and be fun and energetic. But we did our best to enrich their lives, enter into their world and build relationships. We wanted to be genuine—not at all perfect, but surrendering our lives to God, who transforms us by his power day-by-day.
What we gave our grandkids was our love, time and interest, our listening ears and encouraging words. We hope this helps them to see the richness of life that comes from turning from self-centredness and the love of things, to pursuing love for God and others. Over the holiday we'd all eaten the sweet fruit of joy that comes from following the Lord. We pray that each of our grandchildren will embrace the gift of real life and consider the truth of Jesus' words:
The thief comes only to steal and kill and destroy; I have come that they may have life, and have it to the full. (John 10:10)
Giving to grandkids is a part of love. It need not be expensive or entail giving more things that will perish with time. As Christian grandparents, we have a unique opportunity to give ourselves, with our time and talents. We can model a life of service to God, who lovingly leads us through many troubles to reflect his glory. Through our words as well as our actions, we can introduce our grandkids to our Father God, the ultimate gift-giver:
Every good and perfect gift is from above, coming down from the Father of the heavenly lights, who does not change like shifting shadows. (James 1:7)
God gives us many good gifts, but the greatest gift he gave also came in the package of a person: the Lord Jesus himself. Through Jesus, God lavishes spiritual gifts on us: the forgiveness of sin, the right to become his children and the Holy Spirit, who guides and comforts us. Jesus is the best gift to treasure because he makes us his treasure. Whatever other gifts we might buy, let's be sure to share with our grandchildren the eternal treasure of knowing Jesus.
---
Dorcas Denness and her husband, Ian, served as missionaries in Pakistan for over thirty years. Now back in Australia, Dorcas enjoys spending time with family and friends, sharing the gospel and mentoring younger Christians. She contributed a chapter to For the Joy: 21 Australian Missionary Mother Stories on Cross-Cultural Parenting and Life (Grace Abounding Books, 2018).

For more articles from Growing Faith, subscribe to our monthly e-newsletter.
To hear about the latest books and resources from Youthworks Media, subscribe here.
Related Posts: