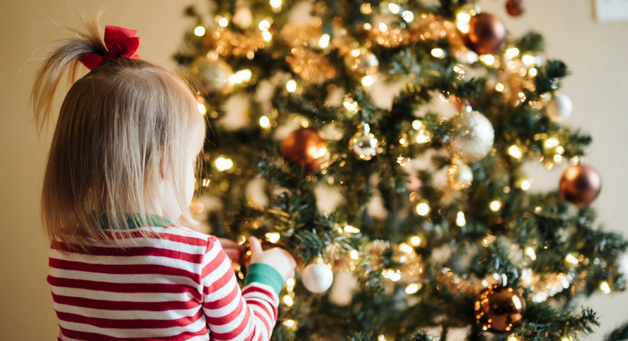 Creating family traditions for celebrating Christmas
'It is important that as Christian parents we make sure that we find ways to point our kids to Jesus. Creating family traditions is a great way to do that...'
How would your kid's respond to the question "What is Christmas all about in your family?" We recently asked our 4 year old this very question for a preschool project. We eagerly awaited him to say "Well, it's all about Jesus!" Instead, he said Christmas is about Santa and presents. That feeling of parental failure hung heavy in the air. Thankfully, we are only at the beginning of the silly season and have plenty of time to teach him (again) about the true meaning of Christmas.
Christmas time is a magical, fun, silly, busy time of the year. Furthermore, Christmas in society has moved away from Christian traditions and the message has become one of consumerism and indulgence. It is Santa and not Jesus that is talked about in popular culture and even in our kid's schools. It is important that as Christian parents we make sure that we find ways to point our kids to Jesus. Creating family traditions is a great way to do that. But what does this look like and what should it include?
When you think of traditions maybe you recall those things passed down from one generation to the next. Or perhaps you think of stuffy and outdated rituals. In the Old Testament we see that God himself created special days for his people to celebrate such as the Passover (see Exodus 12:1-20). And on those special days he set out specific ceremonies and rituals for his people too. God used these occasions and traditions to remind his people about who he is and what he has done for them. God in his wisdom knows that humans are forgetful and need ways to remind themselves of what God has done in the past and to celebrate these things. Traditions also create a sense of belonging and identity. These festival days and rituals were special to the people of God because they were his people.
In the book Disciplines of a Godly Family, Kent and Barbara Hughes comment that 'God's Word dramatically recommends that all believing families cultivate both spiritual memory and spiritual traditions to commemorate and celebrate God's goodness.' This is what Christmas should be about in the Christian family – celebrating the fulfilment of God's promises to his people in Jesus.
There is no prescribed list of what celebrating Christmas should look like nor what traditions should be followed. The key is that the traditions we do include celebrate and share the goodness of God in Jesus. The following are some things to consider in your family.
Advent
Advent is the season leading up to Christmas. Traditionally Advent started four Sundays before Christmas, but these days is more likely to commence on December 1 (probably due to the chocolate calendars in the supermarkets!). Advent means 'coming' so this period is all about anticipating the arrival of Jesus. This is a great time to spend time each day talking with your children about the birth of Jesus. Here is a great reading plan that you can complete with your family. Many families use a calendar with a reading and often a treat or craft activity that is enjoyed each day. As children get older you can also include an act of kindness or service of others or put together a gift to give to another child or family in need as a reminder of God's charity and love for us.
Church
Attending your local church service at Christmas is often a difficult feat to manage between the many family commitments. We are always away from home at Christmas so it is particularly tempting to give it a miss. However, attending church on Christmas day communicates strongly to your children that Jesus is important and is at the centre of the day's celebrations. And what better place to celebrate Jesus than with his people, the church!
Food
Food plays a central part of celebrating together. As part of Israel's tithe, they were instructed to give 10% to feasting! If we are generous to others and hospitable to those who are lonely, we should not feel uncomfortable celebrating the birth of Jesus with food. Food is a very tangible way to create memories associated specifically with Christmas. In our family this includes Christmas fruit pudding that is not made at any other time of the year. Some families take the opportunity to make a birthday cake or pancake stack for Jesus. Others make gingerbread nativity scenes. Enjoy the food with thanksgiving to God!
Santa
So what place do the secular or just fun traditions play in our families? Should we play the game of Santa Claus or have a Christmas tree or hang lights? (Read this article for further thoughts on the place of Santa.) In general there is nothing wrong in participating in these things. But we must ensure that our focus remains on Jesus and that it is obvious to our children that he is the reason for Christmas. Noel Piper, in her book Treasuring God in Our Traditions, comments that 'Our "especially" celebrations anchor us and our children in the harbor of our family, reflecting our true refuge—God. The way we observe these occasions—the focus of our observation—has great potential to show our children what we think is most important and to help them value what we hold most dear.'
Whatever your family Christmas traditions might include, make sure that the main focus and conversation is on Jesus. So that when your children are asked what Christmas is all about, there won't be any confusion or distraction but they will know with all certainty that it is all about Jesus!
Recommended reading:
Disciplines of a Godly Family by Barbara Hughes and R. Kent Hughes
Treasuring God in Our Traditions by Noël Piper
What to Tell Your Kids About Santa
For more articles from Growing Faith, subscribe to our monthly e-newsletter.
To hear about the latest books and resources from Youthworks Media, subscribe here.
Related Posts: