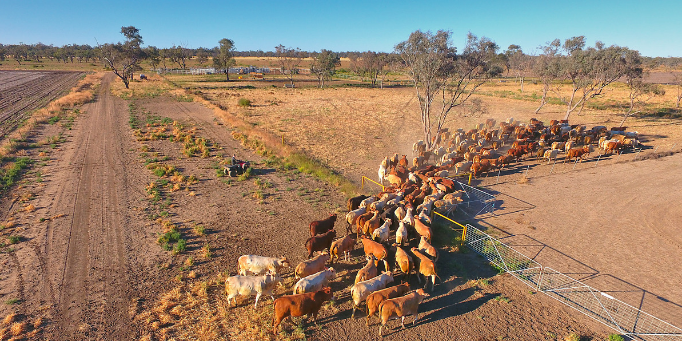 Humbling ourselves during a time of drought
David Piper from Lightning Ridge shares challenges a season of drought and lessons of humility
I look up at the windy grey sky and wonder if anything will come of it. How many times have I heard this from friends or family in the city:
'It's pouring down here in Sydney. Are you getting anything?'
'No', I say. 'Just a few drops. :-('
Today the clouds do drop something—dust! This particular afternoon I'm planning to go and visit some graziers and deliver some hampers and vouchers. These have been kindly supplied or funded through generous donors on the coast, Bush Church Aid, Anglican Aid and other contacts. Farmers are always appreciative of this help. Sometimes farmers can be proud, but when I ask people if they could do with some vouchers, almost all have said 'yes please'! Times really are tough.
I decide to call before I go on my visit. People in the bush don't like cold calling. I'm also hoping I'll have to postpone the trip. Not because I don't want to go, but because I hope those clouds overhead burst over their area. Often that happens—one farmer will get some relief while his neighbour misses out. But, sadly, no rain today.
As I drive out to the properties I pass paddocks of stubble. There has been one crop in our district in the last four or more years. I drive past skinny livestock. I see piles of hay for feeding in a few places.
At the farm I chat for a while over a cuppa—about the weather, about the grandkids, about better times. The wife says 'things are bad now, but I don't know what we'll do if we don't get rain before summer'. I don't know what to say. As I go, I say 'we'll keep praying for rain'. But it feels lame, like an apology on behalf of my God.
I ponder this. Surely I can say something more helpful! On Sunday after church, a farmer in the congregation gives me the seed of an idea. We are talking about the drought aid we're handing out and he says 'what they really need is that passage we looked at'—he's referring to 1 Peter 5, which I preached on that morning:
Humble yourselves, therefore, under God's mighty hand, that he may lift you up in due time. Cast all your anxiety on him because he cares for you.

1 Peter 5:6–7
'Humble yourselves' is the key! Here are some things I can say to the drought-affected:
We need to humble ourselves by recognising our dependence on God for our very life, breath, and the rain we need. When God does not send rain when we want, that is not a reason to blame him, but to acknowledge that he is God, and we are not.
We need to humble ourselves by confessing our faults and failures to God. Drought and other troubles remind us that the world is not as God intended. I am not saying there is a particular sin that has led to this particular drought. I am pointing to Jesus' teaching that disasters are God's reminders to us that 'unless you repent, you too will all perish' (Luke 13:1–5). I have heard many prayers for rain, but fewer prayers for repentance. I worry about appearing too judgemental by calling people to repent. But Jesus and the prophets didn't seem to have a problem with it! I should not be embarrassed about reminding people of their need to confess their sins before God.
We need to humble ourselves by throwing our worries on God. The burden of worrying about a farm can be a massive weight on one's shoulders. But we have a choice: either seek to control our circumstances or ask God to take control of them and do what is best for us. Handing our situation over to God is scary—he might not do what we want him to! But he has promised that he will do what is best for us.
We are thankful for the help sent by city folk to struggling farmers. God uses it to give us opportunities to talk and pray with people in need. We keep praying for rain. But droughts come and go. More importantly, we call people to humble themselves before God, admitting their need for God, their need of forgiveness, and their need to hand over control to him.
---
David and Joanne Piper have served as BCA Field Staff for Lightning Ridge since 2013. The area is highly multicultural with some 60 nationalities represented. Opal mining, tourism and agriculture are the main industries bolstering the local economy. The local school has almost 400 children, 40 per cent of whom are Indigenous. There is a weekly service (with kids program) at Lightning Ridge each week, and a monthly service in Cumborah. We also serve the town of Goodooga and Grawin opal fields.
---
The Bush Church Aid Society of Australia has a heart for people living in rural, remote and regional Australia. We are committed to going the distance to Reach Australia for Christ. Click here to learn more: www.bushchurchaid.com.au
For more articles from Growing Faith, subscribe to our monthly e-newsletter.
To hear about the latest books and resources from Youthworks Media, subscribe here.
Related Posts: