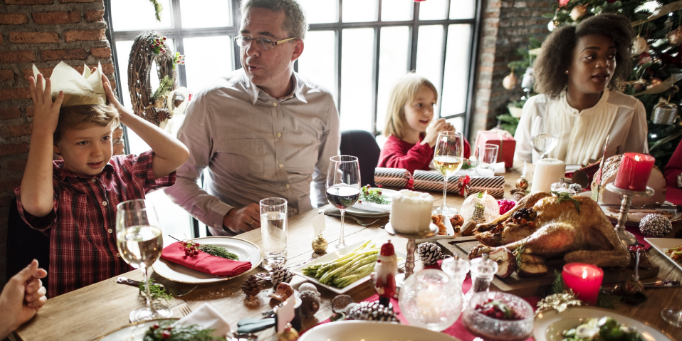 Christmas is coming!
Here are five ways you could adventure through this advent season with your family.
It's coming.
The songs, the lights, the tinsel that sheds everywhere, the persistent cries for presents, the family catchups, the church events, the community carols. Christmas chaos is upon us as the aisles of Kmart are decked out with a sparkling display of decorations. Kmart has a cactus-shaped Christmas tree this year, and though every single year their idea of what Christmas is about (last year I believe it was flamingoes) is different, we know that the heart of the matter never changes. The heart of the matter is Christ coming into the world, incarnate among the muck of this world, so that he could live, and die, and rise again.

How easy it is to lose that heart in the Christmas chaos. It's a struggle we all face as we move through this season and so I want to equip us just a little bit and challenge us too, to find one simple way in which we can fix our eyes on Jesus. Here are five ways you could adventure through this advent season with your family:

1. Deck the walls!
Deck the walls with the words of God. My apartment had on its walls last year the Names of Jesus Advent Calendar from Sweet Honeycomb. Each day you turn over a new card and it reveals another name used to describe Jesus. When we had guests over it was them who turned the card over, and it turned one of our walls into a reminder of what Christmas is all about. Each day comes with some suggested reading, so you can read along with your family too and explore more about the names that come up. Another great resource comes from Kids Read Truth, which are advent tree decorations of a similar kind that go along with a reading plan for adults and children tracing the promise of Jesus' coming all the way through to his arrival.

2. Once in your messy kitchen
I'll lay my cards on the table here: baking is one of my favourite things to do anytime, but especially at Christmas time. If you're similarly inclined then invite people over and get cooking! We made something close to 300 sugar cookies and decorated them together, both kids and adults, and talked and sang, and it was complete and utter chaos in that kitchen. It was beautiful, utter chaos. Inviting people into your home doesn't just add to your Christmas but it can turn someone else's from lonely to lovely. Your invitation to someone who may otherwise feel alone matters so very much, even if the place ends up a bit of a mess by the end.

3. God rest at merry gatherings
Jump on into what's happening at church! Kids ministry particularly has a lot happening around Christmas time. We've got a family service on Christmas Eve in which kids are part of the band, the prayers, the welcoming. They help lead the congregation, and it's beautiful! There's no need to feel that your children are an intrusion at such gatherings, or that they must perform to a certain standard. Rest. Rest in the goodness of God among his people and know that your crying toddler is not a burden to God's church.
Another thing happening for us is a family BBQ in conjunction with our final Mobile Community Pantry of the year. If there's some sort of casual event happening at your church, go along. Reach out to those around you and seek to serve, and teach your little ones to do the same. These moments of community are precious, and among God's people there is a fellowship in spite of all else happening. As someone who grew up outside the church, these times among my church family feel like true Christmas to me!
Whatever's on at church, try to be there. It's not the same without you.

4. (Not) silent night
Choose your noise well! Songs convey a strong message not just in our minds but in our hearts. It's why the words we sing in congregational music matter so much. My apartment is filled with the Citizens & Saints album Repeat the Sounding Joy throughout most of December, my friend's is filled with all of Colin's Christmas music, and others opt for more classic options. As we hear these songs and sing about Jesus we remind ourselves of what Christmas is truly about. Let's be honest, Christmas cannot ever truly be silent, but we can choose the noise we listen to.

5. The first No
Say no to the pressure that says that Christmas must be perfect, that it must be commercial, that it must be anything but what it truly is. It is a celebration of Christ come into the world! It is a celebration of grace and yet, somehow, we give ourselves such little grace this time of year. Say no to perfectionism and rest in his grace. Say no to breaking the budget because of family pressure and rest in his presence. Say no to anything that tears your eyes and the eyes of your family from Jesus, because it won't enhance this season. Only he can.

And you know what? He did. He did come, and he is all that he says he is. Let his 'yes' to coming into this world fuel us to say 'no' to getting caught up in worldly things this Christmas. Let his 'yes' to coming into this world help us fix our eyes on him this Christmas and beyond. It could just change our lives, our families, our churches and maybe even our communities.
---
Tamara is a God delighting, tea filled, colour loving woman who dwells in the beautiful suburb of Earlwood. She spends her time serving as children's minister at Earlwood Anglican, enjoying life with her husband, The James, and pursuing a newfound love of sewing clothing in an effort to slow fashion down. Her greatest joys in life are Jesus' ridiculous love for His people, adventures with The James, time spent among God's people, and a few hours alone with tea and a book.
For more articles from Growing Faith, subscribe to our monthly e-newsletter.
To hear about the latest books and resources from Youthworks Media, subscribe here.
Related Posts: