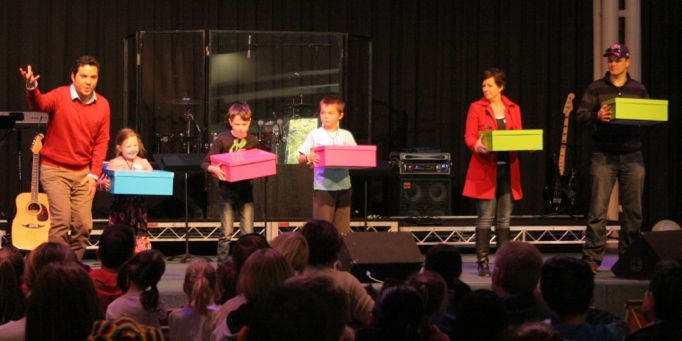 2013 Growing Faith Family Conference
We take a look back at this day of fun and learning for both kids and adults.
When was the last time you were able to run out the door and grab nothing but your keys and your family? For Karen Beilharz, it was the morning of The Growing Faith Family Conference on the 24th of August.
Karen and her family joined 120 adults and 140 children and young people at St Paul's, Castle Hill, as together they looked at the theme of 'being a light to the world as a family'.
All together now!
The conference is one of the few events where parents and children can learn side-by-side from God's Word. Pete Tong led the all-in family session which involved a three-part sermon, singing, visual aids and even some magic tricks. "I thought it was handled really well, it was really interesting", says Karen, who attended the conference with her three-year-old daughter.
After the family session, parents and kids parted ways. Parents attended seminars on topics such as 'Raising mission-minded kids', 'Shaping a Christian worldview' and 'Social justice, the church and the family' which was conducted by Compassion's Church Relations Manager, Paul Beeston.
Meanwhile, children and young people were whisked away to programs which included drama, games and a lesson on the conference's theme. Karen says the leaders of the children's program "made her feel so comfortable and happy", and were an essential part of making her daughter's day enjoyable.
Fun and learning for the whole family
The day finally culminated in a smorgasbord of activity with the family fair, including:
limbo competitions
sack races
face painting
a jumping castle (which brought out the kid in the most wrinkled of souls)

But despite all the fun and festivities, the main emphasis of the day was on the biblical theme. Adults and children alike were challenged to be a light in their everyday lives—be it at work, the soccer club, the supermarket or while driving.
Karen says all families that attended walked away with something to consider, saying "It helped us think through not just raising children to be Christian but how to, as a family, tell other people about Jesus and do the work God set out for us".
Photo Gallery
Related Posts: