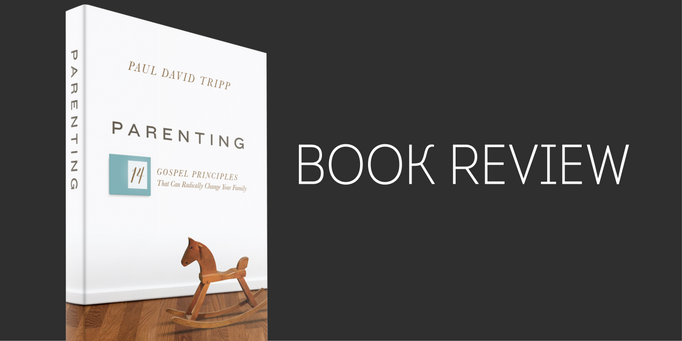 Parenting: Book Review
"This book is a gift to all who want to parent - and be parented - with the truth of the gospel."
At 7pm each night I put my son to bed, switch off the light, and wait to hear the reasons why he can't go to sleep.
* I'm not tired
* I want a drink of milk
* I want a drink of water
* My head won't stay on the pillow
* I want a teddy
* It's too dark
* The pillow isn't comfortable
* I want a back tickle
* I want a cuddle
If there was a Family Feud episode with the question "Name an excuse given by a child for not going to sleep", I could hit every answer on the board!
One night I was more tired than usual, and more ready than usual for him to fall asleep quickly. Instead, it was 45 minutes since I had turned the light out and I was sitting on the floor of his room, still waiting for him, and growing increasingly frustrated.
And at this moment it hit me - God wants to help me become more like him - by helping me grow in patience. The problem was, it had been a long day and I didn't want to learn patience - I wanted to wanted to watch tv. I didn't want to grow - couldn't I get more godly another time?!
The reality of what I had been reading in Paul Tripp's new book started sinking in. In Parenting: 14 Gospel Principles That Can Radically Change Your Family, God had been opening up my eyes to the reality that I am more like my children than unlike them. I am just as much in need of God's grace and power. I might be a parent, but I too need to be parented.
I'm not sure that this is the main point that Paul Tripp wanted to communicate in his book, but it's had a big impact on me.
God's powerful, transforming grace is a theme that runs through all of Paul Tripp's writing and teaching, for example:
" You will never outgrow grace any more than you should expect to outgrow your need to breathe."
And grace is what we need as parents, isn't it? I was reminded that God's grace isn't just past (the cross) or future (the resurrection) but present. God is ready /right now/ to help me in this moment of need. God's grace is ever-present and all-sufficient. I just need to ask him - he is right there with me.
"God never sends you without going with you."
This is a life-giving truth for every parent. I was also reminded of a vital perspective that I know and yet so easily forget:
"Nothing is more important in your life than being one of God's tools to form a human soul."
This quote a precious reminder about the privilege and responsibility of parenting. This book is a gift to all who want to parent - and be parented - with the truth of the gospel.
---
Steven Kryger is a husband and father. He is also the Chairman of Katoomba Easter Convention - go as a family, grow as a family.
For more articles from Growing Faith, subscribe to our monthly e-newsletter.
To hear about the latest books and resources from Youthworks Media, subscribe here.
Related Posts: