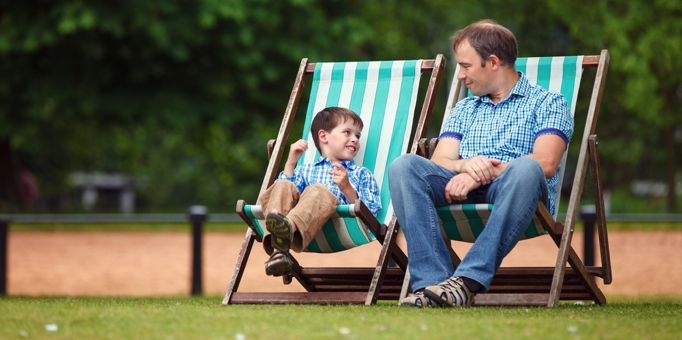 10 ways Christian parents can achieve more by doing less
A 'de-cluttering' guide to raising Christian children.
Recently I've been on a de-cluttering spree. I've been embracing the idea that by reducing our material possessions - by having 'less' - we can actually have more space, more time, more energy, more to share. It got me thinking. How could I apply the same principle to my parenting as a Christian mum? How could I exchange the less important stuff that often distracts me, for more of the big picture stuff, God's perspective on my parenting?
Here are my ideas:
1. Worry less about 'making' my children Christian (that's in God's hands anyway). Instead, be more concerned about living a life that will show my kids what it looks like to trust in Jesus.
"For it is by grace you have been saved, through faith—and this is not from yourselves, it is the gift of God— not by works, so that no one can boast". Eph 2:8-9
2. Work less on teaching my kids to memorise the fruit of the spirit. Instead, work more on showing them the actual fruit of the spirit.
"Be imitators of God, therefore, as dearly loved children and live as life of love, just as Christ loved us and gave himself up for us as a fragrant offering and sacrifice to God". Eph 5: 1-2
3. Reduce my kid's after school schedule. Instead, free up their time for meeting with their Christian friends at church and youth group.
"Do not give up meeting together, as some are in the habit of doing, but encouraging one another all the more as you see the Day approaching". Hebrews 10:25
4. Spend less money paying for my children to participate in expensive extra-curricular trips. Instead, spend more money enabling them to attend lots of Christian camps where they can explore their faith for themselves and develop Christian friendships.
"Let the word of Christ dwell in you richly, teaching and admonishing one another in all wisdom, singing psalms and hymns and spiritual songs, with thankfulness in your hearts to God". Colossians 3:16
5. Show less judgement and disappointment with my kid's sinfulness. Instead, replace judgement with more grace and forgiveness (just like my heavenly father does for me each day).
"For as high as the heavens are above the earth, so great is his love for those who fear him; as far as the east is from the west, so far has he removed our transgressions from us. As a father has compassion on his children, so the LORD has compassion on those who fear him". Ps 103:11-13
6. Put less effort into making our family look the same as the others in our street. Instead, put more effort into being a family that shows the radical difference being a follower of Jesus makes to our lives.
"… let your light shine before others, that they may see your good deeds and glorify your Father in heaven". Matt 5:16
7. Spend less time worrying about my children. Instead, spend more time bringing my concerns and requests to God in prayer.
"Do not be anxious about anything, but in every situation, by prayer and petition, with thanksgiving, present your requests to God". Phil 4:6.
8. Stop being afraid of answering tricky questions my kids ask about the Bible. Instead, be more confident in sharing what I do know of the truth of the gospel message and the difference it has made to my life.
"Always be prepared to give an answer to everyone who asks you to give the reason for the hope that you have". 1 Peter 3:15
9. Put less energy into worrying about my children's achievements. Instead, put more energy into growing godly, servant-hearted young people who are humbly learning to follow the example of Jesus.
"Do nothing out of selfish ambition or vain conceit. Rather, in humility value others above yourselves, not looking to your own interests but each of you to the interests of the others". Phil 2:3-4
10. Be less worried about protecting my kids from the hard stuff of life. Instead, be more concerned about helping them to learn to persevere and trust God through difficult times.
"…but we also glory in our sufferings, because we know that suffering produces perseverance; perseverance, character; and character, hope". Romans 5: 3-4
For more articles from Growing Faith, subscribe to our monthly e-newsletter.
To hear about the latest books and resources from Youthworks Media, subscribe here.
Related Posts: