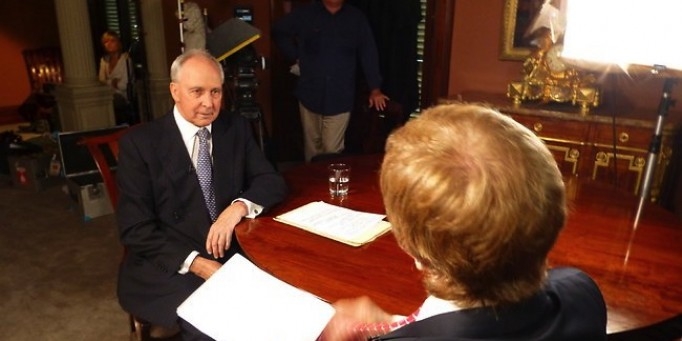 Keating – the interviews: TV Review
What makes a leader truly memorable?
Who are the politicians you remember? There are always a few names that stick out, but not as many as there actually were – am I right? Whether famous or infamous, the figures who are clearest are those who clearly stood for something. That's one truth that emerges from this new series of interviews on the life of former Prime Minister Paul Keating.
Veteran ABC interviewer Kerry O'Brien spends four one-hour episodes plumbing the life of one of Australia's most loved and despised political figures. The host introduces Paul Keating as a fastidious man with a love for detail, whose Sydney offices contain a wealth of information on his time in politics - but he has never written a biography or an account of his part in some of the most formative years in Australian history. This series is O'Brien's attempt to bridge that gap, to reveal the man behind the office and the motivations that led him to become Australia's 24th Prime Minister.
Politics isn't always boring
I can understand why some people wouldn't like the idea of watching a former politician – not even a sitting member – talk about days gone by. It sounds very much like those unwelcome armchair chats with uncles who had no idea what a yawning audience meant. However, Keating is the exception that will have you breaking the rule. His insights into the development of Australia as a modern economy and the social changes that shaped the land we inhabit today are interesting, for sure. But they're nothing compared to his perspective on the nature of people.
In the opening episode – check if it's available on iView – O'Brien leads Keating to talk about the motivations that launched his political career. He recalls the heroic pre-war figure of Winston Churchill and observes:
"[His] moral clarity and leverage – I said, if that's the game he's in, that's the game I want to be in."
It was Churchill's moral conviction that attracted the needle of Keating's spiritual compass, and the same might be said of the leaders who've shaped our lives.
People you can't ignore
It doesn't really matter what side of politics you hail from, or even if you're indifferent altogether. Gough Whitlam's certainty that education should be free for all impressed a nation; so did John Howard's determination to get rid of the guns. By comparison, the many grey leaders who came before and after are hard to place in the mind because they simply reflected consensus, and were more concerned with re-election than progress.
After years of running introductory courses on Christianity, I believe it's this same quality in the character of Jesus that initially catches at the non-Christian mind.
Love him or hate him, Jesus was a figure you couldn't ignore. His speech was so direct as to be blunt; his purpose equally so:
I have come that they might have life, and have it to the full.
- but he qualifies that incredible offer with a warning that brooks no alteration:
I am the way, the truth and the life. No-one comes to the Father except through me.
This, in part, is why Jesus continues to stand out in a country where so many have lost faith in clear directions and retreated to the world of 'what suits me'. But what is the secret of being able to mirror that conviction in our own lives? Back to Keating and what it means when someone loves you…
I think that it radiates for you and gives you that inner confidence. It's almost like wearing the asbestos suit. You'll go through the fire but you won't be burned – because someone loves you.
Paul Keating was speaking of the love of his mother and grandmother, but I think the same might be said of Jesus' love for us. Convinced of it, and all that he went through on our behalf, I believe we can live equally bold lives for his name's sake. Which just goes to show, even non-Christians recognise the answers, they're just looking for the right person to embody them. All the more reason for us to introduce them to our Lord.
Watching Keating with your kids
If you have a politically inspired teen then I think that there could be some real wisdom, along with distinctions, to be gleaned from this series of interview. Conversation starters could include:
What is it that made it possible for Paul Keating to stand up for what he believed in?
Has someone's love for you ever led you to speak out?
Why does God's love make it possible for you to speak out for Him?
For more articles from Growing Faith, subscribe to our monthly e-newsletter.
To hear about the latest books and resources from Youthworks Media, subscribe here.
Related Posts: